First, a person face mask update: I have now given away 117 face masks — to people requesting them for work (a grocery store bagger, a pharmacist, an unemployment agency worker), to an assisted living community, for my priest to give away to people he encounters, to a food bank, to a local services provider for the disabled. I have found a new method the developer of which calls the "hybrid face mask" because it has characteristics of the generic pleated-rectangle version and the fitted version, and have been making the latest batch that way (it has a means of inserting a nose wire, and the local Ace Hardware sold me a 160 foot roll of twistie-tie wire for gardening that the clerk said has been popular). I continue to have a love/hate relationship with my sewing machine, I am beginning to worry that the grey thread I'm using will run out before the grey fabric (300-count flat sheets) runs out, and I am also planning to move an old table from the garage to the basement later today to use for sewing rather than constantly taking up the dinner table.
Second, what with the mask mandate in Illinois going into effect on May 1st, my grocery-shopping trip earlier today was the first time I'd seen a store-specific mask mandate: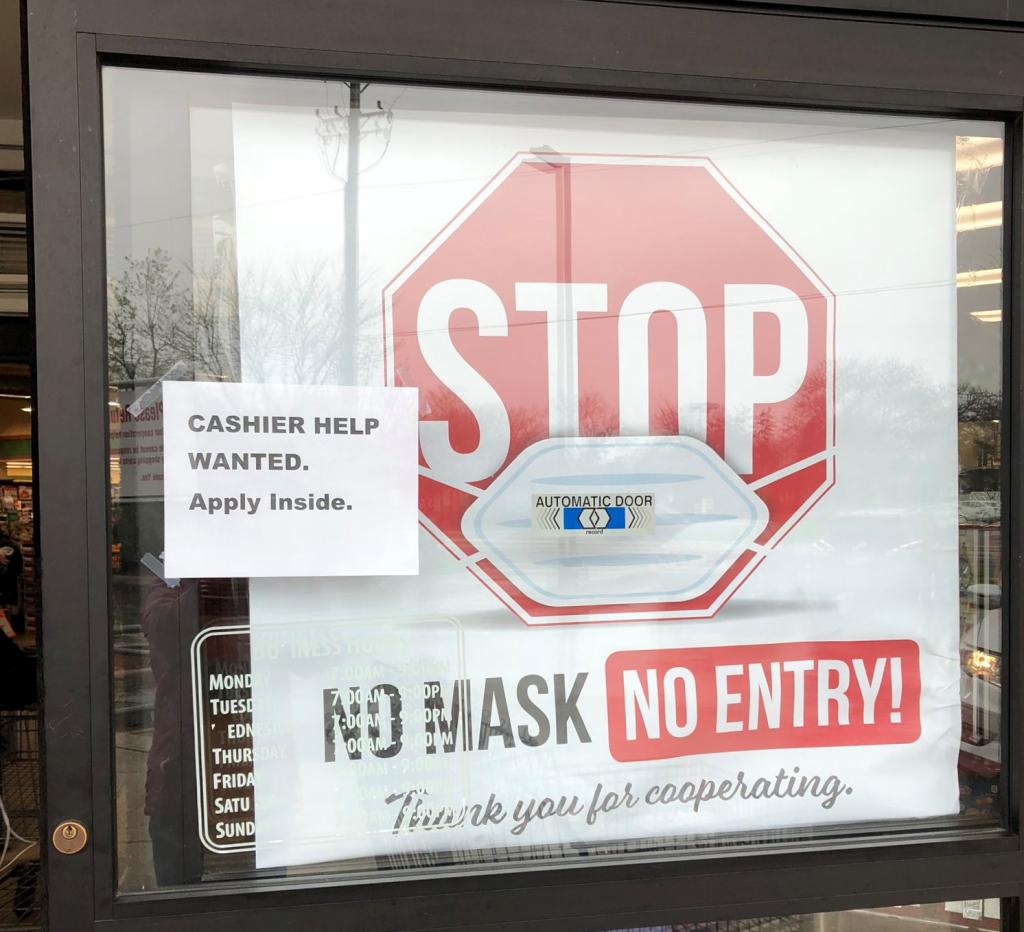 And, indeed, everyone was masked, mostly with fabric masks. What a change from the first time I wore a mask in public and had to justify/rationalize it as "it's an experiment"!
Third, an item originally shared on twitter as a photograph, which I then had to find the reporting for, via WIVB in New York:
.@NYGovCuomo unveils hundreds of masks sent to NY from concerned Americans. pic.twitter.com/QJ2EqHGNGk

— Jesse McKinley (@jessemckinley) April 29, 2020
Gov. Andrew Cuomo made a powerful statement about the help New York has received from people in other parts of the country during the coronavirus pandemic.

Saying "I'm going to show you a self-portrait that was done by American people," Cuomo got up from his seat during Wednesday's briefing to reveal a display of masks donated to New York from people outside the state.

"That is a self-portrait of America, and you know what it spells? It spells love," Cuomo said while revealing the tall collection of masks.

"We received thousands of masks from all across America, unsolicited, in the mail, homemade, creative, personal, with beautiful notes from all across the country," Cuomo said. "Just saying thinking about you, we care, we love you, we want to help."
But it gets worse:
According to the account at WWNY, Cuomo's purpose was not merely to warm the cockles of our hearts. It was to make a political statement in support of more federal money for states harder hit by the pandemic:
At his coronavirus briefing Wednesday, the governor lashed out at U.S. Senate Majority Leader Mitch McConnell and Florida Sen. Rick Scott – both Republicans – who have said they don't want to bail out the predominately Democratic states that have been hardest hit by the coronavirus. . . .
To illustrate his point, Cuomo unveiled a display of thousands of face masks sent to New York from across the country, which he called "a self-portrait that was done by American people." . . .

He advised politicians to "follow the American people, look at what they're doing, look at how they're reacting."
What an idiot, what a *!@, to take the result of someone else's hard work, intended to meet needs of New Yorkers, whether healthcare workers or ordinary people going about their days, and turn them into a display instead, and, what's worse, to try to score political points with it.
If Gov. Pritzker gets any ideas from this action, I'll personally lead a protest, even if a one-woman one, about it. And, yes, New York is under the same mask-mandate as Illinois will be in two day's time; these were not masks made superfluous by an abundance of manufactured masks and disappearing need elsewhere.