i. Strengthening Connections
In the first Patheos Prologue, I took time to explore my personal narrative, hoping that it will be a way for us to get acquainted at the outset.  Also, I've carefully selected the topics, noting that these are commonly asked questions.  Now, I'll shift focus to ministry questions.
As our relationships deepen, the questions usually do as well.  In Christian circles, our common bond in Christ often allows us to get to know each other a little quicker.
Personal stories are important in the context of many types of relationships.  In counseling, we utilize self-disclosure very carefully as a teaching aspect of the relationship.  In mentoring and discipleship, we use our personal stories more freely as relationships develop in the faith community.
As a shepherd, I have become more transparent over time, knowing that God often gives me experiences and blessings fitted with wings (Romans 1.10-12).  After all, there is something sacred in our relationships with each other.  We are living epistles (2 Corinthians 3.1-3).
Although the nature of these writings may change soon, I'll continue writing a personal narrative.  I'll focus on questions and conversational topics that have strengthened connections with other Christians.
ii. Family Ministry Heritage
Three generations of preachers are in my family on both sides.  All four sets of our grandparents, my wife Crystal's family and mine, became first generation Christians.  They changed the course of the history of their families, leaving a Godly heritage.
Furthermore, my Dad has served as an executive and a college professor in our headquarters city for many years.  We have travelled the nation, allowing many opportunities for my family to see the beauty of the Body of Christ.
Crystal and I have travelled as well (youth evangelism, ministering alongside of family and friends, working on our education, etc.).
We both sensed the urgency of a missional zeal even before we met.  It's always been central to our calling, although we now think of ourselves as missionaries to America.  We certainly have no other way to describe our vast experiences across the nation.  If you read between the lines on our resumes, you see our missional experience.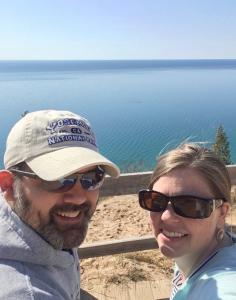 We have had the privilege of serving in many cultural contexts in various regions of our country.  At times we have considered foreign missions as well.  However, we realize that the missional aspect of our calling seems to be at the forefront no matter where we are.
Because of this, we always try to raise up leaders to serve within the congregation and well-beyond the four walls.  We understand through research, dialogue, and experience, that the Body of Christ seems to be returning to her missional roots as well.[1]
iii. Grounded in Christian Community
Christian community, small groups, and strong relationships are all part of the mix as well.  Due to a recent transition, we started attending another church at the beginning of the year.  Our children are active in the youth group.  Our older son has joined the youth praise team.  Crystal has enjoyed some women's meetings sponsored by another local church.
I have met once a week with area ministers for a prayer group for over 4 years now.  We encourage each other and intercede for our Grand Traverse bay area.  I also represent my fellowship on a discipleship commission to develop materials up to ten years in advance.  I write and meet twice a year with these distinguished gentlemen who represent their denominations. 
In every context mentioned above, relationships are central as we share prayer and the Word.  In this digital age, there is still nothing that replaces the real-time gathering of believers.
Let us hold fast the confession of our hope without wavering, for He who promised is faithful.  And let us consider one another in order to stir up love and good works, not forsaking the assembling of ourselves together, as is the manner of some, but exhorting one another, and so much the more as you see the Day approaching.  (Hebrews 10.23-25, NKJV)
Crystal and I are privileged to come from Christian homes.  With God's grace we maintain our Christian home with three amazing sons.  We are also constantly committed to Christian community.
At this stage in life, we still have some of the most life-giving relationships with our family members (and friends who have become like family), even though we live apart from them now.  As we consider this transition and our children, we are mindful of this in new ways.  We look forward to every opportunity to be near them.
iv. Christian Superheroes
Out of our family heritage and the seedbed of our communities of faith, we have both entered into our callings.  Questions sometimes arise regarding our gifts, abilities, strengths, etc.
At certain points, I think this is somewhat trivial.  I'm old enough to remember the late 70's/early 80's.  Everyone was asking the all-important question on break at the water cooler.  "What's your sign?"
Now fast-forward to the mid-90's.  Instead of gathering at the water cooler, we're sipping coffee with each other in the church lobby before service.  "What's your passion?"  "What's your gift?"
What about ministers?  We've seen the old trends.  "That one is a prophet for sure, look at his rad mullet and his Christian rock band."
"What about so-and-so?  He certainly has an apostolic anointing!  He has launched so many leaders from his church."
"How about that one who's preaching in the dessert, or this one who's only letting a few in on his secret ministry" (see Matthew 24.23-28).  What about Paul?  What about Apollos (1 Corinthians 3.4-8)?  The people of God have seen it all before.
When questions arise concerning our passions, gifts, etc., it's good to take a look at the reason for the question.
We all have a tendency for basking in reflected glory, a social phenomenon.  It's probably most often found when sports fans meet for the first time and realize they like the same team.  Our team is successful . . . we're successful!  We all want to be fans of the winning team.
We all have the same type of connection if we like the same praise band, preacher, author, pastor, etc.  When I think of our hyper-focus on Christian superheroes, I can almost hear Paul and Apollos laughing at us down through the ages.  The focus is not on the gifted leaders, but on the synergy that develops as ministers and saints work together.
v. Views of Ministry
There is a stand alone text about ministry that simply cannot be ignored.  It's in the letter of Ephesians, which is probably an encyclical letter, written to be shared among all the churches of that time.  Ephesians 4.11 offers an early list of vocational ministers, ministries, or offices.  When someone questions me about this list, I try to open the door for God to expand our views of ministry.
First of all, pastor and teacher are connected grammatically in the Greek.  This would make the list 4 instead of 5, if one is strictly counting.  Secondly, there are some who believe the minister is the gift instead of the role, so this list is the 5-Fold Ministry (or 4-Fold).  This view makes these functions a little difficult to unravel, because they can operate in any minister.
In various seasons, I have personally operated in one or all of the 5.  For example, there are times when I've ministered at youth camps when I may have served in all 5 capacities.  Some days I've evangelized baristas in the morning, dialogued with Bishops in the afternoon, and preached in the evening.  I don't know what that means about my giftings.  There simply is a ministry calling and I hope that God finds me faithfully obedient.
I recommend that any Christian remain on the same page in Ephesians and read a little further.  It's not about the latest and greatest prophet or evangelist, etc.  It's about the shared work between ministers and saints.  Without verse 12 and following, without shared ministry, no ministry is effective.
"What is the purpose of these ministry activities?  Paul explained three purposes: (1) to equip the saints (God's people) for doing service; (2) to build up the body of Christ morally (encouragement) and numerically (adding members); and (3) to help the church attain the unity of the faith in the knowledge of the Son of God, the perfect Man, the Christ, who is the example of what if means to be a human being."[2]
May our narrative, our calling, and our ministry continue to encourage others to take their place in the Kingdom of our Lord.
---
[1] For a very brief presentation on the differences between the modern church and the missional church, take a couple minutes to view: Jeff Maguire, "The Missional Church . . . simple," January 29, 2010, in
jeffmagu
, accessed June 9, 2018, 
https://youtu.be/arxfLK_sd68
.  Missional ministries should remain under the direction of strong pastoral oversight and training, whether the church is large or small. [2] 
Frederick J. Long,
OneBook Daily-Weekly: The Letter to the Ephesians
(Franklin, TN: Seedbed Publishing, 2017), 80.