i. Introductory Post on Patheos
This introductory narrative begins with Patheos.  I've tracked this blogging platform for years now.  A pastor friend and I were first impressed by a group of columnists who posted regularly on this site.  Over time, Patheos continues to host captivating writings and musings of some amazing people of faith.
I have hoped to write for Patheos for at least a couple years.  I've enjoyed blogging on my own, but do we really succeed alone?  Is Theology or Christian reflection done best in the privacy of one's study?  It's an honor to now be among this online religious community, the Columnists at Patheos.
Some of these first posts will be unique.  I'll take the opportunity to offer a prologue, writing a personal narrative in a brief series.  With this personal essay I've chosen to focus on common answers I've offered when others ask me about my faith.  Maybe this introductory narrative will serve as a backdrop for future writings.
ii. Journeying in Faith Community
I've had the privilege of enjoying this journey alongside many Christians from various faiths
I was raised in the Pentecostal Church of God (PCG) and hold ministerial credentials.  From junior high through high school, I attended College Heights Christian School, with over eighty faiths represented.  At that time, only a couple of us were Pentecostal/Charismatic.  With daily Bible classes, we all had to learn to dialogue.  I still maintain ties with some alumni.
I started my undergraduate work at Messenger College.  However, I completed my bachelor's and first master's degree at Assemblies of God (AG) schools.
I served as a student development professional for five years at PCG and AG schools.
My second master's degree is from Asbury Theological Seminary, a confessional community and independent school in the Arminian/Wesleyan stream.
On a side note, my first seminary degree was in counseling, requiring social scientific research.  I was trained to keep from using personal pronouns in my writings.  In my second seminary degree, personal reflections were encouraged.  If I couldn't personally engage with Theology, my grades would suffer.  Consequently, in these narratives, I may interact more openly than in future writings.
What would my faith be without this journey in the greater community?
Now I serve as a writer and representative of the PCG on the Pentecostal-Charismatic Curriculum Commission, with representatives from five denominations.  We meet twice a year.
Right here, once a week, I sit in on a prayer group of ministers from a variety of local churches and denominations, both ecumenical and evangelical.  We meet simply to encourage each other and to pray . . . and to pray well.  I have been a part of this group for over four years now.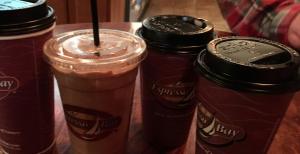 There have been other seasons of interfaith dialogue with sincere Christian leaders, as we seek the heart of God for our region.
What would my faith be if it were not for the honor I have to be surrounded by the greater community of faith, and to discover room at the table for my background and voice?
iii. Faith Narrative and Development
Moment of Conversion
As a child, I remember children evangelists who spent some time with us at a Northern California District Convention in Santa Rosa.  My parents were District Officials, so I spent extra time with these lady evangelists (one of them the wife of one of our college presidents).  Looking back, I know they were gauging my understanding of the faith.
Then they started their children's services at the convention, with all types of illustrations.  I remember the distinct illustration they used that got through to me, the tug of conviction, and the moment I knelt that night in response.  In that moment, I experienced repentance and faith.  Only 4 years old, but I have never questioned my ability to grasp truth and make that decision that night.  I am indebted to them for making the Gospel come alive to me.
At the age of 11, I was honored to be baptized by my dad, who was my Pastor.  That year, I experienced a greater understanding of the Spirit's work.  I have also had the privilege to baptize a couple of my sons.  There is simply no way to describe it!
Processes of the Spirit's Call
My wife Crystal was baptized at about 11 years old as well.  She does not recall a previous crisis moment, a critical salvation conversion point.  However, she had lived for Christ from an early age.  She was baptized in the full understanding of her salvation.
Since we have been married, her story has peaked my curiosity and allowed me to be more receptive to those who speak of various processes of evangelism and righteousness, not only conversion events.
At 15 I found myself at the altars, praying in many new ways over time, seeking an answer about the call.  There were many other paths to consider at that time, but I first sought God.  He graciously answered.  The call was clarified, recognized by my church leadership, and I was on the leadership team for our youth group within a few months.
My personal relationship with our Lord Jesus Christ has always been of utmost importance, but has also been embedded within the community of faith.  I am a third generation preacher, raised in the PCG, immersed in the greater Body of Christ, and on a phenomenal journey.
iv. Faith Practices
How do we speak of Christian practices?
It is fair for Christians to ask each other, "How often do you read the Bible?"
After all, we're on this journey together.  This is a question we sometimes privatize, usually based on a very limited amount of New Testament texts.  However, I have become more open about sharing my spiritual practices in recent years, not for my own personal gain, but to teach and encourage.  With Bible reading, I strive for daily engagement, unless I'm in a deep project studying the Word in Theology.  For a few years now, I've also enjoyed listening to audio Bibles.
I used to feel guilty about missing one day of devotions that I could never regain, or about shifting into deep Theological study.  Thankfully, my Dad lovingly rebuked my perfectionistic, devotional tendencies that were developing in my late teens and early twenties.
Another moment of assistance surfaced in a seminary Basic Christian Doctrine course with plenty of intense reading.  In preparation for the class, I had prayed and felt the okay to throw myself into my studies, both scholastically and personally.  In a sense, my studies became my devotions as well.
Oddly enough, though I don't recall this in any other course anywhere, the professor asked a question.  We were about halfway through the course.  He paused his discussion, then visually scanned the room connecting with our eyes.  He thoughtfully asked, "Does anybody else read Theology devotionally?"
I can remember noticing that my hand was raised high in the air, even though I didn't remember consciously lifting it.  I was somewhat embarrassed then, realizing it just may have been a rhetorical question.  Can we read both deeply and devotionally from texts that complement the Text?
Another good question might be, "Okay, you're reading your Bible, but what about your prayer time?"
Again, this is a fair question.  I would say daily, especially in the morning, but I would like to add a couple of points to consider here.
First, my practices have become more integrated with my entire day in recent years.  For instance, I don't really talk about my prayer life as a segmented portion of my life . . .when prayer is life (1 Thessalonians 5.16-18, NLT).  Just how long have I been praying through this one blog post?  You may never have a personal exchange with me, but if you are still reading, how can you say God will not answer my prayers and affect your personal exchanges today?
Second, I have also realized that our privatization of spiritual practice is good in some respects, but prayer and readings are very communal in the New Testament and Early Church, along with other practices.  Many Christian voices in our day are calling us back to this truth.  Personal Bible reading and prayer are paramount.  However, there are other Christian practices, and specific exercises reserved for the gathering of God's people.
v. Forward
I will probably return to this personal writing.  There may also be posts in the future with actual a/v clips, as previously published.
Why am I beginning by sharing personally?  There are elements of my story that are common for every Christian.  We all question each other.  We all want to know where the other Christian is coming from, sometimes before we even decide to listen to them.  However, where there is a true exchange of our faith stories, something greater happens than a mere transfer of cerebral, relational knowledge.
The Apostle Paul says it's not about an information exchange, or about our bragging rights.  It's about connecting and reading each other's narratives (whether written or in dialogue) with the same reverence we have when we approach the Word.
Do we begin again to commend ourselves?  Or do we need, as some others, epistles of commendation to you or letters of commendation from you?  You are our epistle written in our hearts, known and read by all men; clearly you are an epistle of Christ, ministered by us, written not with ink but by the Spirit of the living God, not on tablets of stone but on tablets of flesh, that is, of the heart.  (2 Corinthians 3.1-3, NKJV)