There are only a few central questions to classical personality theory.  They are set in polarities or opposites.  For this study, we'll toy with one.  Is man more a product of nature versus nurture?  In other words, is our personality more innate or a product of external forces?  Eventually the question seemed to become more scientific.  Are we products of our environment or our genetics?
Given the fact that we all probably know the original story, we may think there is an easy answer.  It's simply logical to conclude that if the first couple had the perfect environment and fell into sin anyway, then it was their choice.  They should own it.
The fact is, the answer is not so cut and dry.  Biblically, we have good reason to believe that the environment also affects personality development.  We've spent a lot of time on a view of persons.[1]  We now briefly turn to four external factors.
---
External Factors of Personality
i. ENVIRONMENT: from Eden to Cursed Ground to the Kingdom
If environment is a major factor, we can argue that Adam and Eve start in the perfect environment, but they still fall.  It is beyond the scope of this series to examine everything we know about Eden, and how the curse now affects man.  Yet we can say that suffering is related to the curse as well as to man's sin.
The process of redeeming the environment is one of the ways to advance the Kingdom of God.  However, the Kingdom is first established on the hearts of men, instead of on land.  So both Theologians and theorists relate discipleship and counseling to the process of advancing the Kingdom.
ii. POSITION: from Dominion to Enmity to Authority
God grants dominion to Adam and Eve, authority over creation.  This authority is changed to enmity.  Man sins and enters into a power struggle with the serpent that will only be resolved by the establishment of Christ's authority as Lord.
We exercise responsible dominion over a portion of the universe, just as God exercises dominion over it all.  God rules over all, and has designated persons to rule over the earthly component of his Kingdom as his stewards and a direct reflection of his own activity (Genesis 1.28).[2]
James Fowler develops the idea of dominion: "from a Christian standpoint, at the heart of what it means to be a human being is the conviction that we are called into being by God for partnership with God."[3]  This does not mean that God blesses special "callings."  God blesses all true human vocations as roles of authority over His creation.  This view holds many possibilities for the Christian career counselor.
iii. RELATIONSHIP: from Unity to Division to One Accord
God has given man this ability to unify with God and with others.  "We image God in his inner oneness by our capacity to become one with another who is separate and different from us, our spouse."[4]
Once Adam and Eve separate from God, and then blame each other for the offense, we can say that abnormality or dysfunction sets in.  "Humankind's alienation from God and consequently from themselves and others speaks to the problem of loneliness and isolation."[5]  Many Christian theorists mark this division as a primary source of pathology, yet believe that Christian unity has a healing effect.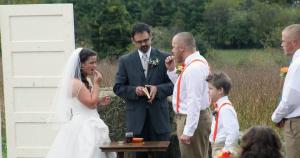 JVI | The McMillans at The Table | 10.12.13
Jones and Butman believe that the counselor can participate in the ministry of reconciliation, "leading Christians to be bridges of healing between estranged persons wherever possible (Mt 5:24)."[6]
iv. POWER: from Subduing to Sinning to Surrendering
God gives Adam dominion over creation and the power to subdue it (Genesis 1:28).  Man loses his power to subdue creation when he begins to sin.  The power of man to choose to disobey is rivaled by his power to participate in the activity of sin.  "To emphasize obedience and to reject psychological thinking that understates the need for obedience is to reflect biblical truth accurately."[7]  Too often, abnormality can be blamed on many factors while disregarding the role of human responsibility and sin as a factor.
Through the baptism of the Holy Spirit, man's power is directed back into God's pursuits, as man surrenders to God's will.  "The filling of the Spirit is the critical variable that determines whether the new (second Adamic) self can supernaturally accomplish Jesus' transforming work in and through persons in an ongoing fashion."[8]
By engaging in spiritual practices we can welcome the presence of the Holy Spirit into our lives and communities of faith, into discipleship and the counseling encounter.  Brian Eck and Gary Moon state, "At their heart spiritual disciplines and practices are activities that help one to live the life God intended rather than a life of brokenness, sin, and disconnection."[9]
---
Questions to Consider:
1. Have you heard a strong argument, one way or another, for nature vs. nurture (genetics vs. environment)?  How do you view human agency and responsibility?  Can we strike a balance?
2. If you could develop a Biblical view of work, a Theology of vocation, do you think you would open a door for the original blessing of dominion?
3. How important is the restoration of relationship?  How does the Christ event serve to prepare The Table for reconciliation?
4. Does your congregation have a robust understanding of the Holy Spirit, both in doctrine and in experience?  Ironically, have you considered the fact that the path to the power of God hinges on your surrender to the Spirit?
---
notes:
[1] Jared V. Ingle, "Nine Biblical Factors of Personality, Abnormality, and Change in the Creation Account," (paper presented in 
Interpersonal Techniques in Helping Relationships
, Assemblies of God Theological Seminary, Springfield, MO, December 9, 2003).
Toward a Biblical Concept of Personality
On Holism, Holiness, and Wholeness
The Image, the Body, and Renewal
On the Mystery of Spirit and Salvation
Modern Psychotherapies: A Comprehensive Christian Appraisal
 (Downers Grove, IL: InterVarsity Press, 1991), 44.
Amazon: 
Modern Psychotherapies
[3] James W. Fowler, "
Keeping Faith with God and Our Children: A Practical Theological Perspective," 
Religious Education
 89 (1994) no. 
4, 546.
[4] Jones and Butman, 48. [5] John D. Carter and S. Bruce Narramore, 
The Integration of Psychology and Theology: An Introduction
 (Grand Rapids, MI: Zondervan, 1979), 59.
Amazon:
Integration of Psychology and Theology
[6] Jones and Butman, 407. [7] Larry Crabb, 
The Marriage Builder: A Blueprint for Couples and Counselors
 (Grand Rapids, MI: Zondervan Publishing House, 1992), 9.
Amazon: 
The Marriage Builder
[8] John A. Ingram, "Psychological Aspects of the Filling of the Holy Spirit: A Preliminary Model of Post-Redemptive Personality Functioning," 
Journal of Psychology and Theology
 24, no. 2 (1996), 109. [9] Brian Eck and Gary Moon, "An Exploration of the Therapeutic use of Spiritual Disciplines in Clinical Practice," 
Journal of Psychology and Christianity
21, no. 3 (2002), 271.