We used to live in a time when there were far more pastoral scholars.  A minister was qualified to be a voice in both the academie and the parish.  Are we living in the twilight of that day?
These materials from my Google+ (G+) collection are selected with the curiosities, pragmatics, and the formation of the minister in mind.
For a similar thread, see:
on Pastoring and Leadership (from the G+ collection)
---
"Time is short. Eternity is long. It is only reasonable that this short life be lived in light of eternity." – Charles Spurgeon (G+ 08.13.14)
This is an interesting piece.  Word for word or meaning? . . . the great question when looking for a new translation (G+ 04.30.15) Article: Can We Trust Bible Translations? [with video teaching by Bill Mounce]
2016
"Unless there is an element of risk in our exploits for God, there is no need for faith." – Hudson Taylor (G+ 01.04.16)
"Worship thrives on wonder. We can admire, appreciate and perhaps even adore someone without a sense of wonder. But we cannot worship without wonder. For worship to be worship, it must contain something of the otherness of God." – Matt Redman (G+ 01.11.16)
Article: Bono Wants Christian Music To Get More Honest (G+ 04.28.16) [includes video: Bono & Eugene Peterson | THE PSALMS ]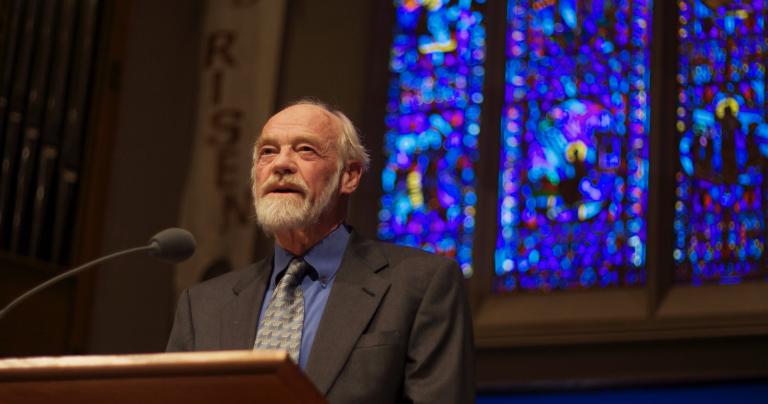 Article – First Things First: Practicing What We Preach, Ruth Haley Barton, The Transforming Center (G+ 08.04.16)
Be thankful in all circumstances, for this is God's will for you who belong to Christ Jesus. – 1 Thessalonians 5.18, NLT (G+ 11.22.16)
2017
"God is a God of abundance and amazing miracles. He is a God who does great things and desires to do good things for you. We know this, but we must believe this and put that confidence into our vision. God is up to something big, so unimaginably good, that our minds cannot contain it. What we see God doing is never as good as what we don't see." – Frank Damazio on Ephesians 3.20 (G+ 02.22.17)
"The Christian ekklesia must be not only liturgical but also local; it must transform not only hearts but also neighborhoods; its worship must foster not only discipleship but also justice – indeed, disciples who are passionate about justice." – James K. A. Smith on a connected and incarnational congregation (G+ 07.14.17)
"At last meditating day and night, by the mercy of God, I began to understand that the righteousness of God is that through which the righteous live by a gift of God, namely by faith . . . Here I felt as if I were entirely born again and had entered paradise itself through the gates that had been flung open." ~ Martin Luther on his conversion and Romans 1.17 (Habakkuk 2.4) (G+ 10.30.17)
Sermon: What We Signed Up For, Dr. David Gyertson, Asbury Theological Seminary (G+ 12.04.17) [Podcast or video sermon on the calling.  This was my last chapel on campus as a student]
Here's a short blog from Oxford comparing Hebrew Poetry to NT Poetry, as well as to outside aNE sources (sheds light on much of the Hebrew Bible).  Article: poetry – Oxford Biblical Studies Online (G+ 12.21.17)
2018
Snowed in . . . but we still enjoyed a couple good movies, too many texts to count from loved ones, homemade [GF] cookies, a great message [see link], family prayer, and inspiration from a snippet of
Matthew 25
. Happy 2018!  Sermon video:
Know the New
, Pastor Preston Morrison, Gateway Church, Scottsdale, Arizona (G+ 01.01.18)
Article: Mid-Life Ministry and The Last Jedi, Jon Jennings (G+ 01.01.18)
I've heard this song countless times but never really caught the lyrics. Thank God He takes up the minister's cause. (G+ 02.03.18)
"What else can a soul desire when it has once tasted the sweetness of the Word, when it has once seen its brightness?" – Ambrose, Augustine's Pastor, on Psalm 119.103 (G+ 02.06.18)
Interesting and unique tribute by Cal Thomas. Article – Cal Thomas: The Billy Graham I knew (G+ 02.24.18)
Article: 45 Faith-Based Publications That Pay Freelance Writers, Jera Brown, The Write Life (G+ 04.06.18)
Article: 8 Top Church Job Websites, Elsa Dooling, Church Tech Today (G+ 04.06.18)
Article: Best Church Staffing Agencies, Ryan Nelson, Ministry Advice (G+ 04.06.18)
"Transition unmoors us. It disconnects us from who we've known ourselves to be in the past before we can clearly and comfortably recognize who God is inviting us to become . . . I am a forgetful follower, and God is reminding me to remember the Red Sea. Not as a way of building my hope on another future deliverance, but to remind me of the One who has always been faithfully with me" – Casey Culbreth, Article – Out of the Rock: Remembering the Red Sea, Casey Culbreth, Seedbed (G+ 04.12.18)
Article: Journal Rankings on Religious Studies, Scimago Journal & Country Rank (G+ 04.13.18)
Article: Ranking Religious Studies Journals, James F. McGrath, Religion Prof., Patheos.com (G+ 04.13.18)
3 feet of snow is still on the ground in my neck of the woods so this is a fitting article to review, by Cheryl Johns.  Article: Advent and the Winter of Our Disenchantment, Cheryl Bridges Johns, Seedbed (G+ 04.20.18)
I know it's a come-out-of-Babylon statement for a specific time, place, and people . . . but would you just let me think about it today anyway, since it came across my screen inadvertently?
Thus says the Lord, your Redeemer, the Holy One of Israel,
"I am the Lord your God, who teaches you to profit,

Who leads you in the way you should go." – Isaiah 48.17 (G+ 04.21.18)

It's interesting to see Catholic apologists arising to address postmodernism like their Protestant contemporaries (i.e. the late Robert Webber, Lesslie Newbigin, James K.A. Smith, etc.) Article: 7 Lessons in Evangelization from Jordan Peterson, Sam Guzman, The Catholic Gentleman (G+ 05.11.18)

"Working with youth pastors a lot – How do we keep these students engaged and involved, without feeling the pressure like we've got to keep this entertainment business up for them?" – Rev. James Gibson, Michigan District Youth Director, PCG (G+ 02.13.19)