Instead of just setting up a preaching or audio clip, I'm sharing some things that have meant a lot to me during the last week in dialogue with other ministers and layleaders in Traverse City When it comes to the Prayer Series that I've done, this is the first time I've done something different.
I'll close with a prayer I've developed for my writings on John Cassian.[1]

Setup: Prayer Series
Okay, we've seen goofy. Now let's see these teachings with a suit and tie, so to speak. For other articles in this series on prayer, 1) select the Archives tab, 2) then click on the Select a Category drop-down menu, and 3) choose Prayer, or CLICK HERE
I'm going to work through these thoughts in chunks, called chunking, to help with various types of learning styles. A couple of ministerial friends are grateful, they look words up at times, and learn that way.
i. I usually think of a song in the mornings
In the mornings, I often enjoy an opportunity to intercede for others in my own systematic way, perhaps followed by a time of prayer to the Holy Spirit. Most often, I awake to ideas that just may be from God, i.e. an injunction, or an unction for the day or week, and I know enough to start planning ahead (1 John 2.15-26). I was talking with a counseling student years ago and he had a similar routine in the mornings, but I think his experience was based more on meditation. Perhaps I'll share some teachings on Biblical meditation some day. After all, the far East is Jerusalem's other neighbor (since the Bible is written in the ancient Near East).
Recently, the Spirit seemed to bring this song back to mind as I awoke (John 14.26). I hope I don't get censored for this, but you never know what they do with the rights of these songs. The song is by Sara Groves. I honestly don't know if the song is on any of her lists. Sara Groves is a fellow Evangel University Alumn. She has some great, thoughtful music, although I wouldn't exactly classify it as folk liturgy. She has more of an indie sound.

Sara Groves | "Glory Comes Down" | Past the Wishing
When I was listening to this song, a bunch of things hit me at once, and then they came back to me later in the week. I don't know if you have Spotify, or Pandora, or Soundcloud.
There's also a lot of great worship on YouTube
This song was playing on Pandora when I heard it. I've heard it so many times, that I was studying and not paying attention. I know that we do that with a lot with things we're familiar with, if we all don't stop. I had to listen again.
There's just something that is otherworldly about the glory of God coming down, not only in a powerful worship setting, but also in simple prayer times with individuals and in homes. I believe that's what Sara is talking about.
When you think of the glory coming down, you may want great things to happen. That's what a leader and I were chatting about recently on a call as he was visiting with family in Traverse City. You may want God to do wonderful things. For instance, you may want to change nations. You may want to take on big social issues. Perhaps you think of big political issues in local government (govt.), liking changing a whole city, a Jonah-type scenario, or an Obadiah, who answers Jonah about Nineveh later.
Call to Action (C.T.A.): May I just say that it takes a lot of courage for you to get in there, help out, and affect change like the Early Church (see Cassian footnote 1 again).

Interconnected Summer Lights
*editing note: This was supposed to be downloadable video that I would edit. However, that function is not working on this particular YouTube video, so the camera is rolling. This is how I am doing some of my videos now, on the live feed at YouTube.
You may think of major changes, but the song is so simple. It basically talks about holiness. It talks about becoming more like Christ in your everyday, and in your homes. I was struck by that, reflecting on the glory of God, and what He can do for you and me.
ii. God's light shines through
I was In Dialogue this week on a few occasions, and was reminded once again that the Father does share His glory. There are angelic beings so to speak in the spiritual realm, that we don't know about. God uses angels in a way that's unique. He uses them to humiliate the Devil.
Sara sings about the glory coming down. Our Father can use His glory in our personal lives. With God's glory, He can do all types of things. He can use His glory to change us. There are no two spiritual realms.
There's one spirit realm which has angelic and the demonic all in one place . . . Carl Jung got his revelation from an angel known as Philemon. Lewis and Tolkien pursued the imaginal realm, between heaven and earth. We would call it the Second Heaven.[2]
I don't know, but I think that in someway it could all be interconnected in the heavenlies.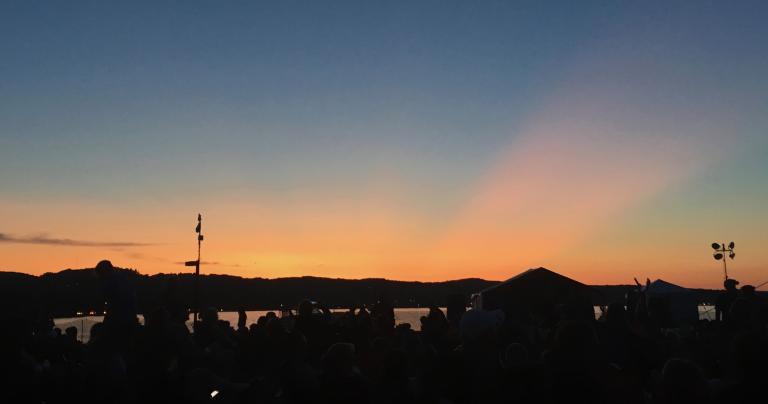 Yet in some ways, God's rays of light shine through like a sunspear
The glory of the Father has been displayed in many ways to humiliate the Devil. I don't want to sound too weird, but what is more humiliating than using an angel that was lower than the highest angel to humiliate him?[3] Or what about humans? We're a little lower than the angels, but our worship, our praise, and the way we interact brings humiliation to the enemy, because that was his position.[4]
God receives glory, not the enemy even though that's what he wanted. The enemy wanted to receive glory. He was lifted up in pride. What happens is like a boundary the enemy can't cross. Whatever the spiritual equivalent of a sword is, the angel draws his weapon, and draws a line in the sand that protects us in times of difficulty.[5] Maybe that leader and I will meet again in Traverse City next week, like we did before at the Grand Traverse Pie Company.
iii. Pastor's meeting in Traverse City
Some of the pastors who were present were: Rusty Chatfield, Jared Ingle, Daniel LeCouteur, Chuck Towersey and his son Colin, Chuck Vitzhum (alphabetically listed). There may have been more, but it certainly was not too much, an invitation event. We met in Traverse City.
We were dialoguing about similar concepts, all concepts that might result in revival. What would change the atmosphere like revival? I'm pretty good at understanding the atmosphere in a place. It reminds me of Rev. Wayman Ming, Jr., my Messenger College Choir Director, who led us in a song called "Making War in the Heavenlies" (song credit: Ron Kenoly).
I understand that we don't wrestle against flesh and blood (
Ephesians 6.12
) but there are times when families, churches, and networks of churches bind together. By doing so, they affect great change. They may deal with govt. issues. They may cause a groundswell, or a movement, that would completely transform an area over one issue or another.
C.T.A. It takes great courage to get in there and help out
Right here in town in the '90's, there was a decision that was being made. It affected everybody. It affected even law enforcement. One of our friends in law enforcement was sharing this story at the meeting. It affected him. He was going to have to give in to a certain way of thinking, and he was going to have to display that. He would have to promote a belief that was incongruent with his own beliefs. It would have been marked on all of the law cars. The American Family Association stepped in. People rallied. There were prayer vigils going on. Eventually, those in power saw it and it changed their minds on the ruling.
I think there are times when the glory of God does operate, not just in the heavens, but also on earth to help us affect great change.
Our fellowship keeps a similar statement online in our governing documents. Go to pcg.org, then to the ABOUT drop-down menu, and then click Beliefs, or CLICK HERE
On our Beliefs page, you will find our Doctrinal Statement. You will also have the option to CLICK HERE to download the 2018 Bylaws, although they should just be visible, so you don't have to download them, and those are our governing documents. They will be updated soon, since we just celebrated our Centennial.
Now we are starting to see the signs of a groundswell
At the meeting in Traverse City, we found out there are citizens who have signed the Othismos Declaration, and it may become a game-changing governing petition in Michigan, not to mention other states. Othismos is a Greek word for the moment right before two opposing armies rush out on the battlefield. Again, it's important to understand that we don't wrestle against flesh and blood.
There are times when we want to charge out onto the battlefield and declare with Jude, who quotes the angel Michael. In spiritual warfare Michael says to the enemy, "The Lord rebuke you" (Jude 9). We want to have that kind of power, but I'm not exactly sure it is our place every time. Some of those battles may be fought way over our heads. We really don't see those places where angels fear to tread, but the Lord does, and He sees our place.
C.T.A.: It takes great courage to get in there and help out, so maybe consider adding your name to one of the lists mentioned above.
iv. Triumph in Christ Jesus
Our Lord sees exactly where we are at now, whether we're engaging in great things in the civil arena, the marketplace, or in churches. He sees whether or not we're seeing great changes in our homes, like Sara Groves sings about. I've been thinking about 2 Corinthians 2.14 which says:
Now thanks be unto God, which always causeth us to triumph in Christ, and maketh manifest the savour of his knowledge by us in every place.
He "causeth us to triumph." Although it's a different Greek word, triumph is the basic meaning for the Greek term nike or victory . . . so could we at least use nike as a synonym? "He always causes us to nike in Christ . . . to triumph in Christ."
Closing Prayer
I'd like to close with 1 of the prayers from the Prayer Series. It may be considered a blessing as well.
If there is a spiritual battle to be fought, may the Hosts of Heaven protect us, even if they protect us from our own brothers and sisters in Jesus Christ, or from ourselves. If the enemy plays his hand, may we remember that he has been cast down like lightning by Michael, who also declares to him "The Lord rebuke you" (Jude 9). May the Spirit empower us to declare the same to the devil and his imps. If the enemy seeks to ruin us through anger, or by stealing from us (our family, our resources, our good name, or our joy) may we remember that God has already caused us to triumph (2 Corinthians 2.14). Amen
---
notes:
[1] The Cassian piece,
John Cassian on Ephesians 4.26-27
is part of a larger series on Ephesians and the developing New Testament congregations. When I consider his material in light of this season and the study on Ephesians, I read Cassian and I think, that's the Early Church.
To read that article CLICK HERE
[2] Ian and Rachel Carroll,
Building Contenders Chicago: Prophecy Conference
(
Family of Christ, Petoskey, MI, January 26-27, 2019).
Look for the next one this week.
[3] For a list of Scriptures pertaining to just one angel among the Hosts of Heaven, who overcomes the enemy
CLICK HERE
[4] For Scriptures pertaining to our position in God vs. the Devil's former position
CLICK HERE
[5] There are a variety of Scriptures as to how angels protect God's people. However, many of them actually include times when the people of God are facing times of war, or in they're in peril. That is certainly not always the case with angelic assignments. However, suffice it to say that the angels are assigned to us, in language that sounds militaristic, but they are certainly never, ever
spirit-guides
. They are messengers, yet part of their portfolio may be to be heavenly bodyguards for each other, and for us. See the passage from the Book of Daniel (footnote 3 above) where an angel delivers a message with the assistance of Michael. I would have to note that they also direct all human attention and praise to the Trinity throughout Scripture. To see passages about how they are assigned to us
CLICK HERE