My first look at the Fresh Start Bible happened in September. I have a seat on the Pentecostal-Charismatic Curriculum Commission, a discipleship consortium of major publishers. We were preparing to begin the on-boarding process for a new publisher. The day arrived and the new publisher's liaison entered the conference room with new boxes of Fresh Start Bibles for all of us.
What better gift for the lifelong students of the Word that sit on the commission?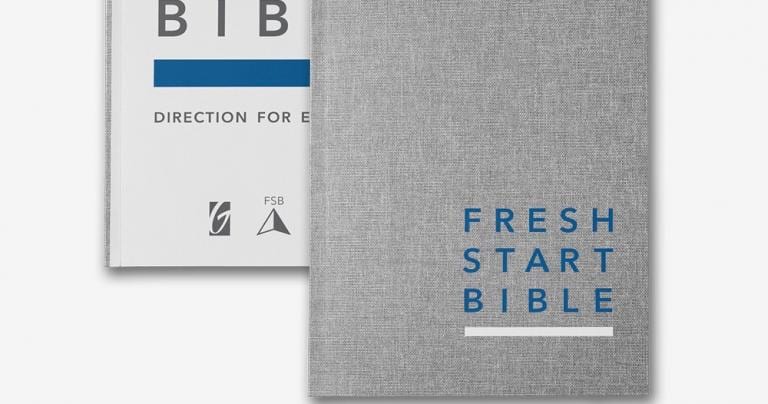 Review & Giveaway
Fresh Start Bible
We officially welcomed the liaison and the new publishing house to the commission. He shared a little about his organization, passed out the Bibles for us to open, and then gave us a rundown of all the specifics.[1]
i. First impressions
I was immediately impressed with the possibility of utilizing the Fresh Start Bible as a commentary, not only as a devotional Bible for Christian living. There is nearly something on every page, explaining one of the Scripture passages in more detail. Many of these commentaries are written by Pastor Robert Morris and Pastor Jimmy Evans from Gateway Church.
Each book of the Bible has a tremendous, scholarly write-up at the beginning. For instance, not only is there a good introductory write-up for John, there are also charts of the 7 I AM statements of Christ and the 7 great Signs that He performs. This information is vital to understanding John's outline.
There are also extensive Bible studies that can be used individually or for small group leaders. There's a through-the-Bible reading plan for those who would like to explore the whole counsel of God.
ii. Launch Team & Giveaway
Later members from Gateway, the publisher of the Fresh Start Bible, reached out to some writers like me to see if we would like to serve on a launch team. I considered this an honor and joined the team. Although there are various ways that we all communicate, they now have a public group on Facebook.[2]
I utilize groups on Facebook for various reasons, but I was really surprised by the rapid momentum I was witnessing in this group. One of the most important features of the group was that there were many ways to be involved in the launch. I realized that there was one way I could contribute to the launch team. They are offering Bibles free to members who would like to do a blog review. These Bibles were to be given to the bloggers, so they could use them in their own giveaways.
I have a Fresh Start Bible to give away, so I'll share the details below.
It's been exciting to track the progress of the Facebook group, to read the comments, and to see that some are posting reviews. I'm probably most excited about seeing people posting selfies with the Bible. They now have a tremendous study tool in their hands and they are gratefully showing it off.
iii. Choosing a Bible
One way to do homework on a Bible is to look at the source materials. The Fresh Start Bible is a New Living Translation (NLT). When the NLT first hit the shelves in the mid-1990's I had been tracking its progress. It is a Bible that is based on good scholarship. Some translations are based on other translations that have been handed down to us through time, usually in European languages. However, the NLT is based on scholarship that returns as closely as possible to the ancient materials that make up the Word of God. From those documents and the Biblical languages, the NLT has been birthed. There is also a team of scholarly translators, not just one.
Another way to look at Bible translations is to consider the type of translation. Some translations are considered closer to a word-for-word translation. Others are considered closer to a thought-for-thought translation. It's a spectrum, so there are many translations that are somewhere in between. Translations that are close to word-for-word are difficult to work with, simply because the grammar and sentence structure of the original languages are different than English.
The NLT is related to the Living Bible. The Living Bible is a paraphrase with a loose thought-for-thought structure. The NLT is definitely much closer to a word-for-word translation than the Living Bible. Somehow the translation team has accomplished this, while maintaining the heart of the Living Bible to put the Word of God in plain English.
iv. Reading a Bible
There are many paths one can take to personal or group Scripture reading. In our time, many Bible reading plans are either a complete read-through plan or a topical plan, based on the calendar year. I've explored various plans over the years for my own readings and for readings in the community of faith.
In 1996 when the NLT was first released, my wife Crystal bought one for me. Now there are priceless highlights and markings from cover to cover within that Bible, as with some of the others I've read through. Although I may not read through the Bible every year because I enjoy other reading plans as well, I always recommend it. If we never read through the whole Bible, we cheat ourselves out of the whole counsel of God. Can we really exclude any of its contents?
There are other reasons I believe we should read through the whole Bible that I won't explore here. However, I am thankful that the Fresh Start Bible includes a reading plan that will take you through it from cover to cover.
v. Reading the Fresh Start Bible
The Primitive Church would receive an Epistle. They would not only be a reading community, exploring Scripture together as we would do today in a good Bible study group. They would usually memorize the Epistle together as well, before passing it along to a neighboring city church.
Over time, my understanding of reading communities has grown. I have become convicted that my interpretation of Scripture is not my own. Even with my Christian heritage and Christian education, I believe there is somewhat of a mystery in approaching Scripture interpretation as part of the community of faith. So I've preached from the Fresh Start Bible on a couple occasions already, and taken it to Bible studies in our congregation.
As a Father, I do morning readings with our youngest son as part of a homeschool curriculum that he's going through. It's amazing to watch him engage with the various readings. The Fresh Start Bible makes the Word of God easy for him to access linguistically, since he's only six.
Therefore, I think I'll be highlighting Scripture from the Fresh Start Bible that is read in community. I also hope you find a personal or communal way to use this extraordinary new Bible with all of its study tools.
Pick up a Fresh Start Bible for yourself or offer it as a gift.
Fresh Start Bible GIVEAWAY
Sign up for my communique, that's it!
To sign up: CLICK HERE
FYI: This is not strictly a Patheos list, but it will include my blog posts. I don't send a lot of emails. However, I do send my readers information about new developments in our ministry, or other offers like this one. For instance, this year I developed a simple e-book on the writings of C.S. Lewis with another college professor (less than 100 pages).
If you sign up for this Fresh Start Bible giveaway, I'll include our C.S. Lewis e-book as well.
Here's the deal. I need to finish the giveaway by December 15, 2019.[3]
Trust me, the Fresh Start Bible would even be a great Christmas present for someone if you would like to give it away. I'll be in contact with the winner via email and I'll provide FREE shipping!
What are you waiting for?! SIGN UP
Purchase the Fresh Start Bible
I'm a little partial to my shop. If you drop in to The Study this week, you'll find books, coffees, and teas that all influence my studies on a weekly basis. This is an Amazon list that I update each week. The idea is that if we were to enjoy a good cup of coffee or tea today, what books would we share that are influencing our daily walk and studies at this moment?
Drop by and pick up your copy of the Fresh Start Bible at The Study this week: CLICK HERE
---
Look for a new series to start next week on the family from Ephesians!
Rev. Jared Ingle
Pastor, Long Lake Friends Church
Supervised Therapy: Personal, Couple, and Family
Traverse City, Michigan
JC Ingle, Inc.
notes:
[1] If you would like to look at the unique specifics of the Fresh Start Bible: CLICK HERE
[2] If you'd like to visit the Facebook
Fresh Start Bible Community
:
CLICK HERE
[3] This is a new
communique
that I'm starting. There are only a handful of people who are on the list. So if you are on the
Patheos
list, I'll include your name in the drawing.