Lay Reading | Matthew 6.19-34
It's amazing how Scripture gives us what we need in our times of trial. Jesus calls His followers to choose their master, either God or wealth. This also applies to our outlook in life, either faith or worry. In these time we really do need the Kingdom outlook. It works out its details in our lives and it really satisfies that need for solace, and the rest that we crave in life. So we do need some anecdote to the news, having our mind full of concern, and "What if?" We're concerned and we pray that everyone will stay well. We'll put it in God's hands with our prayers.
Jesus is saying in this portion of Scripture in Matthew 6, starting in verse 19, that the "heart" is the center of our being. That involves our emotions, reason, and will (all things we can choose). So I found in my study Bible the word "eye" is similar to heart in the Jewish literature. Jesus also says that the eye is the lamp. It reveals the quality of the person's inner life. A healthy eye shows real devotion to God, but a bad eye reveals corruption.
see Matthew 6.19-34

Reading & Message
Live in Harmony
May the God of steadfastness and encouragement grant you to live in harmony with one another, in accordance with Christ Jesus, so that together you may with one voice glorify the God and Father of our Lord Jesus Christ. – Romans 15.5-6, NRSV
i. Live in harmony
Paul offers this prayer for us, that we will have unity with one another. We are "to live in harmony with one another" (verse 5) or "be likeminded one toward another" (KJV).
We are to operate "with one voice" (verse 6, NRSV) or "with one mind and one mouth" (KJV). With one voice or mouth is often translated as "one accord" in other parts of the New Testament. The root words mean to rush along in unison. The idea is of musical instruments playing together in harmony.
"Unity means dwelling together in harmony. Through harmony the community of believers is steadily built up and together can glorify God."[1]
ii. In accordance with Christ Jesus
Paul encourages us to operate in harmony "in accordance with Christ Jesus" (verse 5, NRSV). It seems to be common knowledge among the leaders in the Primitive Church that we can live in harmony without being "in accordance with Christ Jesus."
Today, we may think of conspirators, perhaps even the rumors of the coronavirus instigators. Are there people who would intentionally cause the worldwide reaction we are witnessing in the news?
Not necessarily, but the leaders of the Primitive Church are dealing with the conspiracy of real persecution, and also with the conspiracies of heretical religions. These are counterfeit religions that are either rising up against the Gospel message, or are changing their views to draw Christians away from the faith.
iii. Ancient heretics are united in their purpose
Perhaps these ancient heretics are living in some form of harmony, but they are definitely not "in accordance with Christ Jesus." So Paul's words are of utmost importance in the Early Church, along with injunctions from our Lord like Matthew 18.19:
Again, truly I tell you, if two of you agree on earth about anything you ask, it will be done for you by my Father in heaven.
It is essential that our unity reflects a Godly unity, the unity of Christ. The words of Christ are not only important for the Early Church leaders, they are also important for our leaders today.
We see in the news that States are making recommendations for local gatherings based on the recommendations of President Donald Trump and the White House.
iv. We are going to have to be more creative if we are to gather
Perhaps we'll have to gather only from house to house for now. Our congregation is experimenting with our Facebook page and YouTube video as a way to continue to share our readings and message.[2] No matter what path we choose, as congregations we have the guarantee from Christ Himself that the gathering does not require more than two or three. Jesus continues:
For where two or three are gathered in my name, I am there among them. – Matthew 18.20
v. Romans 15.6: "glorify the God and Father of our Lord Jesus Christ"
The verb "you may . . . glorify" is doxazo, and many Christians may recognize it as the root word for our term doxology. Indeed, this part of Paul's prayer is considered to be one of his many, beautiful doxologies.
This verb form of doxazo is present and active, but it is subjunctive. Subjunctive means that it is not a command, but that it may or may not happen. The choice is ours. In other words, we may . . . or we may not . . . ever . . . join together in a unity . . . that glorifies our Father.
On the other hand, if we do glorify God with our unity, we praise, magnify, celebrate, and honor him. We may know how to raise our voices and hands in worship together on Sunday mornings? However, do we know how to lift up our voices . . . "with one voice" . . . in the unity that Paul is talking about?
Paul prays that we learn how to speak with one voice, in unison as we glorify God, in unison as we encourage each other. His prayer forms a beautiful doxology.
Because of his doxology, we are left with the question. Does our unity form a doxology of the highest praises we can offer . . . together . . . living in harmony with each other and with God?
---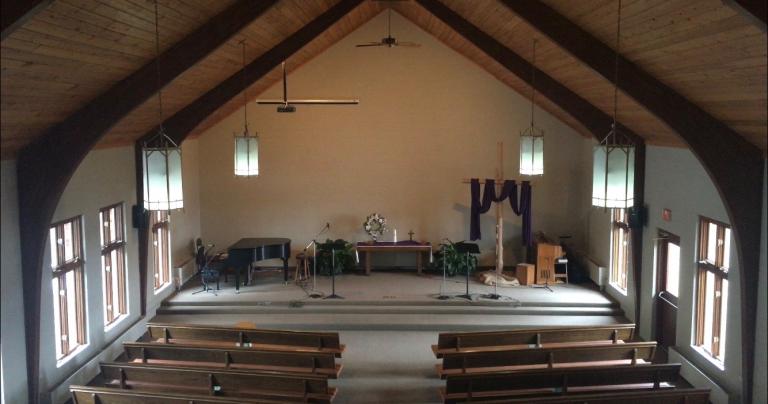 Reading: Bob Revnell, Trustee and Elder
Message: Pastor Jared Ingle
notes:
[1] J. Rodman Williams,
Renewal Theology: the Church, the Kingdom, and Last Things
(Grand Rapids, MI: Zondervan, 1992), 118. [2] We are experimenting with Facebook and YouTube as a means for sharing the layreading and message. Find us at:
Facebook | Long Lake Friends Church @longlakefriends
YouTube | JCIngle