I can only speak from my own situation while empathizing with others. For us, this "social distancing" is not as difficult as it may be for others. The last two weeks have made some changes to our daily routine but it is not as much of a change as it may be for you. This is simply because we have been working from home a lot as well as homeschooling for several years. Jared writes for Patheos among other jobs and I work for VIPKID.
Over the past few years our financial situation has limited our activities outside of church, i.e. sports, travel, vacations, eating out, movies etc. So, the slowing of life is not a big stretch for us. We have researched and dove into simplicity many years ago. I am not saying we don't desire or want to do those things I mentioned, but for us they were already very limited and we have learned to live simply. To view one of our resources, the book Go Green, $ave Green: A Simple Guide to Saving Time, Money, and God's Green Earth CLICK HERE
I have been teaching from home as an ESL teacher with VIPKID for over two years
I love the job! It came at a time when we were in desperate need of another source of income. I don't love waking early, but the students make it so fun! I laugh several hours each morning before others even wake. For one of my favorite videos: CLICK HERE
This is not a plug for VIPKID, but I do mention it for this reason . . . we are not alone. As a part of this world we are connected in many ways.
We are connected to neighbors by borrowing eggs and milk.
We are connected to family through relationship or blood.
We are connected to friends by going to events or services together.
We are connected to each other through the internet, phone, texting and email.
We connect by listening and hearing what others have to say.
I am connected to several families in China through VIPKID. My families in China have been experiencing the effects of COVID-19 much longer than we in America have. They have been in their homes without venturing out at all for over 9 weeks. Many of them live in high rises and have not been allowed to leave.
Recently, I also heard other encouraging news from Voice of the Martyrs (VOM). "Christians in parts of China affected by the coronavirus have felt more freedom to boldly witness for Christ because China's oppressive facial-recognition cameras are less likely to identify them when they are wearing masks." What a testimony!
Within the last week, the families I know through VIPKID have mentioned they are doing well. I realize not everyone is, but the ones I am in contact with on a weekly basis are.
My students have begun to tell me they are going outside
They are playing at the park. They are completing their assignments online. Their parents are going to work. They are eating well (mangoes, avocados, rice, meat, vegetables). One student took class in a restaurant today. They are not only surviving, but they are thriving.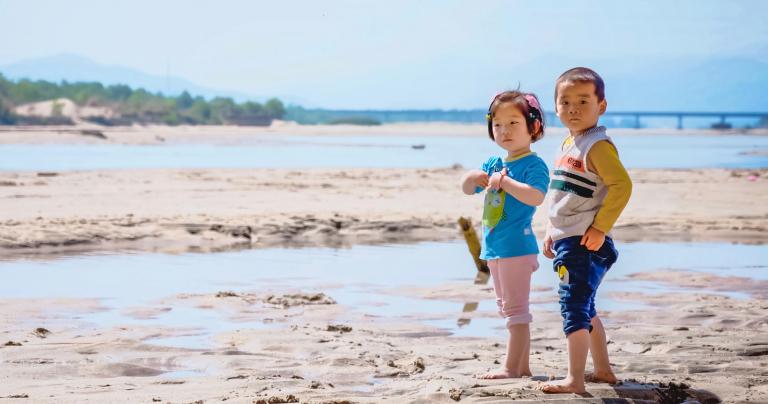 Many of them were frightened in the beginning. Many of them were concerned. They sent me videos talking about the virus and how to prevent its spread. They had concern in their faces when asking if I knew about it. I assured them I was thinking of them even praying for them. I am connected to my students in a deeper way because of this unfortunate virus.
I want to say that my students are doing well and we will also be well, as a whole.
Some of us will suffer more than others. Some will suffer great loss. Some will be affected in deep ways, but we will be well. I told my students, "This too shall pass," and it is in the process of passing as you read.
During this time there are and will be many missed opportunities, events canceled, gatherings not taking place. Easter will be different, graduations' postponed (I have a high school senior), people disappointed, belts tightened, stretching for ourselves and others, but this time will end.
Not that life will go back to the same as before, necessarily, not that we will just move on, but we can be well. We can be well in the middle of the uncertainty.
. . . All shall be well, and all manner of thing shall be well. – Julian of Norwich
Why will all be well? . . . because of Christ Himself. He makes all things well. He redeems everything. He is Sufficient, for you.
You may have some extra moments in your day during this season. If so, I encourage you to take ahold of them. Use them wisely. Invest in yourself and those around you.
I am a very practical individual and love to have resources worth having on hand or ideas that I can implement. With that in mind, here are some ideas that you may already be doing, or be a part of, or these may spark something for you.
I've had the fortunate opportunity to serve some close neighbors with a few necessary supplies and even guests at Safe Harbor. These individuals and some families (husband and wife) at Safe Harbor are some of the most vulnerable and less fortunate people in a time like this. Not only is their day-to-day life disrupted, but their basic needs of food and shelter are changing drastically. Some have found other shelter, while others will be in tents soon in the chilly wet weather. They are having to find other places to go with the libraries being closed and even some of the churches that are normally able to house them during the day or provide meals.
Many of you are connecting with family and friends
Many of you are connecting with family and friends via FB, FaceTime, Zoom or using the old fashioned method of simply calling. Let's also consider our elderly friends or single friends who may be at home alone. We can invite someone for a 6 feet apart walk in the great outdoors. The weather is really improving for most of the U.S.
In my area the schools are providing breakfast and lunch for all students 18 and under. We can help distribute meals this way to those students in need. To look into this opportunity: CLICK HERE
As I mentioned before, we have homeschooled for more than 12 years. So teaching my children at home is not as great of a challenge as it may be for someone who is trying to guide their own children in education right now. If you have a talent you can share such as art or music, try offering a free class or more to students at home. You can use Zoom or any other source of media. Post a video on YouTube and send it to your friends who may need it. Offer your services of tutoring a child in math or science. Offer to help a student with a paper they are writing. Read a story to a young child over Marco Polo. All of these can be accomplished with social media apps and not in person.
Local hospitals are also accepting donations whether financial or physical. This is where to find the information in my area: CLICK HERE
Just because we are homebound does not mean we cannot help
If you can sew, there are lots of options. You can even get material remnants to use from Joann Fabric at 70% off. Ask a friend to pick them up for you.
I am sure there are other opportunities that I am missing, but in this time we can all do our part to help . . . especially through pray.
Pray for those who are ill.
Pray for others to remain well.
Pray for families who are separated during this time because of distance, or members of families who have to be apart because they are on the front lines.
Pray for medical staff and personnel.
Pray for those making deliveries and those working in food service or grocery stores.
Do not get overwhelmed. Take one idea, one thought, one prayer, one family, one individual and show how you care.
Sometimes our help is just to stay in [our home] and that's ok. – Nathan Foster
I am also taking moments to connect with my Creator. Here are a couple ideas you may find useful and even enjoy. The following is a link to a 13 minute meditation from my favorite podcast group, Renovaré: CLICK HERE
A book that has been a strength in recent years for me, that is based on Psalm 23, is titled Life Without Lack: Living in the Fulness of Psalm 23 by Dallas Willard. There are free audio versions of this book on Hoopla, or grab the hard copy and mark it up to your heart's content: CLICK HERE
As I mentioned, my VIPKID students are venturing out, they are slowly getting back to their previous "normal" and so will we.
We will all be well because He is Sufficient.
---
For more of Crystal Ingle's writings as a Guest Contributor: CLICK HERE
Tune in tomorrow for a vlog with the lay reading and a brief message from Pastor Jared. The vlog will be available at 3 locations at 10 am.
The vlog and the notes will be posted here on Patheos.
You can also find the message on the Long Lake Friends Church Facebook page @longlakefriends
It will also be broadcast on YouTube at JCIngle