Joseph Castleberry says about the Gift of faith, "The Holy Spirit reveals an alternative reality… "
There are various ways the Lord still speaks, if we allow Him. In the New Testament there are a couple authoritative words for the Word of God: logos and rhema.
In short, logos is often associated with Scripture and our Lord (John 1.1-3, 14).
The term rhema refers to the spoken word, an injunction, an encouragement, etc. While it does not bear the same status of canon, a rhema word does in fact carry authority.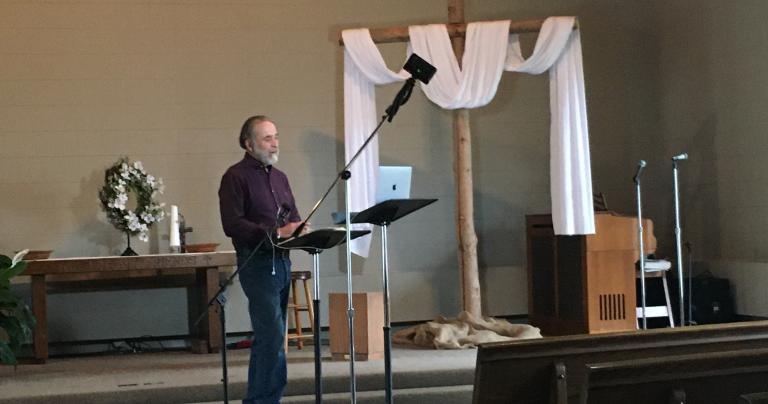 We judge rhema according to the plumbline of logos.
To one is given through the Spirit the utterance of wisdom, and to another the utterance of knowledge according to the same Spirit, to another faith by the same Spirit… 1 Corinthians 12.8-9.a, NRSV
i. Word of Wisdom
Denominations sent delegations to see what was happening in the Azusa revival in the early 1900's. Those in the delegations naturally experienced the Baptism in the Holy Spirit. When they returned to report to their mother denominations, they were not always well received. Thus new Pentecostal denominations were formed. However, during a second wave, Pentecostalism began to cross boundaries back into mainstream denominations.
Dennis J. Bennett was a respected voice from the era of Second Wave Pentecostalism. He says, "The supernatural gift of the 'word of wisdom' is the sudden and miraculous giving of wisdom to meet a particular situation, or answer a particular question, or utilize a particular piece of knowledge, natural or supernatural."[1]
This is a spoken word that is not only knowledge. It is supernatural knowledge plus a plan of attack.
Stanley Horton was a premier Theologian in the Assemblies of God. Whenever you come across someone with a Th.D., you truly encounter a unique voice. He says, "Through this gift supernatural insight into both the need and into God's Word bring the practical application of that Word to the need or problem at hand."[2]
ii. Word of Knowledge
Dennis Bennett says, "It is the supernatural revelation of facts past, present, or future which were not learned through the efforts of the natural mind."[3]
Some say this knowledge only applies at times when teachers are explaining the Word of God.
Others claim that it is a supernatural revelation of facts as well.
More than likely, the word of knowledge is at work in teaching and in spoken words. The Spirit reveals one of His secrets, or assists us in coming to a realization we may not have figured out on our own.
iii. Faith
I include this Gift because the Spirit sometimes uses a spoken word to strengthen the faith of a gathered body of believers. When faith arises in the house amazing things happen.
This is not saving faith that activates when we commit our lives to Christ.
It is not faith, the Fruit of the Spirit, which really means faithfulness (Galatians 5.22-23).
A fellowship of scholars produced the book Pentecostal Gifts in a Postmodern Era. Joseph Castleberry says about the Gift of faith, "The Holy Spirit reveals an alternative reality that is God's will and empowers the believer to miraculously change a given situation."[4].
He states that in the Western World (i.e. Europe and America) Pentecostalism and Postmodernism are like twin sisters. Both have come to the conclusion that modernity no longer works, no longer explains reality, no longer works as a paradigm.
Joseph Castleberry says the difference between the two is that postmodernism posits doubt, or breaks down the explanations of modernity. This stems from the deconstructionism in France of the late 1800's.
Pentecostalism makes a clean break with modernity as well. However, Pentecostalism posits faith. Where the reality of modernity is limited, faith carries us further, opening us up to a higher reality.
Dovetailing with the thought of Joseph Castleberry, and as I said above, when faith arises in the house amazing things happen. Our eyes truly become open to reality.
We tend to use the term reality a number of ways.
"Oh, I'm just a realist."
"Why don't you just open your eyes to reality?!"
"Realistically speaking… "
In my opinion, all of the above sayings are used in negative contexts.
Also in my opinion, we sometimes apply methods and forms of interpretation to Scripture and Theology… until we think we have the reality of it all figured out. For example, we may employ forms of hermeneutics or inductive Bible study that leave no room for the very mystery of God that we are studying to operate in our current reality.
However, a Word of faith comes from a higher reality
Furthermore, the Gift of Faith, or spoken word, often works together with other gifts such as working of miracles or gifts of healings. It's the ability to move mountains, to believe for the supernatural.
To be clear, this type of faith does not have to be a spoken word. There are other ways it is manifest in the service. However, it is often manifest through the spoken word.
About a spoken word of faith, Stanley Horton says, "The Holy Spirit may use a song, prayer, testimony, or preaching as a channel to communicate faith or raise the level of faith in the Body."[5]
---
For those who are interested in counseling…
I am in the middle of a shift. I have the credentials and tech to counsel online or face-to-face. However, during this plague, I'm going to counsel online entirely for the foreseeable future. I'll be counseling Michigan residents.
Please look for more information in the near future.
Merry Christmas!
Ptr. Jared
notes:
[1] Dennis J. Bennett, Holy Spirit And You (Orlando, FL: Bridge-Logos Publishers, 1987), 163.
[2] Stanley M. Horton, What the Bible Says About the Holy Spirit, Rev. ed. (Springfield, MO: Gospel Publishing House, 2005), 271.
[3] Bennett., 155.
[4] Joseph Castleberry, "Faith, Miracles, and Gifts of Healing in a Post-Modern Age," in Pentecostal Gifts in a Postmodern Era, ed. James K. Bridges (Springfield, MO: Gospel Publishing House, 2004), 71.
[5] Horton, 273.