We are saying our goodbyes to the GT Bay Area, i.e. Grand Traverse Bay Area. We are all having our last meetings with those that we can, all the while packing every extra minute, and trying to sell our first house. God is once again proving Himself in many ways. Today I had coffee with some pastors and one asked me, "Where is your favorite place that you've lived?" People don't ask me that question often. I have lived in many places, but I had to say the California Bay Area.
So… I know that we're well into December
There are plenty of holiday posts. This could easily be another December holiday post… or a post about December global holidays 🙂 Perhaps I could share something that would add to another coffee sipping conversation about Christmas day.
I could also share another film, however these little videos sometimes take up to half a day to record, render, and add to an actual Patheos article. So I will simply reshare last Sunday's film.

Advent of Joy
MAJOR ANNOUNCEMENT
After all, there is still joy to be shared this Advent season and in this video, we share the announcement that we are departing. We also share the beautiful letter written by the Elders.
Back on topic…
Another Pastor had named the place in a previous conversation today. His son will be moving from his flat just a couple blocks off of Times Square NY City to… The City, San Francisco, California. He said his son will be working for an internet company that is a household name and "he will be making stupid money." He shared the figures and we were all indeed stupified.
I know from living out there that life can be affordable, however simplicity as a virtue is usually a must.
Those who know me very well, know that Tony Bennett is not the only one who left his heart there.
Bay Area or GT Bay Area?
Those who have walked alongside me in recent years know that my heart has been stirred to love the GT Bay Area like no other place except the Bay Area.
My love for this area has been a testimony to me when I have truly been in the process of discerning. God opened up doors for us to depart earlier, but we stayed the course. Our love for town is one of the staying factors. If you know the harbor towns from Big Sur to Bodega Bay, California, then you would see why we love Traverse City as well.
Bay Area weather is different, but not all together
When there is a lengthly spring or autumn in this region, it reminds me of the Bay Area. Bay Area winters are moderate, usually with temps in the 40's and plenty of rain. I first drove into Traverse City, overlooking the East Bay, and through the quaint downtown, on just such a chilly, rainy day… perfect.
The summers are just about the same, low humidity, and moderate weather.
There is a lot more sunshine in the sunshine state though.
If one is concerned about the fog in the Bay Area, it usually keeps moving inland or burns off by midday.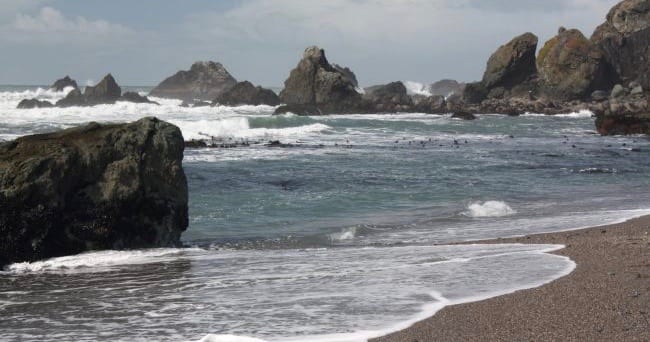 God may have required our obedience to stay
Today, one pastor told me, "You can't speak for everyone and you can't control what others have done, but you were obedient." I'm so grateful for a group of pastors who meet together weekly to pray. I have been privileged to join their group for this last 7 years.
They reminded me of a job well done today and my faithful obedience. 2 out of the 3 servants heard the words well done in Matthew 25. I'm honored to hear it as I depart the GT Bay Area.
Another Pastor reminded me today about John 8. Jesus basically says that He lives for nothing more than to do the will of His Father. We often think that He lived only to die, but He did a lot of ministry leading up to the Cross. What did He live for?
I guess I'm not heading back to the California Bay Area, but as I depart the GT Bay Area I'm very grateful for the encouragement, and for those who have said thank you.
---
The picture of Shell Beach is from the parks page. I've never been there with anyone else, but the Holy Spirit has met me there numerous times. This is one example of why it's my favorite place to live. Of course, I could make a series out of this post if I wanted to start naming all the reasons why I love the Bay Area.