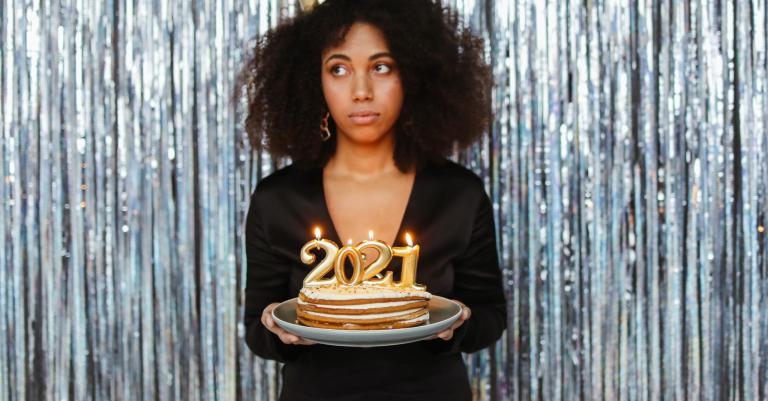 As we approach Christmas and review 2021, it really doesn't look like many people were having fun at the party.
an unlikely Christmas thought
And Jabez called on the God of Israel, saying, "Oh, that You would bless me indeed, and enlarge my territory, that Your hand would be with me, and that You would keep me from evil, that I may not cause pain!" 1 Chronicles 4.10.a, NKJV
When I first discovered some translations slightly mistranslate the prayer of Jabez, I was reading a Spanish Bible.
"Te ruego que me des tu bendición, que ensanches mi territorio, que tu mano esté conmigo y que me libres del mal, para que no me dañe." Reina-Valera
Everything is about the same except for the last phrase… "para que no me dañe," roughly translated… "so that it does not harm me."
Guess what translation is closer? Is this different than what you may have read about this prayer? Is it different than how you've heard it taught or preached?
Some translate this verse like the NKJV, linking it to his mother's curse, stating Jabez tries not to spread harm (1 Chron 4.9).
Instead of bearing a family curse he does not want to spread around, Jabez may actually have bigger battles to fight.
It may not really be all about him. There are others in the picture, in context. In fact, it's possible he could be an early type of a deliverer or judge. Therefore, Jabez may be very well be praying for protection.
I've just about come to the conclusion that we're all fighting bigger battles right now, much bigger than any differences with family or those close to us. We've all been touched by loss the last couple years.
As we gather with our loved ones this Christmas, may we cry out for the grace Jabez does, and receive it from the Holy Spirit. May we thank God for those we share life with. After all, our life and times are in God's hands, and He doesn't really share this responsibility with anyone or anything.
And God granted him that which he requested. 1 Chron 4.10.b
May we thank God because… in advance He has answered our prayers for grace, the answer born of a virgin.
Merry Christmas!!
Rev. Jared
---
To compare 2021 to a lame party is not quite right. Countless people were affected in ways they will carry the rest of their lives.
As far as vocation, I have not accomplished nearly half as much as I would have liked to. Much of my work is not public so I can't share it at all. However, these are some small wins I can share, which you can easily access from your computer.
From our family to yours, Happy Holidays! Don't forget to celebrate each other, the small wins, and another year God has granted.
i. YouTube
I had a goal of reaching 100 Subscribers this year | I know it seems like a small feat for a YouTube channel.
We use this YT channel as a staging grounds for other things. I use it for Patheos. Crystal uses it for Amare. It's also storage for family videos. We get a lot of use out of YT, but we do not approach it with a business plan, per se.
As I review the numbers, we didn't hit 100 …yet… but we did make 90!!
At 100 subs we can unlock some more Creator features, so if you like what you see… Why not?!
CTA | Like, Subscribe, Click the Bell to be notified of new content!
The Ingle Brothers top video of 2021 | Cruz preached for the first time. He shared with his youth group, chasing the question How does God speak? CLICK HERE
Crystal Ingle top video of 2021 | To see Crystal's top videos, you'll have to talk to her about her business. It's proprietary. A lot more people see those videos than her public videos.
However, Crystal and her trusty assistant did a series this year and it gained some traction. They launched a few Sunday night baking shows; extremely healthy, extremely tasty, and all guilt free. It would be fun to review them all.
One of the videos is her top public video. This would make a great Christmas party goodie. To see Paleo Chocolate Banana Mocha Muffins CLICK HERE
Rev. Jared top video of 2021 | To answer TikTok, YT came up with #shorts. I experimented with them and one of them remains my top video of the year. To see other views on Revelation #shorts CLICK HERE
ii. Writing Review
Evangelical Columnist for Patheos
Patheos is the world's largest online religion community.
I find it quite an honor to be a voice in this setting. It's been an aspiration for a long time. If you're looking for my column just scroll down CLICK HERE
Top Pageviews of 2021 | From time to time I will write a piece having to do with something current. I review my undergrad journalism emphasis courses and all of my graduate ethics/philosophy courses to assist as I try to put these pieces together. They're not really within my wheelhouse.
I have a category for this. Go to my account, click Archives / Select a Category / Engaging Culture CLICK HERE
At times I strike a nerve in society at the moment. Patheos appreciates this type of engagement, so they may also be promoting these writings. Apparently I did strike a nerve.
CTA: Open your search engine. Type in the name Audrey Assad. My article shows up on the front page.
Or to read… the downward spiral of Audrey Assad CLICK HERE
This is not only my most successful article of 2021, apparently it's the best I've ever written, as far as popularity is concerned.
I've tried to review an analyze it. I don't know why it's become so popular in such a short amount of time. Who knows?
To God be the glory, but I really don't like writing about her in a negative light. Her music/worship ministry had touched so many.
Publications
I had the honor to write and publish 7 discipleship lessons in collaboration with 4 Pentecostal publishing houses.
On Sundays during the fall mornings, groups would gather and work through my lessons. The Letter to the Ephesians was published and distributed to a readership of over 100,000.
Now I am writing 7 lessons exploring methods of Bible study from Scripture itself.
Both of these projects are about a total of 28,000 words each.
Ordination
I have been in ministry, as a credentialed minister, since 1993.
It is my joy to minister in a variety of ways, from the local platform to our HQ, on presbyteries, task forces, and assignments. I also serve as a Representative of the PCG
However, this year I had a new honor. I was asked to develop Christian Worldview, an Ordination Level Course for the PCG.
Membership
I have an email list, so you're getting my writing directly.
I usually share a piece on Patheos a couple times per week.
I'm also considering some new writing options. If I do explore something new, you're going to be the first to know.
You're also going to make Christmas a little sweeter by simply connecting.
CTA | Writing Membership CLICK HERE
iii. Online Therapy
I'm a Limited Licensed Marriage and Family Therapist with the State of Michigan. I have completed all the necessary education and am completing something like a residency.
I offer online therapy for those who are in the State of Michigan. In 2021 I have made the necessary arrangements to do so and have taken on a case load.
To watch a video with an overview of what to expect, Coffee Break | the what, the why, and the who of therapy CLICK HERE
pic credit: Polina Tankilevitch | Woman in Black Long Sleeve Shirt Holding Gold Round Container | 11.29.20 | pexels