En lieu of two online articles this week, I offer one, easily categorized as a longread, and dovetailing with recent articles. It's difficult to formulate one central question or theme to chase, since there are a few.
I'm primarily considering the question, how many people are churches reaching online? Since this is generally proprietary information, I'll offer one way of tracking with congregations, or any online sites.
Facebook, Patheos, YouTube, LinkedIn, etc., are all platforms operating under one umbrella, so it's difficult to get page numbers on these platforms.
This study is not a strict comparison, however it can open our eyes to the possibility of Facebook, and other types of social media possibly easily dismissed.
missio Dei online on Facebook?!
How many people are churches reaching online?
i. One method of running the numbers
At times I have ran the numbers on my sites, my platforms. In the previous article, I did so very meticulously with Facebook.[1] Then I've compared my websites to the online presence of churches running in the hundreds or thousands. There are ways to run some of the numbers on websites (maybe not all) and see how many they're reaching.[2]
For instance, since Google is the largest global search engine, it's good to know how many people Google is referring to your site.
"I tell you, many will come from east and west and will eat with Abraham and Isaac and Jacob in the kingdom of heaven." Matthew 8.11, NRSV
One ironclad tool for tracking this number, among many other large stats engines, is Neil Patel. I can remember someone questioning my statistical prowess, and my teacher came to my rescue, saying something like, "C'mon, he already has two graduate level stats courses!" I was sitting in my second graduate stats class, so something in my nearly double-major bachelor degree must have counted for something. Now, I pay attention when someone has a dual-degree, or is working on a second bachelor degree.
I recommend establishing a Neil Patel account, and I recommend using your @gmail.com account. You'll find so many free online metrics available you'll be whelmed (maybe not overwhelmed, but at least whelmed). It's like he had multiple online analytical tech degrees.
Now if people don't have your church's web address memorized, chances are they're going to type your church's name into Google first. So this number is important to consider. It's not the only number to consider, but it's a pretty decent one.
ii. Radiant in Jackson, Michigan
Pastor Mike reports openly that his church runs 700-800 right now, but there is a 20% rule. This means you're always going to be missing 20% of your parishioners (tears welling up as he talks, a microexpression showing his heartfelt connection with his parishioners).
When he saw the crowds, he had compassion for them… Mat 9.36.a
I've always thought it would be interesting to compare the times when Jesus looks up and sees the crowds and has compassion on them; as a preliminary way the Spirit arrests His attention, before a display of the Gifts of the Spirit.
Of course, I may need to master Greek (and/or Aramaic) and maybe a couple modern research languages, like stats and Latin (or Latin-based languages, as Vandy allows for).
Nonetheless, Ptr. Mike knows his total amount of parishioners are closer to 900-1,000.
Monthly online visitors from Google to Radiant Jackson | 1,298
iii. West Side Community Church in Traverse City, Michigan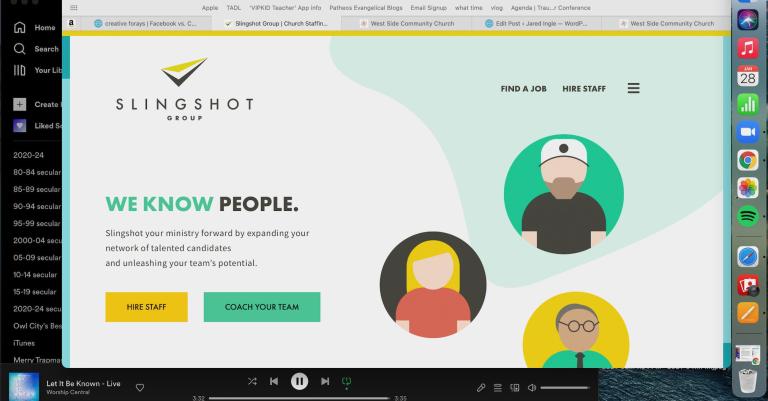 Because of the plague, and because of some precipitating factors, I only have numbers from a season of transition. The Slingshot Group expertly guided West Side through their pastoral search.
Pastor Justin is a former Campus Pastor for Pastor David Platt. I know nothing about Ptr. David's dilemma, but I have hosted a small group, really small, consisting of a couple student workers. We read his book Radical: Taking Back Your Faith From the American Dream. We supplemented the study on a weekly basis with some materials from Rev. Spencer Ming, who was the young adult and student workers director at Higher Vision in Valencia, California (see below).
The writing style connected with my student workers, even though he seems to be within some stream of Reformed Theology. He's really good on Romans. In fact, some of his commentary is published in one of my works.
Slightly preceding the time of transition with the Slingshot Group, Staff Pastor A.J. was hired (among others) for media and Next Gen ministries.
…he had compassion for them, because they were harassed and helpless, like sheep without a shepherd. Mat 9.36.b
If there are questions about my engagement with West Side… it might just be my Asbury | Michigan connection.
I think I was accepted in the true spirit of ecumenism, and I even preached there, as did a few other Pastors who assisted during the season of transition.
As a true ecclesial community (with a recognized baptism) those who become members, and who ask the right questions, may find out West Side also adheres to everything Pentecostal, but the practices are not openly shared from the stage. This does not mean the Gifts of the Spirit are not implicitly in operation.
The sanctuary has a main floor and large balcony, with a seating capacity of 850. There are two services on Sunday morning, and then there are the surrounding classes and worship areas. It was quite common for West Side to host 2,500 on any given Sunday morning.
Monthly online visitors from Google to West Side | 637
iv. Valley Church in Roanoke, Virginia
When Pastor Jason took the church about five years ago, there were 40 on the first Sunday. Now, he has a goal to hit 1,000 soon. Within just 5 years Valley Church is now running between 400-500 with two services on Sunday.
However, there is an X-factor in the church because the first Full-Time Staff Pastor oversees Valley Kids, with anywhere from 50-100 kids at any given time. They're knocking out walls and expanding the children's wing as much as they can. Up on the other side, the youth wing is maxed out as well.
The church needs more space and plans are in the works.
"If the house is worthy, let your peace come upon it." Mat 10.13.a
You're going to have to make a decision right now.
Ptr. Jason may not be the exact person who says this, but he has ways of bringing out your Gifts and skill sets. Going to the house of God also means ministry. He is action-oriented, as are all of his teams.
In fact their Facebook presence is top-notch, procured by Jodi in Guest Services, among others who offer their photography services.
Ptr. Jason loves to organize big events and present the Gospel.
Monthly online visitors from Google to Valley Church | 413
v. Higher Vision in Valencia, California
Some churches grow pragmatically, and others grow organically through all types of connections that flower. One might think it's about consulting or discipling, according to some relational formula, but Pastor Jared insists that many of his best relationships have just developed organically over time.
"Whoever welcomes you welcomes me…" Mat 10.40.a
Higher Vision is a church plant. An Elder with the PCG stated Higher Vision's pre-global catastrophe numbers were at 3,000.
I won't name the source, but once a member of the General Board always a member of the General Board, you know?…
or maybe you don't know, because it could be proprietary. What would you do with the information anyway, try to scuttle our ship?
A lot of people say, "We know," but I can say, "Really… I know."
Monthly online visitors from Google to Higher Vision | 5,864
vi. Christian Life Center in Dayton, Ohio
Pastor Stan has a vision to plant congregations all over Dayton, Ohio, so nobody in Dayton will have to drive more than 20 minutes to attend a Christian Life Center service. His vision is similar to the vision of a friend I know who ministers across the border in Indiana along the I-70 corridor. From there, it's easy to go North to your favorite coffee shop in E. Lansing, or South towards Asbury.
Ptr. Stan has a D.Min. (Doctorate of Ministry) from Trinity, a very prestigious Christian school and seminary. His doctoral concentration in conflict resolution sounds totally interesting, and it probably serves him very well at a large church.
"…and whoever welcomes me welcomes the one who sent me." Mat 10.40.b
Perhaps principles of authority like this saying of our Lord could be effective among Ptr. Stan's team. I do know at one point he was hiring a personal Staff Pastor of sorts, a minister to serve alongside him, not necessarily in the limelight.
Would the Staff Pastor who is sent be received as well as the Pastor who sent him (Mat 10.4.b)?
Not counting Ptr. Stan's branch campuses, he has openly stated online that his central campus was running 2,000 or slightly higher, last time I looked in.
Monthly online visitors from Google to Christian Life Center | 7,351
I bet (and I'm not a betting man) Ptr. Stan has opened more campuses, has expanded his main campus, or both. My other friend has at least added two more campuses, and refurbished a campus, since I talked to him. I think he was shepherding four charges in those days.
Discussion | online websites vs. Facebook
i. mastering Facebook
Remember, my total Facebook engagement for the the 3 categories I'm reporting on | 22,049

My monthly average in 2021 | 1,837.41
I fit in somewhere in the ballpark with these medium to big churches, if compared with their Google visitor referrals. Again, hopefully you're whelmed (if not overwhelmed).
I guess I can report that just because a church size is med-big doesn't mean they're doing any better at reaching out and ministering to people on their website than 1 minister who is becoming somewhat of a master on Facebook. I haven't even reported on utilizing the metrics for Facebook Ads, Business Page Creator Studio, etc. I'm still on a learning curve, but Facebook still eclipses all other social networks.
ii. new Roman Roads?
Furthermore, I can't really take the credit, and that's kind of one of the main points of this longread. Facebook may not have 2 billion avatars, even though this is the number boasted.
There are variables. Probably all of us have friends who keep locking themselves out of their accounts, so they have multiple avatars. Some have multiple avatars on purpose for work reasons. All of us may also know people who get upset, and delete their account the first time it's hacked, instead of just changing the password. Others may also share an account with their wife because the husband really isn't engaged on Facebook. There's nothing like old friends.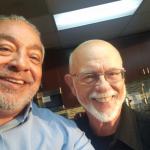 And then there's always the somebody who is now popular enough to have his/her own impostor. Someone else sets up a false avatar.
Nonetheless, I'm sure Facebook has already had discussions about everything like this, so we can take the 2 bil. number at face value or at least grant them 1.5 bil. That's almost 2/7 of the total population of the globe.
Why not take advantage of Facebook like the Early Church takes advantage of the Roman Roads to spread the Gospel, an engineering marvel that should be one of the wonders of the ancient world?
iii. missio Dei online on Facebook?!
Suddenly, in the last few years especially, the whole mission is wide open, and many of the online platforms are free.
And also suddenly… in the last couple years, these online tools could not be more crucial for churches to utilize.
All that said, in 2022 I'm going to focus more on paid reach.
I'm in a process of discerning so LinkedIn is a little extra crucial vocationally.
I'll still use Facebook a lot.
I'm continuing to build on YouTube, which can eventually offer more incentives and revenue.
Then again, I'll continue to utilize Patheos, a contracted position. The content team appreciates my understanding of Pneumatology. They aren't concerned about my online stats. Some of the people on Patheos are getting thousands of views per day. Not everyone on Patheos flow in the Gifts or share strong Theological teachings on the Holy Spirit.
iii. a Pnuemascriptive epilogue
As an example, everyone of the churches above are Pentecostal congregations, even if only implicitly on stage. I'm highlighting them specifically, even though I can report the numbers of other types of congregations. Take a look at their online presence.
A professor at Seattle Pacific who has since joined Duke, once told me, "Pentecostals have a seat at the table. Pentecostals are here and we're here to stay."[3] Furthermore, our online numbers aren't bad.
What will your church focus on in 2022 on the internet, whether Facebook, or on other platforms?
---
notes:
[1] Facebook numbers
These are based on my Facebook engagement report.
[2] One tool for running numbers is Neil Patel's platform
Neil passed away a couple years ago, but he developed one of the most comprehensive tracking systems, free to use, and perhaps best with a Google login. Try it. I'm only using one measurement of website traffic (i.e. How many visitors does Google generate for each church website per month?).
[3] I had living arrangements worked out in Washington and Kentucky
Then I was accepted at S.P.U. and Asbury. Seattle Pacific is Free Methodist with their HQ in Indy (along with other schools like Spring Arbor and Azusa Pacific).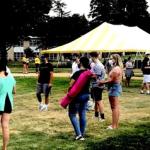 After the campus tour with a person from Guest Services, Doug Strong (former Seattle Pacific Theology chair) recommended a thesis on the emotive descriptors Athanasius uses while parsing the Psalms.
It's found in one of his publications, just sitting on my shelf. I've read it, marked it up, even made my own index of this little, powerful book, with powerful thoughts and doctrine packed into pithy sayings. Few tweets and Twitter accounts compare.
I believe Athanasius takes a unique pneumascriptive approach with this little book, simply a masterpiece on par with his writings on Antony or on the Incarnation.
I could write a thesis for a European research doctorate. I don't know if any of our schools in America call a doctoral contribution a thesis. This longread feels like a thesis. I know a priest who wrote his thesis while studying in Italy, on the virtues (for ex. Gifts) while examining the biographies of a saint. Certainly an integrated look at the writings of Athanasius would do the same.
If the church would have listened to him earlier on, perhaps much of the later turmoil would have been evaded. Nonetheless, Prof. Strong also said, "Once accepted at Seattle Pacific, always accepted." The warmth of those days, and my days in the academie, are not easily forgotten.