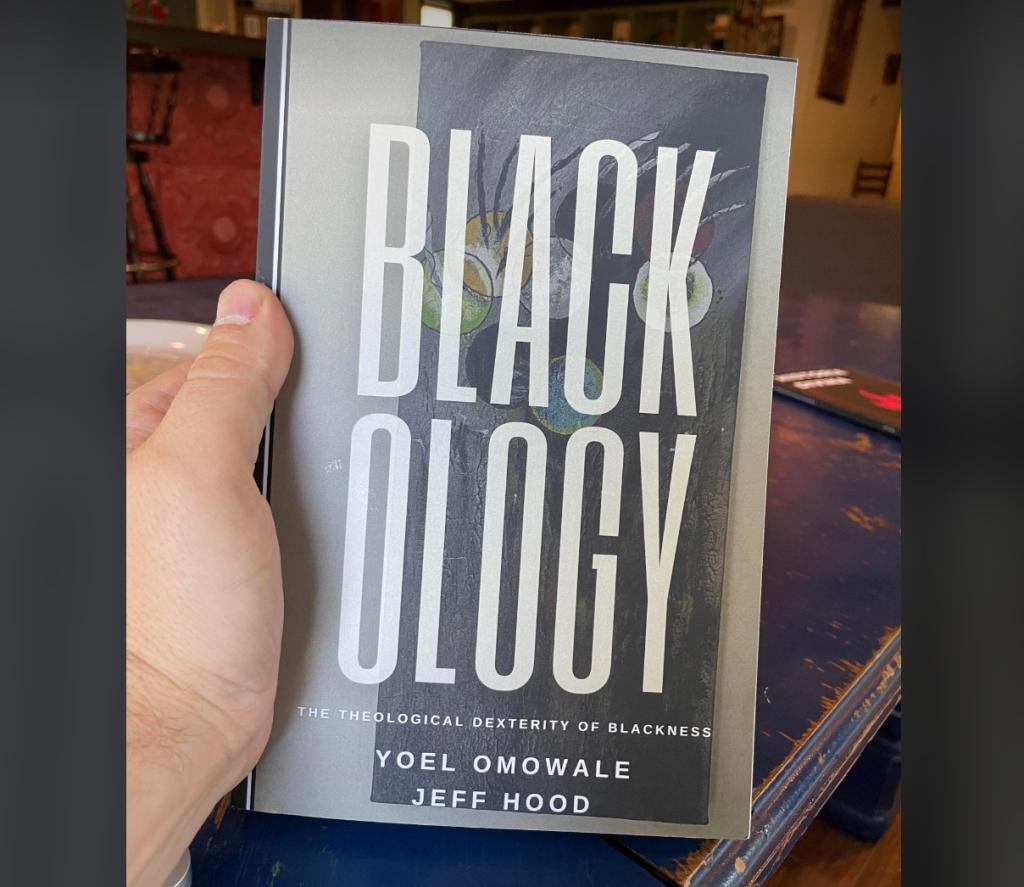 + an excerpt from BLACKOLOGY: The Theological Dexterity of Blackness…a recent work by the Dean, the Rev. Dr. Jeff Hood and the James Baldwin Professor of Practical Blackology, Dr. Yoel Omowale of The New Theology School.
Foreword.
May 22, 2022
Fellow seekers.
"Fuck your Jesus."  At first, I just blurted it out.  In reality, I think it was more of a reflex.  I didn't go into the encounter expecting it to get that heated.  I wasn't the fiery tongued theological activist that I am now.  I was upset but not enraged.  In fact, I was on my best behavior.  I simply told the priest that I thought the huge stained-glass depiction of a white Jesus was contrary to the loving inclusive message of the real Jesus.  To my surprise, she replied, "Well, that Jesus is my Jesus…and my Jesus is the real Jesus."  Something came over me.  I lost control.  Zeal for the inclusive message of Jesus…the love of God…consumed me.  I started saying it over and over again, "Fuck your Jesus."  When I was asked to leave, I kept saying it, "Fuck your Jesus."  When they started pushing me down the aisle, I kept saying it, "Fuck your Jesus."  When they pushed me out the door, I kept saying it, "Fuck your Jesus."  When the door slammed behind me, I kept on saying it, "Fuck your Jesus."  When all of my 'liberal' friends came to me and questioned my approach, I kept saying it, "Fuck your Jesus."  Honestly, I don't know when I stopped saying it.  But when I did, I had a vision that has remained with me ever since.
The priest (I guess you could call her Karen) was standing in front of the gigantic stained-glass depiction of a white Jesus.  I was standing across the street with a coconspirator.  Together, we were praying with all of our might that God would come down and destroy this enormous symbol of white supremacy.  Then, all of a sudden, a rumbling commenced.  The Rev. Karen felt it to.  Just as she looked up, the face of the white Jesus exploded.  Glass went everywhere.  My coconspirator and I cheered.  The Rev. Karen collapsed and grieved her loss of faith.
Ever since I had that vision, I have measured potential collaborators by it.  I want to work with people who would join me…cheering…across the street while the white Jesus exploded.  When I founded The New Theology School a number of years ago, I did so with the idea of training and fostering community amongst people who were willing to stand up to the false Gods of traditional religion…who were willing to boldly stand on the side of justice.  In time, the community started to grow.  In such a space, I met Dr. Yoel Omowale.  After hearing his yearning for a world beyond white spirituality and all its' erasures, I knew I'd found a coconspirator.  When we started talking about creating theology together, we constantly talked about what it would mean to make the world more colorful…not less.  In our conversations, it became apparent that God was doing something different.  God seemed to be providing us with some dynamite to blow the face off of the stained-glass Jesus.  The explosive result is this book…Blackology…a beautiful theological treatise of a world beyond the white Jesus…a world made whole by color.
To all who would question our audacity to create such a work…based on all of their addictions to the white Jesus…"Fuck your Jesus."
The Rev. Dr. Jeff Hood
Dean, The New Theology School