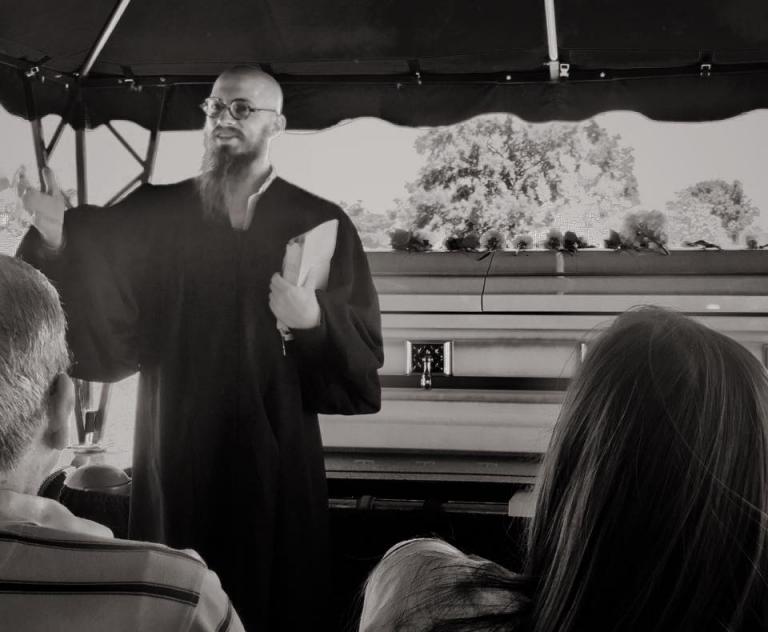 What are we doing here? Really… What are we doing here? I look down. I see a box. In that box is a corpse and that is about it. Gladys Dillard has done gone and she ain't coming back. So, why are we here? If it ain't about Gladys, then who is it about? It's about us. It's about what we can learn. It's about what we can feel. It's about what we can know. It's about who we can be. This gathering is not about Gladys…she is gone. We are here to see if we can take a little bit of Gladys with us out into the world. Can we rub up against each other and find a little love at this hour? It's the only reason that we are here. We are gathered for each other. Shall we love each other in spite of our differences…or better yet…because of our differences?
Anyone who knows Gladys and I…knows that our differences grew with time. Regardless, she never wavered in her love. There are lessons from her love that will remain with me forever…
Some years ago, there was a battle to save the life of Troy Davis…a death row inmate who had been convicted of killing Savannah Police Officer Mark McPhail. There were many questions about the case and many were involved in the movement to save his life. During the campaign, I stopped by my grandparent's house…with my "I am Troy Davis" shirt on. Upon seeing my shirt, Gladys expressed her disgust. To say that we were on opposite sides is an understatement. Then, something magical happened. "Troy Davis was my brother's name." From there, we talked about what it meant to love Troy Davis. In the midst of difference…love brought us together to talk about love. Imagine…love transcending hate through connecting us with each other.
Throughout much of my childhood, I watched Gladys sign receipts, "Mrs. Jack P. Dillard." One day, I decided to ask why. Gladys responded, "I don't know. I've never thought about it before." From that day forward, I never saw Gladys sign a receipt with anything but "Gladys Dillard." She didn't change to disrespect my grandfather…she changed to respect herself. Gladys was my #MeToo moment before #MeToo ever hit. Gladys taught me about loving myself.
Before her mind left, Gladys wanted to talk. With my hand in her hand she told me, "I love you and there is nothing you can do to ever change that. I am proud of you no matter what you do." These words will stick with me for the rest of my life. May they embody what we strive to be. Lovers of humanity…no matter what.
As we leave this place, take Gladys with you. God will meet you right outside.
Amen.