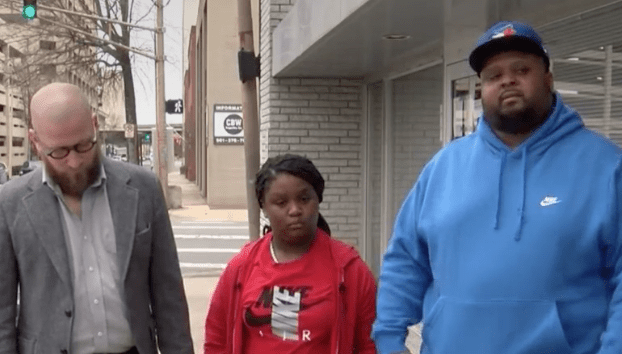 An Abusive Teacher & A Cover Up at Martin Luther King, Jr. Magnet Elementary School in Little Rock, Arkansas (Little Rock School District)
I share all of this information with the hope that Kiley Lacefield will be able to achieve justice.
This is the statement that I constructed (and provided to the Little Rock School District) not long after the incident happened (initially I thought that Renarda Kendrick's name was Ms. Kirkland // I also did not find out the name of the young girl (Kiley) until I linked up with the father, Stan Lacefield many days later // furthermore, I didn't realize until later that Kiley has special needs and was in a special needs class like my son):
Earlier today, I witnessed a teacher violently attempt to assault a student.
A little after noon, I pulled up behind Martin Luther King, Jr. Magnet Elementary School to pick up my son.  As I exited my car, I saw my son (who is on the autism spectrum) and his aide, Kevin Yancey across the park.  After getting in trouble, my son ran past me to the car (which was parked not far away) and slammed the door.  In that moment, I started talking to Yancey about my son's behavior.  When, out of nowhere, I saw two children fighting on the other side of the playground (a girl / Kiley Lacefield and a boy).  Yancey and the other teachers ran to break up the fight.  I followed for a second…while trying to keep my eye on my son at the same time.  Once the fight was broken up, the children kept screaming at each other.  Then, a Ms. Renarda Kendrick told them to be quiet since, "they'd already got their licks in."  The girl then snapped back, "fuck you bitch."  Then, all hell broke loose.  Ms. Kendrick visibly lost control and rushed toward the young girl with one fist raised.  Yancey stepped in to hold Ms. Kendrick back.  As she was being held back, Ms Kendrick screamed, "I'm going to rip those fucking braids out of your head."  Ms. Kendrick kept on trying to rush toward the girl.  Both Ms. Kendrick's words and her body language indicated that if Yancey had not been there she would have undoubtedly assaulted the girl.  After the explosion, Yancey helped get Ms. Kendrick back into the building.  One of the other teachers rushed the little girl away…and kept her on the playground while the rest of the class went into the building.  Even as Ms. Kendrick was going back into the building, she was still making audible threats.  While I was told that the girl's parents came to pick her up later in the day, I was also told that they were not made completely aware of what happened.  I hope that this statement will be shared with the parents…and that appropriate employment and criminal action will be taken.  I cannot imagine any circumstance in which Ms. Kendrick is retained as a teacher.  I also cannot imagine any circumstance in which Ms. Kendrick is not prosecuted for her actions.   I witnessed terroristic threats, child endangerment and child abuse generally defined.  Furthermore, I am writing to make it plain that I will consider any further contact between Ms. Kendrick and my son to be to the endangerment of my child.
This is what has happened in the week since:
from LRSD…. NOTHING.
Not long after the incident, I reached out to the office at Martin Luther King, Jr. Magnet Elementary.  When I asked to speak with Principal Karen Carter, I was told that she was not on campus.  When I gave a little information about the incident that I was talking about, I was told that the situation was already being handled and that the kids that were fighting had already been punished.  It was then that I realized that they were trying to pin all of this on the kids and weren't going to do anything about the teacher, Renarda Kendrick.  In that moment, I demanded that Principal Carter call me back immediately (I didn't end up hearing from Principal Carter until late afternoon the next day / for a short conversation).  Though I was unaware of it, the school had already told the Little Rock Police Department that they didn't need to come to the school to take a report.  So LRPD had no idea of the gravity of the situation.
Undeterred by repeated dead ends with the school, I reached out to the Little Rock Police Department.  They were completely unaware of the gravity of the situation.  After a few calls, I was given the opportunity to file a police report.  When it became apparent that Stan Lacefield (on behalf of his daughter) had already filed a police report, my information was combined with his information.  By the time the report was ready for pick up, it had almost been two days since the incident.
Immediately following the incident, Principal Karen Carter allowed Ms. Renarda Kendrick to return to work.  ie Ms. Kendrick has thus far never missed an hour/day of work after threatening to rip Kiley's, "fucking braids out" …and Kiley was simply expected to go back to school and act like nothing ever happened.
Based on the differences in stories that came out of the school and what I saw, there was a cover up of this incident…and I think they thought they were going to get away with it…that is until I used the number on the police report to contact Stan Lacefield.  When I told him what I saw, Mr. Lacefield was shocked.  The school hadn't told him anything that I had witnessed.  In fact, they hadn't even told him that there was a witness.  So, he was left to believe that the whole situation was "escalated" by his daughter Kiley.  Though his daughter was not innocent, I assured him that the primary aggressor was Ms. Kendrick.
Amid all of this, I reached out to everyone from the superintendent down.  Every conversation made me realize something, they all trusted in an investigatory process that I already knew had broken down.  I feel certain that Principal Carter had to have simply believed all of the other teachers who lied on Ms. Kendrick's behalf.  I think everyone thought that the start of spring break would put an end to all of this.
Mr. Lacefield and I have made sure that wouldn't be the case.  Just yesterday, at the Prosecuting Attorney's Office of Pulaski County, we started the process of filing charges against Renarda Kendrick for her behavior.  We were assured that she would be held accountable for her behavior.  We were also made aware that anyone who tried to cover up what happened would also be in legal jeopardy.  Various child welfare services were also contacted.  We held a press conference after these meetings and made sure that the entire Little Rock region was aware of what happened.  I am writing this blog to make sure that there is a permanent record of how this was handled.  Every level of the Little Rock School District has failed Kiley…but thankfully there are other legal avenues to make them do the right thing.
Now, we wait.  It seems obvious to me that any teacher that threatens a child…especially one with special needs…shouldn't be teaching.  What I saw Ms. Kendrick do was disgusting…but the cover up of her actions by employees of Martin Luther King, Jr. Elementary was just as bad.  This is how abusers are allowed to remain in our schools…by those who are given charge to protect our children just sweeping the dirt up under the rug.
Amen.