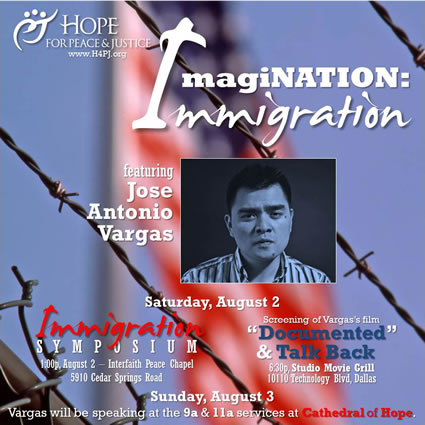 Once there was a couple with a young son who were forced to flee their homeland. Throughout the treacherous journey, the family wrestled mightily to finish the trip. Upon arrival, the family struggled to adapt to their new surroundings. The language and customs were so different from their home. People would often stare and make life uncomfortable. The couple couldn't understand why everyone was so afraid of them. While this could be the story of many people who presently immigrate to the United States, this is actually the story of Jesus the Christ and his family's flight to Egypt.
Jesus is an immigrant.
In this radical space of re-imagining social engagement and spirituality, Jose Antonio Vargas arrives to meet us. Born in the Philippines and raised by his grandparents in San Francisco, Vargas is an openly gay immigrant and person of deep faith. In 2008, Vargas was awarded the Pulitzer Prize while a journalist at The Washington Post for his coverage of the Virginia Tech shootings. The public perceived Vargas as the ultimate success story of a documented immigrant. No one knew his secret. In a 2011 essay in The New York Times Magazine, Vargas outed himself as an undocumented immigrant. Since this courageous act, Vargas has written, spoken and traveled extensively advocating for our nation to live up to the invitation and promise contained therein so beautifully written on the Statue of Liberty, "Give me your tired, your poor, your huddled masses yearning to breathe free."
Jose Antonio Vargas has lived–and continues to live–courageously.
Do you have the courage to open your heart and allow your self to be moved to action by what he says?
The millions of immigrants and thousands of refugee children in Texas and around this nation are waiting for your response.
Rev. Jeff Hood
Board Member, Hope For Peace and Justice
Jose Antonio Vargas at ImagiNATION: Immigration
August 2, 2014
Hope for Peace and Justice Events
1 to 330pm
Immigration Symposium / Interfaith Peace Chapel / 5910 Cedar Springs Rd. in Dallas, TX
630 to 930pm
Screening of "DOCUMENTED" and Talkback with the Director Jose Vargas / Studio Movie Grill / 1011 Technology Blvd. in Dallas, TX
Sunday August 3, 2014
Sunday Services of Cathedral of Hope
9 and 11am
Jose Antonio Vargas Speaking