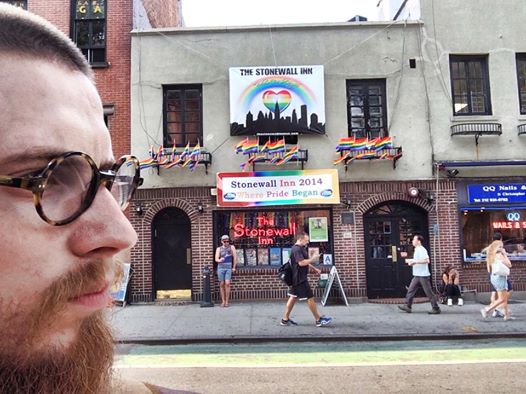 There are few names of places whose mere utterance evokes description of social movement. Stonewall is one such name. On the 28th of June 1969, police raided the gay bar at the Stonewall Inn and bar patrons fought back. Many historians and social observers argue that this was the singular moment that launched the queer rights movement. As the 45th anniversary of the Stonewall Riots approach later this week, I took a second to visit the establishment and ponder the meaning of Stonewall.
There is danger in judging events of the past. Oppressed people often do things when cornered that they would not do under normal circumstances. The violent harassment of the police ultimately became too much and the people violently rebelled. I sat there for a long time struggling with the violence of Stonewall. I still don't know what to do with it.
I believe Jesus teaches his followers to love their neighbor/enemies as their self and this is hard to do while you are rioting against them. Jesus also stormed the temple and caused quite the commotion. For the follower of Jesus, is there a moral action known as a nonviolent riot? I think that such a riot would have to be centered on the destruction of property and not people. There were too many injuries to both police and protestors for this event to fit that definition.
Sitting at Stonewall with Jesus, I could struggle with these things all afternoon. For now, I think it is best to abide in the struggle to love our neighbors as our self and realize that love cannot be accomplished through oppression.
Amen.