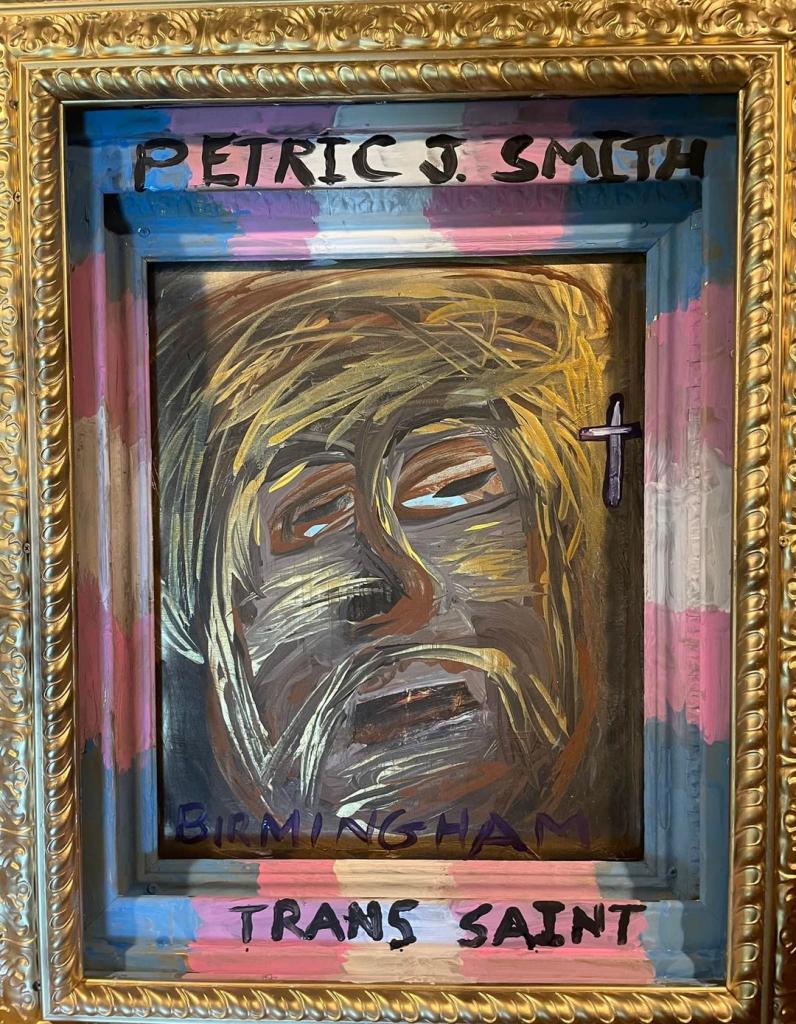 PETRIC J. SMITH: The Theology of a TRANS SAINT
"If I am to call for truth, I must offer truth.  We should all settle for nothing less.  For it is only in an atmosphere of truth that freedom can ever prosper.  And it is only in an atmosphere of truth that we can learn to relate to each other by our compassion and our honesty rather than to judge each other on the points of difference between us.  None of us will be free until all of us are free." – Petric J. Smith
Truth.
While I have no doubt that Robert Chambliss was a child of God…I also have no doubt that he was amongst the shittiest.  How the hell else would you describe someone who bombed the 16th Street Baptist Church?  Those four little girls never had a chance.  Then, he bragged about it.  Thankfully, in the midst of such evil…God placed a saint…a TRANS SAINT.
Courage.
You see, Petric Smith was born Elizabeth Ann Hollifield.  From the beginning, Smith was a little more masculine.  So much so, that his Uncle Robert (Chambliss) regularly made fun of him.  Not thinking too much of him, Uncle Robert was loose with his speech.  His underestimation of Smith, led to him sharing multiple details about his actions with regard to the bombing.  Believing that truth was the only path to wholeness, Smith courageously turned to the FBI.  In typical racist bureaucratic fashion…it would be well over a decade before the authorities used any of the information that he gave them.
Seek.
In the meantime, Smith (still known as Hollifield) became one of the first female United Methodist ministers in Alabama.  His love for God led him to think that he had to deny himself in order to serve.  The church…especially the United Methodist Church…has a way of fucking with people's minds…with their souls.  Despite it all, Hollifield kept loving the people as best he could…but he struggled to love himself.
Strength.
Out of nowhere, Smith (still known as Hollifield) received a call from the Alabama Attorney General's office.  It was time.  Smith had undoubtedly dreaded what he knew he had to do.  His Uncle Robert was about to be placed on trial for murder.  He immediately prayed and prepared himself to stand up for the truth.  Aware that he was placing himself in serious danger, Smith pressed on.  God was with him.  In fact, he could feel God's presence.  The cross he wore around his neck reminded him of the hope that was in him.  Due primarily to his testimony, Robert Chambliss was convicted of the murder of Denise McNair (one of the little girls killed in the blast) and sentenced to life in prison.
Wonder.
Facing regular death threats because of his testimony, Smith (still known as Hollifield) fled to Texas.  During this time, Smith finally made peace with God's love for all of him…and began his transition to finally become Petric J. Smith.  After years of treatment and surgery, Smith was declared to be legally male by a local court.  After the death of his Uncle Robert in 1985, Smith returned to Birmingham.  Though there was a tremendous amount of pressure, Smith remained dedicated to who God created him to be.
Freedom.
Over the next few years, Petric J. Smith was at the forefront of the Birmingham LGBT Rights Movement.  Pastoring the local Metropolitan Community Church in the mid to late 1980s, Smith was dedicated to ministering to the souls of people who had experienced similar rejections to what she had.  Helping found the first Birmingham PRIDE Parade in 1989, Smith sought to help others live proudly into who and what God created them to be.  Writing in the Alabama Forum (Birmingham's LGBTQ newspaper), Smith pushed to let his readers know that they were loved…and fought for.  Smith loved his community and his community loved him back.  So much so, that he was regularly honored for his work and activism.
Memory.
Just a few years before he died, Petric J. Smith published a book that chronicled his experiences around the Birmingham bombing, entitled, Long Time Coming: An Insider's Story of the Birmingham Church Bombing That Rocked the World.  Though the book is mainly about Smith's efforts to bring about justice in the 16th Street Baptist Church bombing case, he makes it clear that by helping others become free…he was able to free himself.
Fortitude.
Theology is always autobiographical.  We seek to know the God within so that we might experience the God without.  Petric J. Smith discovered the God within and was able to bring God to the world without.  One of Smith's constant sayings was, "None of us will be free until we are all free."  By finding freedom from the oppression within and without, Smith showed us the way.
Call for truth as you offer truth.
Show compassion.
Respect difference.
Free each other.
Be who you are.
Feel God within.
Thus is the theology of the TRANS SAINT of Birmingham, PETRIC J. SMITH.
May we all follow.
Amen.