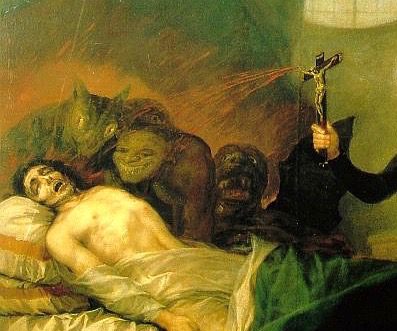 I heard the word rapture far more than I heard the name Jesus. That's just how we were. We were terrified. We though it was our job to scare the hell out of everyone. Somewhere in there, love got left behind. We said we were following Jesus. Somehow, I think we knew that wasn't true. We were about control. We knew that fear was an incredibly effective method to control others. The fearful won't leave the church. The fearful will keep giving money to the church. The fearful will do whatever it takes to keep them from being afraid. The only problem is that fear grows fear. In a context like this, Halloween is everywhere.
I left in the midst of prayer. I had to go to basketball practice. There were multiple people who looked at me harshly for leaving. When I got in the car, I leaned against the door. I wondered if I was going to get left behind for leaving. Those stares were piercing my soul. As we rode, I looked up to see demons in the trees. I'm not sure if they were real or not. I'm just sure that they were real to me. I am convinced that much of the mental illness that I deal originated from that time. The demons were following me. I wondered if they had been in church. When my coach asked why I wasn't much into basketball at practice, I just said, "I'm just worried about Halloween."
Our festival was about getting people into the church. All of the talk about community was talk about our community. Every piece of candy directed people to our church. Even at an event like this, our ministers couldn't resist using the rapture as a means of scaring people into a salvation decision. One was a good enough storyteller that he had people coming in waves. It was all bullshit. Everything was fake…everything was real…I guess it was both…just like Halloween.
The future is simple…the rapture of fear.
Happy Halloween.
Amen.