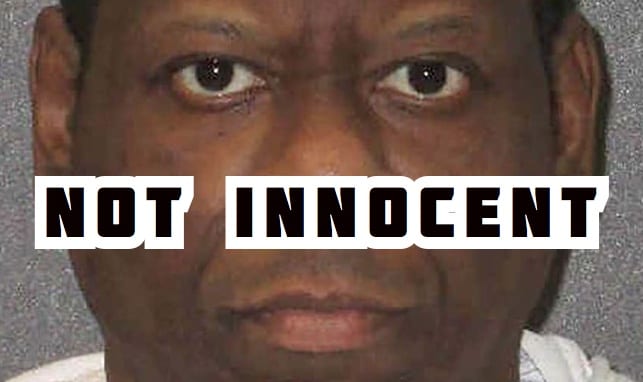 For the better part of a decade, I've given my life to the abolition of the death penalty. I've marched hundreds of miles. I've ministered to countless condemned souls. I've been arrested. I've served on boards. I've traveled widely. I've written books. I've given interviews. I've held press conferences. I've been on the cover of multiple publications. I've been featured on numerous programs. To be quite frank, you will find very few people who have done more for abolition in recent years. Yet, there is one piece of the movement that has always disturbed me…the desire to erase evil by ignoring it.
Current popular narratives being used to save the life of Rodney Reed provide a clear example of such phenomenon…the problem is that they ignore the whole story.
According to established court testimony and appellate records…
She was 12. We don't know her name because of the trauma that she went through. In court documents, she is called AW. Late one night, she was home alone. The television kept her company and had her full attention. Without warning, AW was violently grabbed…bound…and gagged. Blow after blow, crippled her young body. As words of vulgarity reigned, she was brutally raped…orally…vaginally…and anally. The subsequent rape kit pointed to Rodney Reed.
His 2 children were there. LUCY EIPPER tried to make it work…but Rodney Reed wouldn't stop abusing her. While their kids watched, Reed raped Eipper. Despite the fact that she was pregnant, Reed repeatedly raped Eipper. The violence was endless.
She was intellectually disabled. CAROLINE RIVAS' caseworker noticed multiple injuries on her body. When asked where they came from, Rivas replied that Rodney Reed would hurt her when she wouldn't have sex with him. In time, Rivas disclosed that Reed had also raped her anally.
She was abducted. Late one night, VIVIAN HARBOTTLE was abducted and raped underneath a train trestle. As she pled for her life, her attacker laughed. The subsequent rape kit pointed to Rodney Reed.
She was giving him a ride. Leading her to a remote area, Rodney Reed tried to rape LINDA SCHLUETER. The only thing that caused tragedy to be averted was a passing car.
Despite the current Rodney Reed craze, we have yet to hear the names of these women. Such an omission is disgusting. How can we claim to care about human life and forget these stories so easily? While I doubt that Reed killed Stacy Stites for a variety of evidentiary reasons, I don't doubt the stories recounted above. So, let's make it very clear…Rodney Reed is not innocent. In fact, he is just the opposite…which is where we must meet him.
In the days ahead, we have an execution to stop…not because Rodney Reed hasn't done evil things…but because we are determined not to follow his lead.
The Rev. Dr. Jeff Hood
Source:
Sentencing Brief Filed at the United States Supreme Court
https://www.supremecourt.gov/DocketPDF/17/17-1093/45899/20180507150103836_Reed%20BIO%20FINAL.pdf