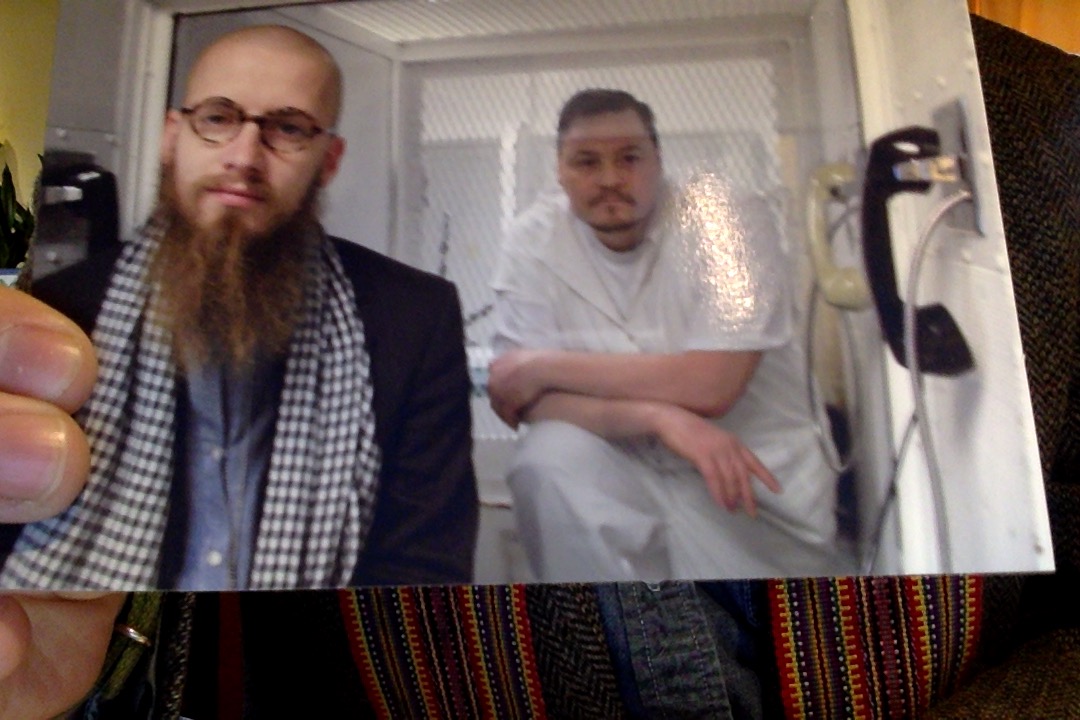 While I've never published this type of damning report about someone who is about to be executed before, I think this case calls for it. I believe that Richard Masterson is beyond mentally incompetent. I can think of few things more cruel or unusual than to execute someone who is out of their mind. Tonight, the State of Texas will try to do just that. I will be standing outside the Huntsville Unit in protest. Below, are memories of my last visit with Masterson in October that I recorded and submitted to try to help save his life in his appeals process.
Memories of a Visit with Richard Masterson
On October 15, 2015, I walked to a booth about halfway down the middle row in the visitation room at the Polunsky Unit and sat. For a few minutes, I waited in prayer. I opened my eyes when I heard the door clank. Looking up, my eyes beheld a man who looked out of his mind. From his wildly dilated pupils to the strange contortions of his face, I knew something wasn't right. When I picked up the phone, Richard Masterson began to rage. I've never had that level of anger directed at me before. Over and over, Masterson told me, "I'm not gay!" I didn't care. I still don't understand why he felt the need to keep telling me that. For almost two hours, I felt the conversation grow crazier and crazier. It took all the spiritual energy I had not to get up and leave.
Masterson repeatedly told me that he wanted to die. Then, he switched gears rapidly and told me that he had a girlfriend that made him want to live. The more Masterson talked, the more confused I got. Statement after statement seemed to contradict the last. When I asked if he liked any of the guards or anyone he was housed with, Masterson told me that he wished he could kill a few of them "with his bare hands." He also pointed to the outside to assure me that there were people out there he would like to kill too. When I asked him why he would say such things when he knew he was being recorded, he shrugged and replied that he didn't give a shit.
When I told Masterson that I was a minister, he proceeded to tell me about his attraction to Transgender women. Repeatedly, Masterson told me, "There ain't no pussy like a brand new pussy." I heard more stories than I ever wanted to hear in my life about "new pussies." Then, Masterson assured me again that he wasn't gay. When I asked about the Transgender woman he was convicted of strangling to death, Masterson got really belligerent and told me, "I ain't scared to strangle nobody." Then, he told me again that he wasn't gay. If he said that he wasn't gay once, I bet he said it at least ten or eleven times. Though I managed to take a picture with Masterson, he acted paranoid about that as well. From the words that he said to the way that his body looked, Richard Masterson repeatedly proved to me that he was out of his mind.
Throughout the conversation, Masterson kept exhibiting a mix of rage and psychosis. The words that did make sense were strangely combative. The rest I found nuts. As someone who has ministered to numerous people struggling with all types of mental conditions, I have no question that Richard Masterson is not in his right mind and probably never was. Judging from my visit, I believe it would be cruel and unusual to execute Masterson.
Amen.