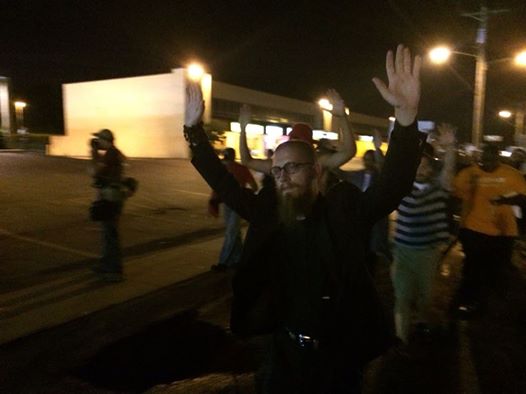 "Love is going to fuck you up."  The ominous words rang out from a woman standing on the street corner.  Pointing at me, the woman declared, "You are going to have to die before you can love anybody here."  I knew she was right.  The Prophetess of Ferguson reminded me of all the times I have tried to pretend that I don't carry my own bigotries in life.  I knew that love had brought to this city of death, but more was going to be required of me.
The brilliant array of flowers and colors does not mask the fact that Michael Brown died there in a flurry of bullets.  The spot is tucked within an apartment complex where poor people live.  Walking up, I didn't know if I should be there or not.  I stopped and prayed over the spot.  Stepping to the sidewalk, I sat on the curb next to a woman.
"I hate white people," she offered without any solicitation.  Taken aback, I inquired, "Do you want me to leave?" "No, you are the only chance I've got at redemption," she softly spoke through tears.  For a few moments, we sat silently.  I didn't know what to say.  Through the tension, the woman looked at me and asked, "Are you a bigot?"  "Yes ma'am," I offered.  "We are both bigots then.  I guess we can be a salvation to each other," she replied.  For the next little while, we talked about the effect that bigotry has on all of us whether we want it to or not.  "If there has ever been a time to be honest about what is going on in our own hearts, it is now.  I guess it starts with the honesty we offered to each other," she concluded.  After concluding pleasantries, I walked back to the car and thought about what had just happened.  Our joint sensibilities of self-protectionism had died and for a brief moment we had an honest vulnerable conversation about bigotry.  I think we both left having experienced a moment of resurrection.  Death and resurrection go together.  I guess that ours was a resurrection in Michael Brown.
I don't believe the incarnation of God was a singular event.  I believe that God joins us when we open our hearts to love.  I walked to the epicenter of the Ferguson protests, W. Florissant Ave.  The night was thick with tension, but I felt alive in love.  I joined the chants, "Hands Up, Don't Shoot!"  With every foot that hit the pavement, I felt like we were growing together in love and honesty.  Someone next to me shouted out, "Where the fuck is God in all of this?"  One of my dear brothers responded quickly, "Right here with us!  Look around at all these colors of folks holding hands and standing together.  God is right here with us."  Our hearts were moved by each other.  The power of God was right there in the people of God.
There truly is no such thing as death without resurrection.  The death of Michael Brown continues to grant new life to all who are willing to open their hearts.  May our own pursuit of racial justice and reconciliation begin with the death of the dishonesty in our own hearts and conclude in our own resurrection with the wild diversity of the people of God.
Amen.