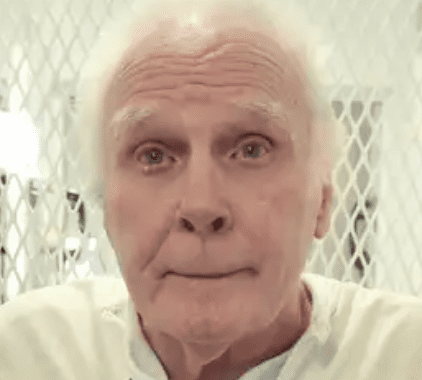 In Matthew 25, Jesus didn't give a caveat with regards to guilt or innocence when he said, "For, I was in prison, and you visited me…". Instead, Jesus declares the he is the prisoner.  Jesus always instructs those who follow his way to stand with those at the bottom…the most helpless…the least of these.
Carl Buntion was convicted of sexually assaulting a child before he ever killed anybody.
Sounds like a sick piece of shit to me.
>>>>The name James Irby is important to this conversation.  He didn't deserve to die.  Jesus was with him too.<<<<
On June 27, 1990, Carl Buntion was in the passenger seat of a vehicle that was pulled over by Houston PD officer James Irby.  Buntion jumped out of the car and shot Irby in the head.  Then, after he fell to the ground…Buntion stood over him and shot him twice in the back.
Sounds like a sick piece of shit to me.
To make matters worse, rumor has it that this guy was also a member of the Aryan Brotherhood of Texas at one point.
Sounds like a sick piece of shit to me.
At trial, Carl Buntion was convicted of Irby's murder and sentenced to death.  Buntion has been on death row just over 30 years.  By all accounts he is the oldest person on death row in Texas…and perhaps…even in the world.  Over the last few decades, Buntion's health has declined and he is now confined to a wheelchair.  I've been told (and I believe) that Buntion is a changed man…who has repented of his crimes…
Next week…April 21, 2022…Carl Buntion is scheduled to be executed.  When Governor Abbott wipes his hands of the situation…. This man…who is nearing 80…will be rolled into the chamber…he will be strenuously lifted onto the gurney…his old arms will be strapped down…his elastic skin will be pulled tight so that it can be stabbed with a needle…and he will be pumped full of poison until he is dead.  When the old man lays dead on the gurney, the Governor will tell everyone that justice has been served.  This is a man who scores political points based on killing defenseless people.
Who's the sick piece of shit now?
According to Matthew 25, Jesus stands with the killed (the least of these)…not the killer (the powerful).
According to Matthew 25, Jesus stood with James Irby…not Carl Buntion.
According to Matthew 25, Jesus stands with Carl Buntion…not Governor Abbott.
In the economy of Christ, it seems that Governor Abbott is now the odd man out.
Amen.