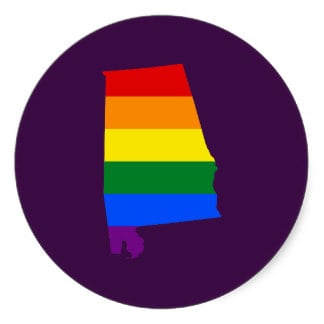 The year was 2005. I was a junior at Auburn University in Auburn, Alabama. The Glomerata or our yearbook had just come out. I remember sitting at my fraternity house and hearing people laugh about a picture in the Glomerata. While I don't remember the exact name of the organization, the picture was of the LGBT organization on campus. There were three LGBT people who were willing to take a stand at one of the most conservative public universities in the nation and have their pictures placed in the Glomerata. While I was still incredibly conservative at the time, I wondered if God was not somehow present in the courage of these three individuals? Nearly a decade later, I have no doubt.
Did God forget about Alabama? Through the years, I have wrestled with this question over and over. From slavery to segregation to continued hate, Alabama is no stranger to evil. After earning two degrees from Auburn and a degree from the University of Alabama, I have direct knowledge and experience of how hateful Alabama can be. However, God always leaves a remnant. Throughout the state, I have met courageous people who are living their lives authentically and challenging the evils of Alabama.
I can think of no more authentic of Alabamians that Chi and Jessica Peoples. Recently the subject of a Freedom to Mary commercial, I met this beautiful couple about five years ago. In their persistence to live and be who God created them to be in their home state, I believe is Alabama's hope. When same-sex couples start filing out of the courthouses, I encourage the people of Alabama to look to them for who and what God wants you to be…love.
For so long, Alabama has been dead in hate and prejudice. As a Christian, I don't believe in death without resurrection. I think LGBT people are birthing a queer resurrection in Alabama. I know it will spread even further. I can't wait to see the beauty of God in the land of the living.  Who would have ever thought that Alabama would be one the Southern states leading the way?
Amen.