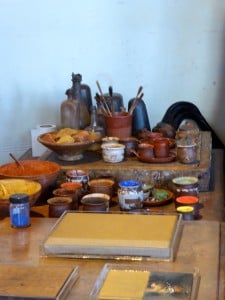 I have just returned from 17 days of travel – 12 in Africa and 5 in Amsterdam. And this morning as I awoke through a fog of jet lag and thought about my day, I remembered that Lent begins today.
In a professional sense, I'm ready. Before I left, I prepped services and the amazing staff at our church has planned some wonderful Lenten experiences. I'm looking forward to the community pilgrimage for these 40 days.
But as for a personal Lent journey, I hadn't given it a thought until 6:30 am, PST.
Honestly, I have struggled with the liturgical seasons since becoming a pastor. There is so much external work that it is easy to neglect the internal journey and to allow facilitating others' experience to substitute for my own.
I have many stories from my travel to share but today I'm thinking about a woman I met in Rembrandt's art studio on the top floor of his house. She was demonstrating how oil paint was made in the 17th century. She oozed passion about her subject and eagerly engaged the stream of tourists.
When I arrived in the studio, she was finishing up talking with a group. As a few of us gathered around, she looked at us and said with the kindest voice, "I need to take a five minute break. I have many things to say, but if I don't take a break, I will talk all day and that is not good for me." And with that, she put out a sign that said, "Learn how Rembrandt made paint," tidied up her work station, sat silently with her hands in her lap, took a sip of water and then left for a few minutes. When she returned, she set her work space up and began to speak, captivating us with her enthusiasm and knowledge.
I learned how paint was made in the 17th century and some of Rembrandt's artistic innovations but I also learned how to maintain graceful boundaries. When I take a break, it's usually with an apology or with a sense of guilt or fear of disappointment or with exasperation at all the demands. Yet there was none of that in this woman's setting boundaries around her time and her space.
I found this graceful holding of boundaries in many of the Dutch people I encountered. Their desire to please and produce was moderated with unapologetic boundaries around their time and energy.
So back to Lent. The church calendar is a way of life that gives us boundaries. Advent is the time for expectation and longing. Easter is a celebration of new life. Pentecost reminds us that new life is present within us. Ordinary time puts us to work in our holy calling to be the presence of God in the world. And here we are at Lent.
Like the woman in Rembrandt's studio, Lent is here to teach us to take a break and attend to our soul. The church tradition has given us 40 days a year to learn the grace and freedom of boundaries that allow for deep internal work.
I love this Rumi quote:
What nine months of attention does for an embryo forty early mornings alone will do for your gradually growing wholeness."
So, let's practice the boundaries that give wholeness room to grow. Let's lay aside apologies and the compulsion to produce. Let's trust there will be enough time for what needs to be done. Let's feel both the gravity of our existence and the lightness that comes from remembering we are only dust.
Welcome to Lent.
[photo taken at the Rembrandthuis, Amsterdam]