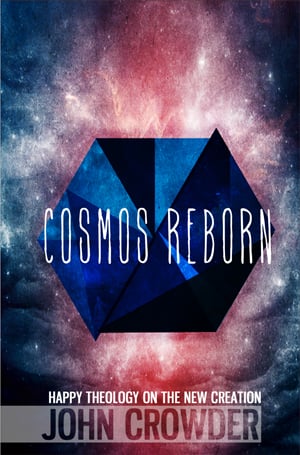 Cosmos Reborn by John Crowder
Cosmos Reborn by John Crowder is a book that will challenge your entire view about God. While Crowder is in the mystic camp of Christian theology, he does present ideas which challenge and probably improve on the standard evangelical position.
The book's most important chapter, in my opinion, is Chapter 2 "The Case for a Loving God: The Lie of Penal Substitution." He challenges the notion that a loving God could be so cruel in choosing to kill His Son for us to come to Him. He challenges that idea with a wise statement:
"The Bible never says that the death of Christ was to reconcile God to us. The death of Christ was to turn us back to God." (111)
This chapter alone is worth every Christian's contemplation. His insights from Psalm 22 (128-130) will help a person understand how God did not turn His back on Christ at His death. God does not hate us, He hates our sin. It is not God's wrath, it is our wrath which God had to rectify.
This affects his view of God's election in Chapter 3 "Vicarious Man: Christ as the Last Adam."
"Election is not about God choosing this human over that human. There was no lotto wheel. No random word of choice. In the beginning His Word was "Jesus!" Election is all about the Electing God and the Elected Son. Jesus is both Elector and Elected. He is God's choice for all of humanity. And all of humanity was vicariously represented in Him. " (193)
The idea that Jesus is both the Elected and the Elector is very insightful. It explains how God can be a loving God and still have to punish sin. It also eliminates the dichotomy between "everyone should be saved" versus "the remnant of God".
In Chapter 4 "Hell Is Sort Of Real" Crowder concurs with C. S. Lewis that the door to Hell is "locked by those on the inside."(240). Hell is there because you want to be there. Heaven's doors however, are always open. Crowder argues that God's goodness is what will torture people in hell. His insight includes this thought:
"The wrath of the Lamb is nothing more than Him honoring your own chaotic demand to self-destruct. Men demanding to live within the confines of a legal universe – refusing grace – demanding to pay accounts that have been settled. You can refuse grace, but you can never nullify it." (246)
Grace is still powerful enough to change you, but it is your fault, not God's when you refuse it.
Crowder reminds us that Jesus is still the only way to Heaven, repentance is still the first fruit of salvation, and that God is not changing His plan to bring people out of hell at a future date. God has already provided a way.
However, Crowder makes a very interesting point about hell: Hell is not the absence of God. He makes the claim that God's love will torment those who are in hell.(257) God's love will produce remorse for people in hell. This serves as their torment. Crowder describes himself as a "hopeful Universalist." (275). The Bible doesn't teach that everyone goes to Heaven. It would be nice if God's love was so large that it would make happen. At times, I sympathize with that position.
The greatest values in reading this book is that you will be challenged toward the goodness of God. In a similar vein as The Pleasures of God by John Piper, Crowder will make you revisit and rethink what you have ever thought about God. In the end, you should come away more open to the true nature of God – a loving, hopeful, and enjoyable God.
Disclosure of Material Connection: I received this book free from the author and/or publisher through the Speakeasy blogging book review network. I was not required to write a positive review. The opinions I have expressed are my own. I am disclosing this in accordance with the Federal Trade Commission's 16 CFR,Part 255