A few days ago, I posted a chronology of Jesus' final days that my friend Brian Mavis shared on Facebook. Brian then posted his timeline for Jesus' final hours. His hope is to help us prepare our hearts and minds to focus on Jesus. (Brian also included in his Facebook post, his educated guess at this timeline, which I have added at the end of this post).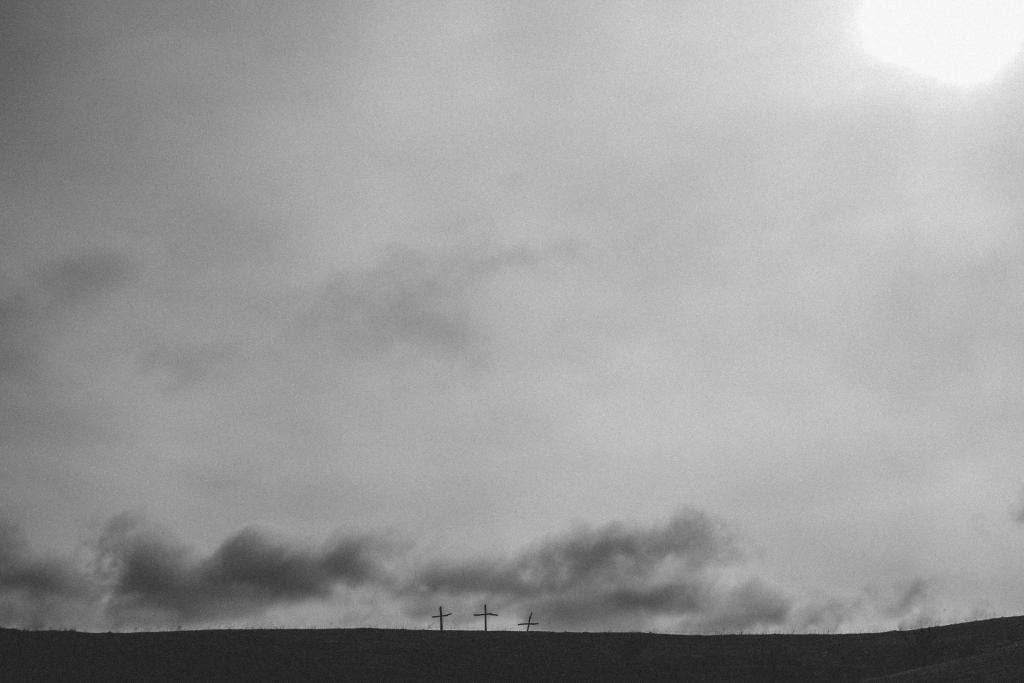 *The line breaks were added by me to help with readability.
JESUS' LAST HOURS:
Thursday
11:00 PM Jesus Prays in Gethsemane
Friday
12:30 AM Jesus is Betrayed by Judas and Arrested
1:00 AM Jesus is Interrogated by Annas
1:00 AM Peter Denies Knowing Jesus
1:30 AM Peter Denies Knowing Jesus a Second Time
2:00 AM Jesus is Tried by Caiaphas. He is Mocked, Hit & Spat On
4:00 AM Peter Denies Jesus for the Third Time
4:00 AM Jesus is Imprisoned
5:00 AM The Sanhedrin Sentence Jesus to Die
5:30 AM Jesus is Taken to Pilate
6:00 AM Judas Hangs Himself
6:00 AM Pilate Hears the Case Against Jesus
6:30 AM Jesus is Taken to Herod to Be Tried
7:00 AM Pilate Resumes Jesus' Trial
7:30 AM Jesus Is Beaten and Given a Crown of Thorns
8:00 AM Jesus is Sentenced to Die and Beaten
8:30 AM Jesus Carries Cross
9:00 AM Jesus is Crucified
9:00 AM Jesus Asks God to Forgive Us
9:30 AM The Soldiers Cast Lots for Jesus' Clothing
10:00 AM Jesus is Insulted and Mocked
10:30 AM Jesus Tells One of The Crucified Criminals That He Will Be in Paradise with Jesus
11:30 AM Jesus Speaks to Mary and John
Noon Darkness Covers the Land
1:00 PM Jesus Cries Out to the Father, Asking Why He Has Been Forsaken
2:30 PM Jesus Says He Is Thirsty
2:50 PM Jesus Says "It is Finished"
2:55 PM Jesus Prays "Father, into your hands I commit my spirit."
3:00 PM Jesus Dies
3:00 PM An Earthquake Occurs
3:00 PM The Huge Temple Curtain Tears in Half Opening The Holy of Holies
3:10 PM The Roman Centurion Exclaims "Surely he was the Son of God!"
3:15 PM The Soldiers Break the Thieves' Legs
3:20 PM The Soldier Pierces Jesus' Side
4:00 PM Jesus is Laid in the Tomb
Here is Brian's educated guess on how he came up with the timeline for Jesus' last hours:
"Obviously the 1st century A.D. didn't have clocks like today, but they still measured time by "hours," dividing daylight hours into twelfths and darkness into twelfths. Example: Jesus himself, asks rhetorically "Are there not twelve hours of daylight?" (see John 11:9). Summer "hours" (1/12 of daylight) are longer than winter "hours," but as a general rule, the day started at what we would call 6 am. In the 1st century A.D. they used the expression "first hour," "second hour," etc… So, the "first hour" would be about 7 am, the second hour about 8 am, and so on. For example, in Matthew 20:9, the English Standard Version reads "And when those hired about the eleventh hour came, each of them received a denarius." The New International Version does the time conversion for us reading "The workers who were hired about five in the afternoon came and each received a denarius."
Concerning the crucifixion of Jesus, there are several time clues given in the Bible. Here are some examples just from the Gospel of Mark. (I will emphasize time markers with ALL CAPS):
VERY EARLY IN THE MORNING, the chief priests, with the elders, the teachers of the law and the whole Sanhedrin, made their plans. So, they bound Jesus, led him away and handed him over to Pilate. (Mark 15:1)
And it was the THIRD HOUR (ABOUT 9AM) when they crucified him. (Mark 15:25)
And when the SIXTH HOUR (ABOUT NOON) had come, there was darkness over the whole land until the NINTH HOUR (ABOUT 3PM). (Mark 15:33)
And at the NINTH HOUR (ABOUT 3PM) Jesus cried with a loud voice, "Eloi, Eloi, lema sabachthani?" which means, "My God, my God, why have you forsaken me?" (Mark 15:34)
These aren't the only time markers BTW; the other Gospels also have time markers. A couple more things. After Jesus' first of three prayers in Gethsemane, he asks, "Couldn't you men keep watch with me for ONE HOUR?" (Matthew 26:40).
I also looked at the geography and distances between places like Gethsemane, Caiaphas' house, Herod's house, Pilate's house, and Golgotha in order to get a feel for how much time it takes to go from place to place. (They are all very near each other). I took all the events recorded in the four gospels, tried to put them in chronological order and then did some educated guesswork on when those things approximately happened using our measure of time."
Brian concludes with, "Hope that helps." And I too hope this helps you prepare your hearts and minds for this season of hope and new life.