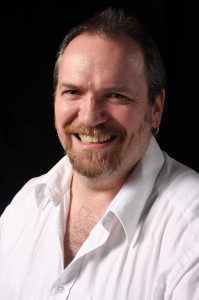 Gary Andrews is the director and producer of The Spirit of Albion, the 2012 independent film based on the music of Damh the Bard.  I called it "the Pagan movie I've been waiting for."
Gary runs the Archway Theatre Young Adults Workshop, where The Spirit of Albion began its life. He co-wrote the play with the Workshoppers and has directed every stage version. As an actor he has appeared in several films and has played in over 50 shows on stage.  As a writer he has adapted works of Shakespeare, Dickens, Jane Austen, Kenneth Graham and Victor Hugo.
Gary lives in Surrey in the United Kingdom with his wife and filmmaking partner Joy and their two children.  He is currently at work on Tales of Albion, a collection of eight stories about the seasons, the Gods and the land.
John:  One of the things I thought The Spirit of Albion did very well was to present the old Gods respectfully and enthusiastically while leaving plenty of room for individual interpretations of who and what they are.  Was this a conscious decision or was it the natural result of working with Damh the Bard's music?
Gary Andrews:  It was a bit of both really. I have had an idea in my head for many years of how I see the Old Gods and once I heard Damh's music I knew that here was an even clearer expression of them that I could totally get on board with. As it was a devised show originally, there was a certain amount of input from the group as to how they saw them – and this was based very much on Damh's music, along with individual research that the actors playing those roles did. Once we moved on to the film with an adult cast we were able to further refine the characters. Respect was always upmost in my mind though, as it was the positive aspects of the old ways I was keen to highlight.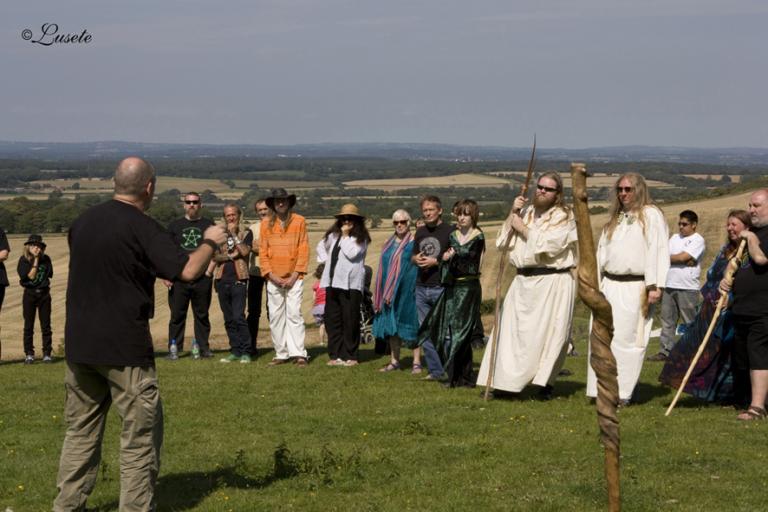 You proposed the idea of using Damh the Bard's music as the basis for a Youth Theatre Workshop show.  How was that initial proposal received by the group?  Were there any concerns about doing a Pagan-themed show, either from participants from conservative religious backgrounds or from those who think any religion is silly?
It took the group all of about ten seconds to be totally behind the idea! We were looking to do a musical show and I had asked them to think up some ideas, but I had Damh's stuff up my sleeve as a 'back up' in case they couldn't agree on anything. When I mentioned it, they asked me to play them some and that was it – they were hooked!  There were a couple of the group who were fairly devout Christians but they totally got where we were coming from and were behind it all the way. The Priest character was an invention of one of them and gave the story a good balance, I felt.
How would you describe your own religious practices?
I consider myself a 'secular Pagan.' By that, I mean that in the same way many people describe themselves as Christian but never go to church, I like to follow the ideals of the Pagan ways (respect for the land and our ancestors) but am not someone who actively indulges in ritual. I have always personally been slightly uncomfortable with ritual of all kinds, although I have nothing against it or anyone who practices it. In fact, I admire that depth of faith and commitment but just get a little withdrawn if I have to be involved!
We (my wife Joy and I) do try to observe our own little private rituals on the various festivals and we also were handfasted and had naming ceremonies for our children, which I found very moving.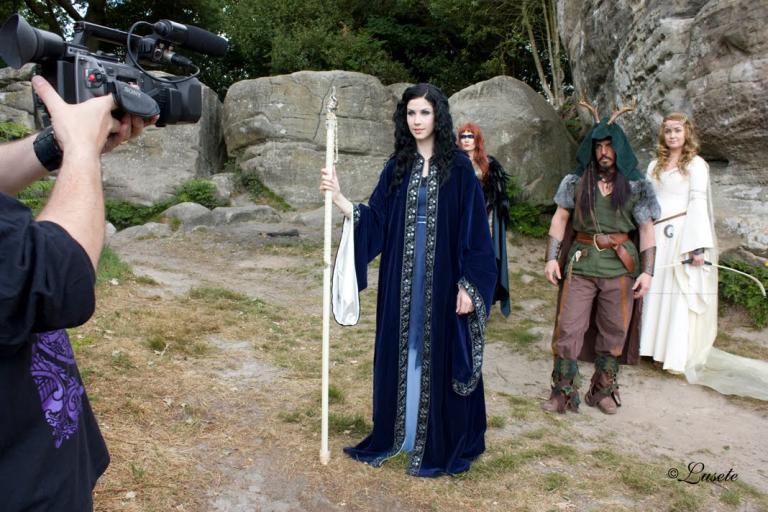 In The Spirit of Albion you filmed at several sacred sites, including  Stonehenge, Wayland's Smithy, and the Rollright Stones.  Is there a site you're particularly drawn to?  Will we see more familiar settings in future films?
I love all those places – I am a total history and folklore freak and feel a powerful connection to the past when I visit them. My personal favourite place is Dartmoor, which figures mainly in the prologue of the film. The power of nature there really speaks to me and the Tors in particular hold a real fascination. There are less of the iconic locations in the Tales because we are dealing less with the symbols of the faith and more with the stories behind it.
You created a professional quality film on a budget of £15,000.  Clearly that involved a ton of volunteer work by cast and crew.  What is it about these stories that have made them such a labor of love?
I think the stories themselves have such a pull and a power that once someone had been on one shoot (as a favour or for fun) they just kept wanting to come back for more! We did try to create a fun atmosphere on set but it went deeper. I think we touched on something that spoke to people in a way we didn't expect. Many firm friendships have grown up as a direct result of working together on the film and this shows, especially as many have returned for the Tales.
What's the best feedback you received to The Spirit of Albion?
Oh, so much! One person wrote to tell me that a friend's mother who saw her Paganism as something akin to Satanism had watched the film and now understood – in fact wanted to come along to her next ritual! That's pretty cool…
I think my proudest achievement is that the Pagan Federation are using the film as part of their pastoral programme in prisons in the UK. That is very humbling.
To what extent has technology made this kind of filmmaking possible? 
Certainly it has made it more accessible.  For Spirit (excuse me while I go all techie here) we filmed on digital tape using 3CCD cameras and for about 50% of the shoot had lens adapters on them so we could control depth of field, focus pull, etc. We then pulled the footage into the computer and edited in Final Cut Pro. Sound was recorded on set using XLR mics directly into the camera.
The most expensive part of the process was the sound mix, as I decided to go into a studio and get this done 'properly' in 5.1 surround. I am lucky that I work in the film business (I direct children's animated TV) so had access to a great studio who did me a good deal but even so, it still cost about a quarter of the budget!
For the Tales we have moved over to DSLR, shooting HD onto memory cards. The difference is really noticeable – such an amazing picture. We are also shooting separate sound now. All this means the shooting process is slower but far more 'professional.' You do, however, need a bigger crew!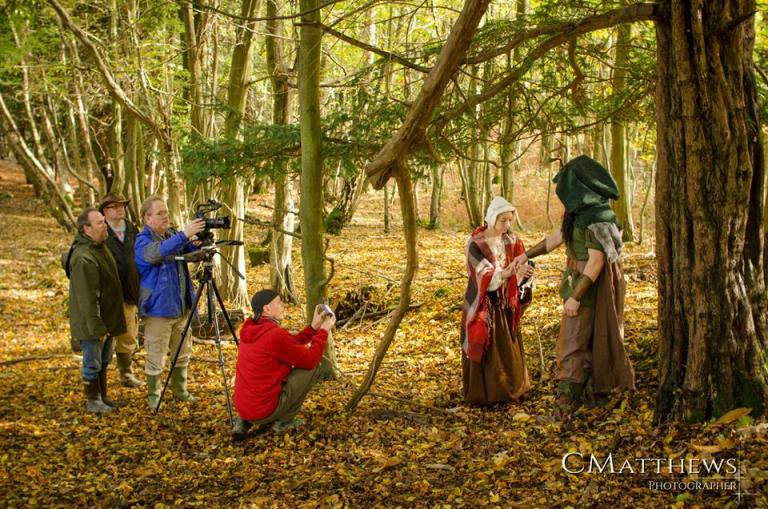 Talk about the challenges you face with so many volunteers.  How do you handle scheduling when key participants can be called away for paying jobs?  Have you had to rework or rewrite any of the stories because of the availability of actors? 
You know, it's probably the hardest part of the process. Especially with the Tales, where we have eight separate casts to juggle! I basically start off seeing how many days we need to shoot, then choose dates. From there I check actor availability and once they are secure I gather the crew. Occasionally we have had to do a little on the spot re-write if someone becomes unavailable – especially at short notice – or a quick re-jig of schedule.
In the Tales I have had to re-write two of them that were written around characters that recurred from the previous film when those actors had to drop out unavoidably. As it turns out, it made the films better, as the stories became more 'stand-alone' and didn't require you to have seen Spirit to know what was going on.
Talk about your current project Tales of Albion.  Why eight stories?  How did you come to choose these eight? 
I chose eight stories to echo the eight spokes of the Wheel of the Year (Samhain, Yule, Imbolc, Ostara, Beltane, Litha, Lughnasadh, Mabon). Originally I though of releasing them as shorts, one on each festival, but it became obvious that the shoots were so intertwined that it would be impossible. So I wrote a linking device using a storyteller and combined them into one feature length film.
Are there one or two you're particularly excited about filming?
To be honest, they are all pretty exciting for different reasons. Some are huge epic tales and others smaller and more intimate. I guess, having a love of Shakespeare I did enjoy 'Dreaming the Dream' which is a fantasy about the writing of A Midsummer Night's Dream.
Probably the most personal was 'Noon of the Solstice'. This is the only one of the Tales that is a re-make. We shot the original version as a short for a local film festival back in 2000 and it was the first thing I ever made inspired by Damh's music! What was even more fun was that I managed to use a couple of the original cast again. One of them plays the same role (the Holly King) and the other was just a little girl of 7 first time around but I wrote in a new character for her to play this time. Her original role was played in this version by my own 5 year old (at the time of shooting) daughter, which was very special.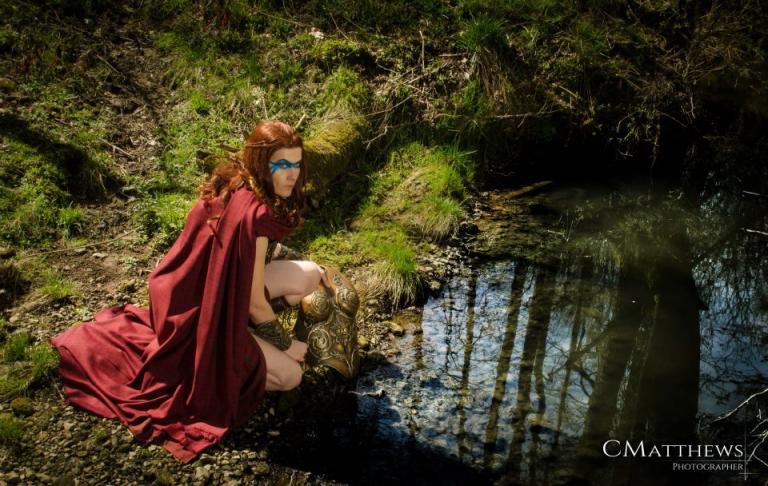 Is there a common theme running through the eight stories of Tales of Albion?
I think one theme running through is how much the past affects the present. The Tales all have their own stories to tell but that one does seem to crop up  over and over.
You're currently trying to crowd-fund some of the production costs of Tales of Albion – what are some of the things you're looking to fund with this drive?
With the last film and this one so far we have funded totally from our own pocket but Block 3 of the shoot is the most elaborate series of scenes. We have some spectacular locations that we need to hire and period extras that will cost quite a bit. We also have some scenes with horses (not cheap!) and several elaborate custom costumes to create.
The crowd-funding target will cover the shoot. If we exceed that, we will use the extra money to fund some of the post-production effects, as these films will be a touch more effects heavy than Spirit was. Most of the effects will be invisible though – we are not talking Lord of the Rings style spectacle! Mostly it's enhancing what was there and adding some period detail etc.
One of the films is shot totally on a green screen so there are a lot of hours work compositing that one and there is a sequence in one film that I hope will be entirely digital – but that will very much depend on budget, or if I can find a friendly production company to do the work in exchange for the exposure!
What are some of the rewards available to backers? 
We have all the usual stuff – pre-ordering the DVD, a nice bag, on-screen credit etc, plus we are producing an exhaustive 'making of' book, which will be part of the gifts in a digital form. As we go higher up we are also including a hard copy, limited edition of the book as well as printed versions of the shooting scripts and storyboards with all my scribbles on them.
The top levels include invitations to the wrap party or premiere and a chance to come along on a shoot as either an observer or an extra (not very much use if you are US based, alas). I am working on overseas versions of these higher end rewards so any suggestions are welcome! Top level is a corporate reward where we add your company logo to all publicity materials etc and an 'up-front' credit.
When do you expect Tales of Albion to be ready for distribution?
We are aiming for a Yule 2014 release but as with Spirit I won't sacrifice quality to meet a deadline. Everyone is working in their spare time so if we need to hold back to get it to the level I want then we will delay. We will be open and up front about this as we will have plenty of warning as to whether or not we will make it.
How will people be able to get it?
It will initially be a DVD release (both PAL and NTSC versions) as this will include a heap of extras (making of, commentary, out-takes plus other bonus material) but I will also look into download versions as well. We are in fact about to release a download version of Spirit.
Any thoughts on what activities and promotions you'll have around the release?
Once we have finished the main filming I will be looking at the marketing campaign for the release of Tales but right now all energies are going on actually getting it made! I am planning a bonus, a ninth Tale we plan to release as a free download later in the year which will hopefully get people intrigued.
Is more Pagan filmmaking in your future?  Do you have any idea what will come after Tales of Albion?
The response from the Pagan community has been so positive (on the whole) that I can't imagine there WON'T be any more! I already have people saying Tales 2?!
First and foremost though, it's a rest and a bit more family time. I am lucky that my wife Joy is also my producing partner, my editor and plays Ceridwen! Likewise our children love coming on set with us and both are appearing in the Tales but perhaps a few more 'normal' days out wouldn't go amiss…
I do have a few ideas for future projects but they are just bubbling away in the back of my head right now. The main thing is, we all have such fun doing this that I think it's only a matter of time before we are all back out there with me shouting "Action!"
Gary, thanks so much for the interview. 
I would just like to thank everyone for the support we have had for the project so far and that if they were thinking about buying this one to urge them to consider the crowd-funding, as this will help us to make the film the best it can possibly be.
Good luck with the rest of Tales of Albion.
Thanks for this – it's been fun!