I'm back from almost two weeks in Ireland, Scotland, and England. It was a great trip, and a surprisingly easy trip considering all the distance we covered. We flew from Dallas to Philadelphia and then Philadelphia to Dublin. Four nights in Dublin, two nights in Edinburgh, three nights in Orkney, and two nights in London. Then I flew home from Heathrow, while the rest of our party of six went on to Salisbury and then flew home today from Dublin.
I've been doing daily Facebook posts and I'm starting to work through the trip pictures, so rather than the usual mundane recap I'm going to dive right into the spiritual aspects of the trip.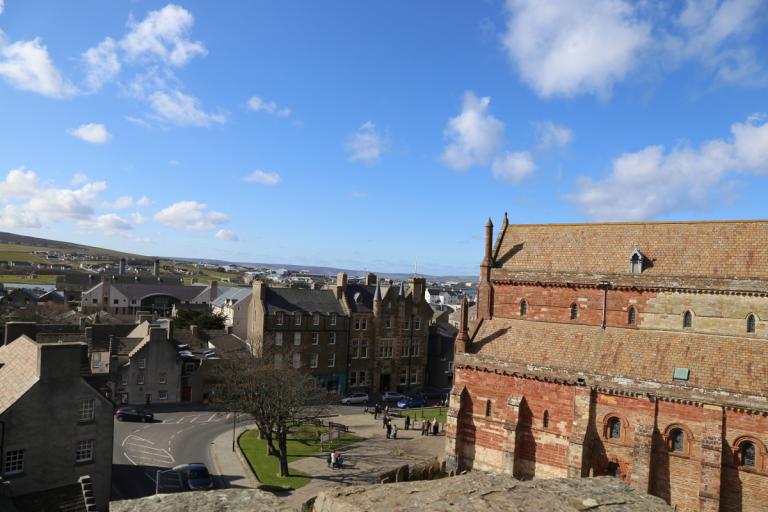 My original plan was to spend the whole time exploring Scotland. But when the traveling party grew, so did the requests for additional stops. Some of the others had never been to Europe – they wanted to see some places I've already been. Now, they didn't have to twist my arm very hard to get me to go back to Newgrange, especially when this time we'd be able to see Knowth and Dowth (I'll cover that in a separate post). But the more things we added, the more we had to take away from Scotland.
There were only two stops in Scotland that I insisted remain in the itinerary: Edinburgh (for the Celts exhibit and the Gundestrup Cauldron – that gets its own post too) and Orkney.
I first learned about Orkney when I studied World War I in school – Scapa Flow was a major base for the British Navy and the place where most of the German fleet was scuttled at the end of the war. It's a collection of about 70 islands off the northeast corner of the Scottish mainland. Though they sit at roughly 59° of latitude, the climate is relatively mild due to the Gulf Stream. Emphasis on relatively – it was still considerably colder than at our other stops, much less than the Texas weather I'm used to. People have lived in Orkney for over 8000 years – most of the sites we visited date from 3100 to 2000 BCE.
I first felt a connection to Orkney ten years ago during an OBOD meditation. It wasn't a very specific connection and it certainly wasn't very urgent. It was a feeling that there was something in Orkney I needed to do. I just didn't know what that was. But if we were going to Scotland, even for just a few days, I was going to Orkney.
As the trip progressed, I was overwhelmed with two conflicting feelings. The first was the realization that while travel is a good thing, it's not necessary for strong spiritual experiences. A certain Goddess of Sovereignty decided to speak to me rather loudly at Tara, but She's spoken even louder in my own back yard. My work is here in the United States and specifically in Texas. This is where I practice and write, this is where I'm part of a thriving local Pagan group, and this is where we're doing good work to rebuild the Way of the Gods.
The second feeling was that despite all that, going to Orkney was necessary. I just didn't know why.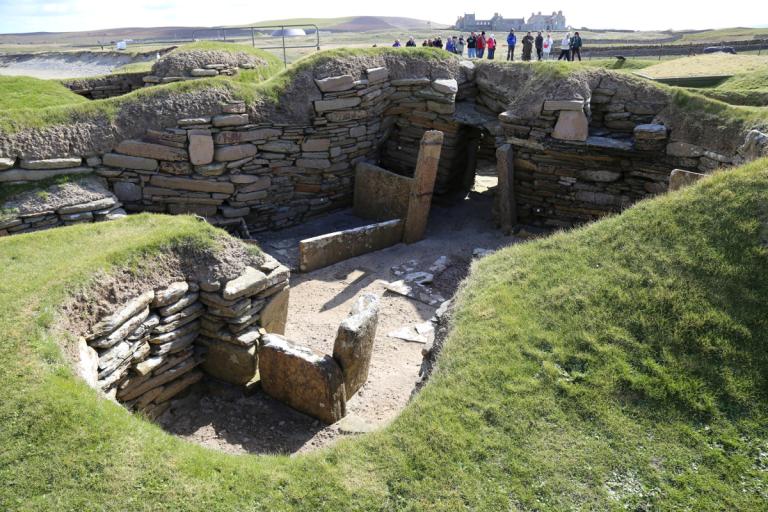 Our first two days in Orkney were beautiful. It was a little cool and windy, but the skies were mostly clear. We visited the Skara Brae settlement and some of the sites in Kirkwall. I don't know if it was the the virtually treeless landscape or the old buildings or what, but it all had an otherworldly feel to it. Still, I didn't come to Orkney for an otherworldly sensation – I can get that in any well-done ritual.
On our third day – the day we planned to visit most of the ancient sites – the weather changed. The wind picked up, the temperature dropped a good 10 degrees (Fahrenheit), and the skies were overcast. There was snow in the higher elevations, and we had intermittent rain and sleet.
If it was always easy it would be tourism, not a pilgrimage.
We started at Maeshowe, a chambered tomb built almost 5000 years ago. It was used and reused several times – the interior walls include Viking graffiti. This is a place of the ancestors. Are they my ancestors? Genetically, maybe. Spiritually, absolutely. I didn't receive something here, I realized something: my foundation is with the ancestors and in the land.
As an aside for future tourists and pilgrims: Maeshowe can be entered only as part of an official tour and tours must be booked in advance. Check the cruise ship schedules – if a ship is in port, pick another day.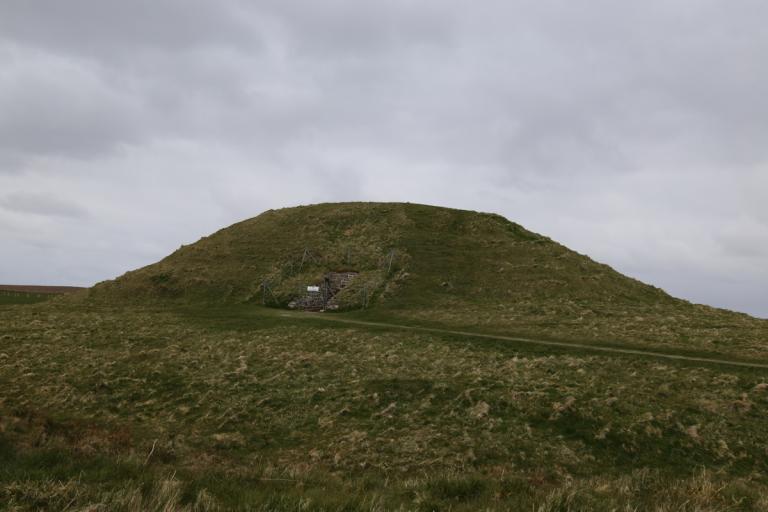 From Maeshowe we went to the Standing Stones of Stenness. As a Druid, I feel at home in a stone circle… even though the stone circles were built, re-built, and abandoned long before the arrival of the Druids. This was the worst of the weather – at times the sleet was coming down sideways. I've done enough initiations (from both sides) to understand the purpose of an ordeal. As ordeals go this one was minor, but the message was very clear: this will not be easy.
Like the other stone circles, no one really knows how these were used. Observatories? Star temples? Places of healing? The one thing that's clear to me is that they were used – necessary work happened here… work that needs to be done in our place and time as well.
From Stenness we walked to the Barnhouse Settlement. This was a place where people lived – it was discovered in 1984 and is only partially excavated. Its nearness to Maeshowe and to the stone circles have led some to speculate it was a home for priests. Perhaps.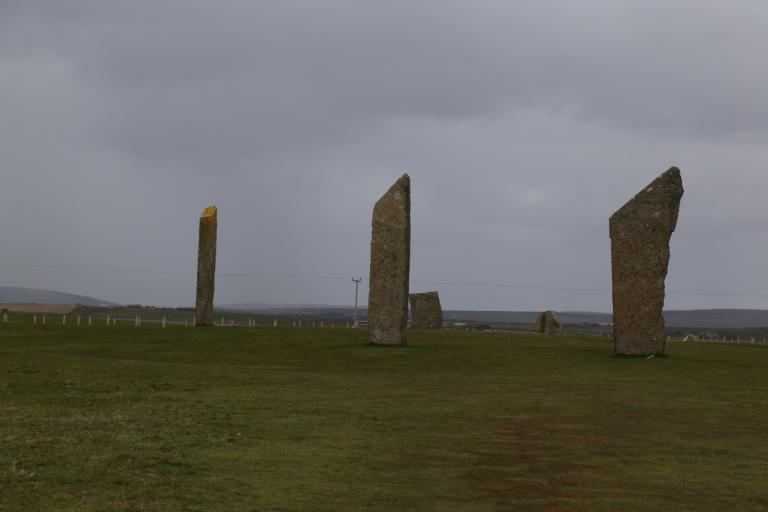 The final piece of our journey took us over a narrow causeway to the Ring of Brodgar. This is the third largest stone circle in Britain – only Avebury and Stanton Drew are larger. It gets a fair amount of tourist traffic (though virtually none on the day we were there) so there's a large car park a short distance away. That allows for a nice, long, meditative procession across the street and up the hill to the stones.
By this time I was buzzing. I paused at the entrance to the circle and poured an offering, then made my way around the circle in a combination of prayers, offerings, and communion with the spirits of the place. It took a while to get all the way around. After that I made a second trip around the circle to take pictures.
Then it was time for the final round, and as I stood there I still didn't know exactly why I was there. Cynthia and I made our way around the stones. Cathy stayed to hold my camera, while the others got out of the weather.
On the first time I felt a strong need to stay within the circle. This time, though, I heard an amusing laugh and weaved a seemingly-random path around and between the stones. I couldn't reconstruct it now if I had to, but I'm certain that if I went back, my feet would carry me along the exact same route.
Near the top of the circle it hit me – the work I and others have been doing since last January is ready for the next phase. We realized that some time ago and have made plans for some special workings this summer. But it needed to be grounded then and there… or at least, my portion of it did (I think some of the other members of our traveling party had their own moments, but we haven't had a chance to discuss it yet).
I can't tell you exactly what I did at the Ring of Brodgar: part was ineffable, part was too sacred to discuss, and part I flat-out can't remember. It wouldn't do you any good anyway. This wasn't a prescribed ritual pilgrimage that continues some ancient tradition, or even one that begins a new tradition. This was something I needed to do, even though I didn't know what it was till I got there.
As we drove away, I felt the sites we had visited receding in the background. More importantly, I felt like I had done what I was supposed to do – my work in Orkney was complete. If I go back to Orkney in the future (I have no plans to do so, but you never know, and it was a great place to visit) it will be as a tourist, not as a pilgrim. My pilgrimage to Orkney is complete.