I've been writing a lot of serious stuff lately and I need a break. So let's do something fun.
What is Pagan music?
Is it the songs and instruments of our ancestors? Is it inspirational and devotional music for Pagans? Perhaps it's the artistic exploration of Pagan themes. Maybe it's music made by Pagans. Or perhaps it's just music Pagans like. A good case can be made for any and all of these definitions.
I use recorded music in most of my rituals. Some of it's for devotional offerings, but most is for background music, played while we're doing something non-verbal. Occasionally I make playlists dedicated to a particular deity or theme. And because I'm a geek, I plan these playlists in spreadsheets.
I combined 21 playlists from the past 11 years into one big spreadsheet, then pivoted by artist and album. The cut from 71 albums down to 16 was easy. Cutting down to the final 10 was hard. But it's a Top 10 list, so that's what I did.
Please note the qualifier at the beginning of the title: this is my Top 10 list. I'm not a music critic or historian, and this isn't a list of the "best" or "most influential" albums in the Pagan world. This is my list of the albums I like and have played a lot in ritual. Your list will be different, and different is good.
So, in no particular order (mostly), here are my Top 10 Pagan albums of all time.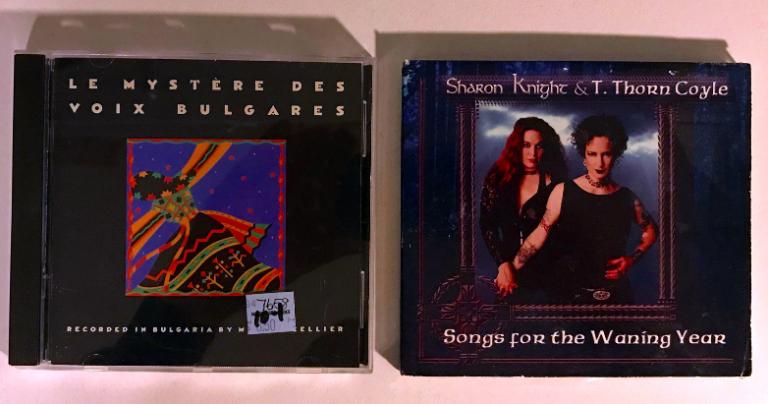 Damh the Bard:  Spirit of Albion  (2006). I said there was no particular order, but Spirit of Albion has to be first. Damh started writing songs so we'd have something Pagan to sing around the campfire, and I've definitely used them in that spirit. The title song is perhaps the most rousing anthem in all of Paganism. "Morrighan" is a haunting devotion to the Battle Raven. "Noon on the Solstice" was Damh's first song to the Horned Gods, and "Oak, Broom and Meadowsweet" would partially inspire this year's bardic offering Y Mabinogi.
There are no weak songs on Spirit of Albion, just good ones and better ones. I've played music from all of Damh's albums at one time or another, but this is the one I use most of all.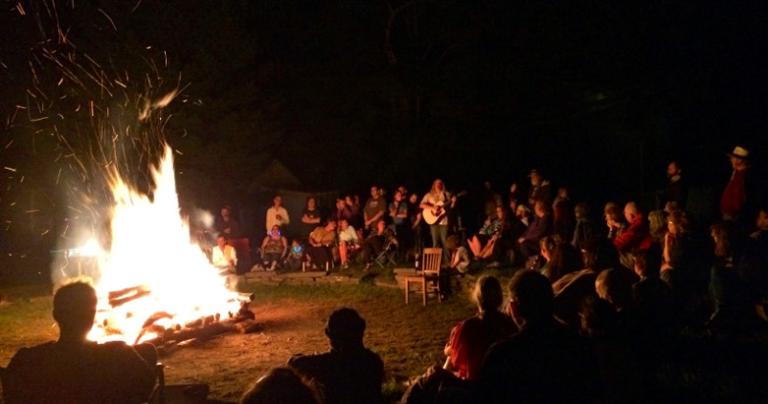 Pandemonaeon:  Dangerous Beauty  (2010). Pandemonaeon is Sharon Knight's plugged-in rock band. The instruments are positively powerful, and while Sharon's vocals are always good, here they're haunting. Some of the songs aren't strictly Pagan, but others are very much so: the lyrics to "Heart Girt With A Serpent" come straight from Aleister Crowley.
This album turned up near the top of this list because I've used "Queen of Shadows" in devotions to the Morrigan so often. And "The Goat Is On The Pole" is a fast and fun instrumental piece that's great for finishing off a Maypole dance. But mainly, I love listening to it. Dangerous Beauty fits all the definitions of Pagan music I listed at the beginning of the post. For listening (as opposed to playing in ritual) this may be the best of the Top 10.
Dead Can Dance:  The Serpent's Egg  (1988). Wikipedia calls Dead Can Dance "Neoclassical dark wave" and that's fairly accurate. Their music isn't explicitly Pagan, but I know a lot of Pagans who like it. There isn't anything better for setting a ritual atmosphere before beginning something deep and introspective.
I could have chosen any of their albums. I picked The Serpent's Egg primarily because of "The Host of Seraphim." Before Denton CUUPS' first Spiral Labyrinth at Samhain 2011, I was unusually nervous, almost agitated. "The Host of Seraphim" was our prelude. I turned it on and closed my eyes. Six minutes and 18 seconds later I was in the proper frame of mind for the ritual, and so was everyone else.
S.J. Tucker:  Blessings  (2007). S.J. Tucker is a brilliant singer-songwriter whose "fun and filk" music is popular with a lot of Pagans. Most of it is too light for my tastes. But not Blessings – it's plainly Pagan… so much so there's a warning on her website that it "may not be appropriate for all audiences." But "for those that are open to alternative spiritual paths, this album is not to be missed." Truth in advertising is a good thing.
"For Love of All Who Gather" is an invocation. "Witches' Rune" is a beautiful exposition of Wiccan ritual. "Come To The Labyrinth" is renewing and inspiring. And while "Hymn to Herne" is a cute and sexy song, it has a serious element to it. The video below is old and the talking part is hard to hear. Turn your speakers up, watch S.J.'s facial expressions, and hear her struggle to not get choked up when she says "and he showed up."
Bulgarian State Radio and Television Female Vocal Choir:  Le Mystère des Voix Bulgares  (1975). This is a collection of Bulgarian folk songs performed by a large and talented women's choir. I picked it up in a used CD store in the mid-1990s because some of it had been used in the Xena: Warrior Princess TV show. I listened to it a few times and liked it, but then I put it in my CD rack and forgot about it. When I went looking for ritual music for Samhain 2011 I was very glad I had it.
The harmonies are beautiful, and because Bulgarian is so different from English it has a very mysterious sound to it. If these aren't authentic pre-Christian songs of Bulgaria and Thrace, they could be. I've used it in some of our Samhain rituals and in our 2015 Rite of Hermes.
There have been three similar albums released by this same project. Volume 2 won a Grammy Award in 1989.
Damh the Bard:  The Cauldron Born  (2008). This album is for all those who've said finding Paganism is like coming home. It has two rousing anthems. "The Cauldron Born" says we're not alone:
"You feel so lonely, Come with me and let me show, There are others just like you."
"Land, Sky and Sea" could be the theme song for Nature-centered Paganism, and "Pagan Ways" tells the mainstream TV culture that we're different and we're happy about it.
Sharon Knight:  Neofolk Romantique  (2013). The Sex Pistols made it into the Rock & Roll Hall of Fame on the basis of only one album. Neofolk Romantique makes it onto this list on the basis of only one song: "Fire in the Head." It's based on a Welsh legend that says anyone who sleeps on a certain mountain will wake either mad, dead, or a poet. Both the lyrics and the music are simultaneously beautiful and terrifying.
"The screaming hag that rides the wind
Will rip the soul right from your skin
The hollow hills will swallow you
And flay apart your mind
To win the kiss of the gifted ones
We risk our lives on the mountain front
There's some wake mad, and some wake dead
And some will rise with a fire in their head."
"Mistress of MacLyr" is an original devotion to the sea and the God of the Sea, and "The Captain's Flask" is another short fun instrumental piece. The rest are traditional Celtic folks songs and sea shanties. They're good, but they're not really what I think of when I want Pagan music. But "Fire in the Head" is enough to put this album on my Top 10 list all by itself.
Faith And The Muse:  :Ankoku Butoh:  (2009). Faith and the Muse is a dark wave collaboration between William Faith and Monica Richards. This album has a Japanese theme and uses Taiko drums extensively. This is powerful, driving music.
If you want a mysterious torchlight procession, play Dead Can Dance. If you want to call people to rise up and fight, play "Battle Hymn" "When We Go Dark" and "Sovereign" from :Ankoku Butoh:.
Their 1996 album Annwyn, Beneath the Waves has a Celtic theme and includes songs to Arianrhod, Rhiannon, and Cernunnos. I've used some of that music in ritual too. But top to bottom :Ankoku Butoh: is their best album, and their most powerful.
Omnia:  PaganFolk  (2006). Omnia is a "Neoceltic" Pagan band from the Netherlands that has had a variety of members and instruments over the years. Their music has changed a lot too, from Celtic and Neoceltic at their beginning to the environmentalist emphasis of their more current stuff.
They can be more show than music, and their last couple of albums have been rather preachy. For me, PaganFolk was their "just right" phase. Much of it isn't in English, but the sound is perfect for light background music. "Tine Bealtaine" and "Dil Gaya" are regular choices for our Maypole Dance.
Sharon Knight and T. Thorn Coyle:  Songs for the Waning Year  (2008). Pagan chants shouldn't be dirges, but for many years most all of them were. This is a collection of 22 short songs that can be incorporated into your rituals. We've used "Ancestor Chant" "Beyond the Gates" "Come All Who Hunger" and "Prayer for the Dead" as interactive chants. Just teach them to everyone before the ritual begins, and as long as you've got a couple of strong singers to carry the tune, everyone else can follow along.
Sharon and Thorn also did Songs for the Strengthening Sun in 2009. It's good too, but I like Songs for the Waning Year better.
The 6 that didn't make the cut
Enya:  The Celts  (1986).
Loreena McKennitt:  The Visit  (1991).
Loreena McKennitt:  The Mask and the Mirror  (1994).
Wendy Rule:  The Wolf Sky  (2006).
Faun:  Eden  (2011).
Blood Ceremony:  Living With the Ancients  (2011).
I love all this music, and I've used a lot from the first five of these albums as background music in rituals and in my personal practice.
Enya's popularity with the New Age crowd is no reason for Pagans to avoid her. I saw Loreena McKennitt in concert last year and she was awesome. I don't do much Wicca-based ritual anymore, but I'd still like to find a way to do a live version of Wendy Rule's "The Circle Song" and "Elemental Chant" in a group ritual.
Faun is similar to the best of Omnia but with a more consistent sound. For some reason I don't have their Midgard album from last year – I need to fix that. And Blood Ceremony isn't serious Pagan music, but its 70s metal / Hammer Films vibe is a lot of fun.
I could have put any of these in the Top 10 list (especially Eden or The Visit) but then I would have had to take one of the Top 10 out.