The class I've been talking about since February is now open for registration. To sign up, go to the new website Under the Ancient Oaks, click on Courses, and follow the instructions.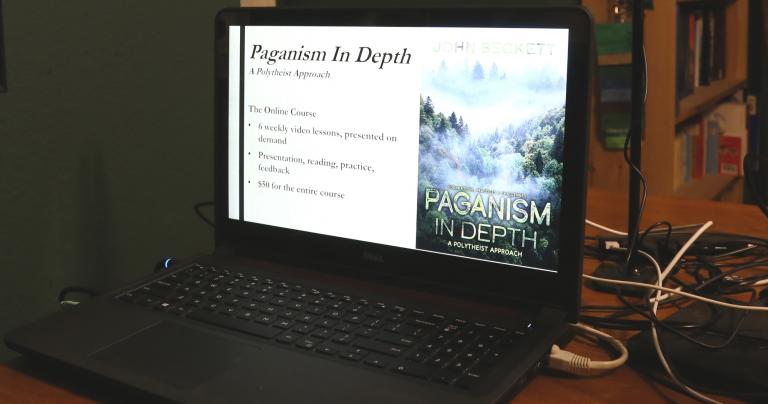 Do you want to take your Paganism deeper? Do you want to explore polytheism with guidance from a practicing devotional polytheist? Then sign up for Paganism In Depth – the On-line Class.
This will be a six-week on-line class based on Paganism In Depth. It wasn't written as a textbook, but I think we can use it for that just fine.
Each week will have a video presentation delivered on-demand. I keep seeing all these cool classes by great teachers and I never take them because their times never work for me. Even if they make their classes available afterward, I still never take them. The ones I've actually done have been classes I can do when I can do them. So that's how I'm going to structure my own classes.
Each class will have homework: reading, practice, and writing about what you experience. It isn't mandatory – if you don't want to do the homework that's your business. But if you go to the trouble of doing it, I'll go to the trouble of reading what you turn in and offering feedback.
No, there will be no grades – sorry, all you Hermione-types.
The cost is $50 for the entire 6-week series. There will be a limited number of scholarships available for those experiencing financial difficulties.
The class begins at Lughnasadh – August 1st.
Module 0 – the Syllabus Class
Remember the first day of class in school? Sometimes in high school, lots of times in college, the teacher would come in, write their name on the board, hand out the syllabus, go over the books you'd be using, and talk about what they hope you'd learn, and then you're done. Sometimes class would be over in 15 minutes – other times they'd start teaching.
We've got some introductory, syllabus-type stuff we need to cover up front. Rather than cram it into the beginning of Module 1, I decided to separate it out into Module Zero. Also, I can make this module public so everybody can see it. If you're wondering what this is going to look like and if you really want to do it, here's your free preview. If you like it, sign up. If you don't, now you know.
New Website – Same Blog
You'll notice I have a new website, conveniently called Under the Ancient Oaks. That's where I'll host this class – and future classes, if this one goes well.
My blog – which has been called Under the Ancient Oaks since I started it on a free Blogger site in 2008 – will remain here on Patheos. Things aren't perfect here, but I've done well with Patheos, and I like being part of a multi-religion website. And there aren't many websites that pay their writers these days. I don't make much blogging, but something is better than nothing.
So, Patheos for blogging, UndertheAncientOaks.com for classes.
Questions?
If you have questions about the upcoming class, please contact me here on the blog, via the Under the Ancient Oaks contact form, or on Facebook.
I'm really looking forward to this class – I hope you are too.