It's been six months since we canceled our Spring Equinox rituals due to Covid-19 and it's still not safe to gather in person. I know a few small groups who have been meeting privately (think Pagan "pods") but I know of no public rituals anywhere.
But Covid or no Covid, the Wheel of the Year keeps turning. The Fall Equinox is this coming Tuesday, September 22 at 8:31 AM CDT. This isn't the most popular high day on our calendar (it came in 7th out of 8 in my ranking by blog popularity) but it's still a significant marker as we move through the year, and it's still worthy of celebrating.
You may decide to celebrate by yourself. In previous years I've written solitary rituals and a list of 8 Things To Do for each high day.
But since the pandemic started, I've been providing online rituals for each sabbat. I get to facilitate a ritual… not exactly like I always have, but close enough that I feel like I'm doing what I need to do. And those who can't be anywhere else have some place to go.
I created one online ritual for the Fall Equinox and I had a hand in producing another. If you're looking for something to do for the holy day – or if you just like the idea of joining in a ritual with people around the world – here are two opportunities.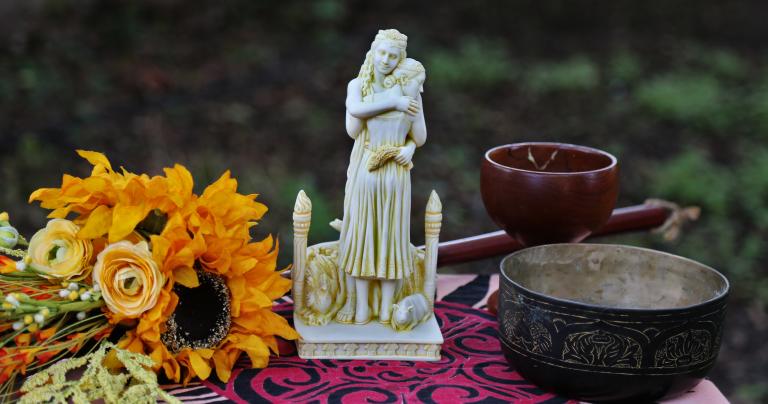 Denton CUUPS Fall Equinox: A Rite of Strength and Resilience
Facebook Premiere
on the Denton CUUPS Facebook page
Saturday, September 19
7:30 PM CDT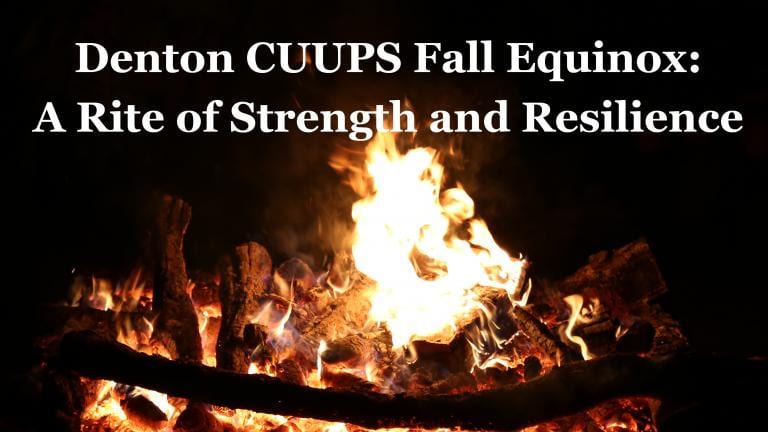 This ritual is a devotion to Demeter and to Persephone. Most of us honor Persephone at the Spring Equinox, when She returns from the Underworld and Demeter makes the Earth green and fertile again. At the Fall Equinox we harvest our crops and Persephone returns to Hades – that event is also worthy of commemoration.
But this is more than a devotion. It's a ritual that acknowledges suffering and trauma – something many of us are experiencing, for multiple reasons – and then helps us find the strength to overcome them and be who and what we are called to be – who we want to be.
Where previous rituals were originally designed to be done live and in person and were adapted to an online format, this was written specifically to be an online ritual.
Gabrielle Milburn wrote this ritual, and Denton CUUPS Coordinating Officer Cynthia Talbot directed it. I don't have a part in it. I ran the cameras – it's a lot easier to shoot video when you're not also trying to facilitate ritual.
This is a powerful ritual. Especially if you're feeling beaten down by everything that's going on, I encourage you to join in, chant the chant, and rise. No prep work is needed – you'll understand when you see it.
Under the Ancient Oaks Fall Equinox Ritual
YouTube Premiere
on my YouTube channel
Monday, September 21
7:00 PM CDT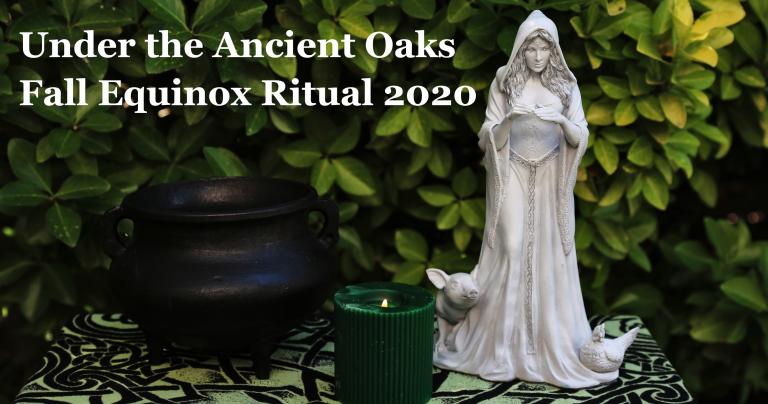 Imagine what things might be like if Paganism was the dominant religion in the West instead of Christianity. Imagine if we didn't have to plan our holy days around work and school, because they were already civil holidays. We could have our high day celebrations on the actual high days.
While Denton CUUPS is sticking with the "nearest Saturday" schedule we put together late last year, I'm going to do the UTAO ritual when I would do it if work and school schedules weren't an issue… which they mostly aren't, considering we're doing this remotely and not in person. In this case, that's the evening before the moment of the equinox the next morning.
This will be a devotional ritual to Cerridwen, the Welsh Goddess of Transformation… and of much more. No prep is required, but you may want to read the Tale of Gwion Bach, or watch this video of me telling it. It's old – the video quality isn't the best, but the audio is fine, and that's what's most important.
Kristoffer Hughes' book From the Cauldron Born explores this story in great detail.
Also, Kris has a book on Cerridwen coming out next year. I've seen a draft of it and it's excellent. But that's next year.
As with the previous online rituals, you're welcome to simply follow along. If you'd like to participate, you'll need a candle and something to light it with, something for offerings and to pour them into, and something to drink as part of the ritual. This won't be the usual simple feast. This will be… more.
Many of us are struggling to adapt to the changes in our world. The pandemic to be sure. But also the Storm or Tower Time – the sudden and irreversible disruption of life as we've always known it, and as we thought it would always be.
We need new knowledge, new skills, and a new way of seeing the world. We need to be transformed, so we can be about the work of transforming our world for the better.
And so we call to Cerridwen.
Looking toward Samhain
October 31 is a special day. This year it's even more special.
As always, it's both Samhain and Halloween. This year it's on a Saturday. In the U.S., it's the day before daylight saving time ends – we get an extra hour of sleep on Sunday. It's a full moon, but it's also a Blue Moon – the second full moon in a calendar month.
And it's three days before Election Day.
And there's still a pandemic. We do not honor the 900,000 people who have died from Covid-19 (so far) by engaging in behaviors that are likely to continue the spread of the virus.
Things are getting better here in Texas (though they're far from where they need to be) and Samhain is over six weeks away. It may be possible to have some sort of in-person gathering, though it would have to be small and socially-distanced.
Or it may not. As Dr. Fauci says, the virus makes the timeline.
At the beginning of all this, I committed to providing online rituals for each high day at least until I'm able to celebrate in public again. I'll reiterate that commitment now, and I'll have an announcement – likely via my weekly newsletter – sometime in early to mid October.
For now, let's celebrate the Fall Equinox, either on Saturday or on Monday or both.