This is the seventh high day since the beginning of the pandemic in the United States. Almost 11 months since we were last able to have large public rituals.
Every time I've wondered if I should point out the obvious. We all know how long it's been. Part of me thinks I should just say "here's an online ritual – I hope you find it inspiring and fulfilling." And every time I call it out, because I refuse to normalize meeting virtually instead of in person. This is not the "new normal."
This is Pagans, polytheists, and others continuing our sacred traditions under difficult circumstances. This is using all the resources at our disposal to maintain our commitments to our Gods, ancestors, and other spiritual allies. This is us, doing what must be done.
But we need not approach "what must be done" with grim resolve.
The Winter Solstice is likely humanity's oldest holy day. It's a time of rest, reflection, and renewal. It's a time for gathering together – virtually if not in person – and giving gifts. First and foremost, it's a time to mark the rebirth of the sun.
In this year as in every year, the Winter Solstice is a time for celebration.
And so we will celebrate.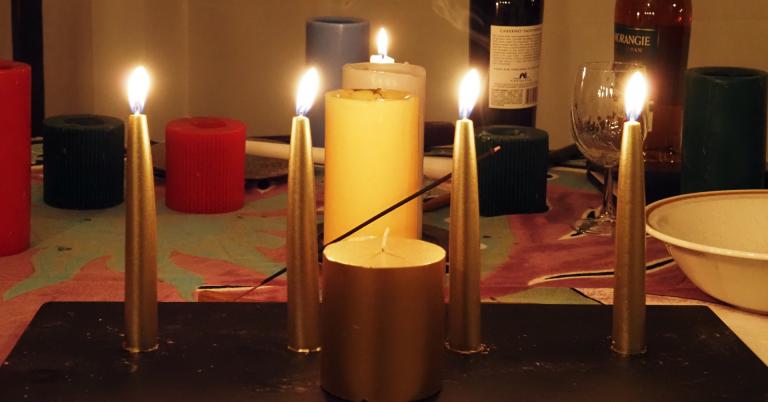 Under the Ancient Oaks Winter Solstice Ritual
Friday, December 18
8:00 PM CST
YouTube Premiere
The Ritual
The ritual follows the same basic liturgy as the UTAO Samhain and other rituals. Last time I teased a blog post on the evolution of my Pagan liturgy – I promise I'll write that post sooner rather than later. For now, what's important is that the look and feel of this ritual will be familiar to those who have participated in the earlier ones.
The Deity of the Occasion is Cernunnos, who I know as Lord of the Animals and Lord of the Hunt. I have relationships with several deities, but Cernunnos is always first among them for me.
As with Samhain, the main working has two parts. The first is a gift to a deity of your choice. If you worship or work with Someone on a regular basis, give to Them. If you don't, but you've been thinking about Someone, this is a good way to start. And if there's no one who fits either of those descriptions, I encourage you to give to Cernunnos along with me.
The second part is a celebration of the Solstice. But this celebration will be more quiet than we might have done if we had been able to gather together in person… and in a different year.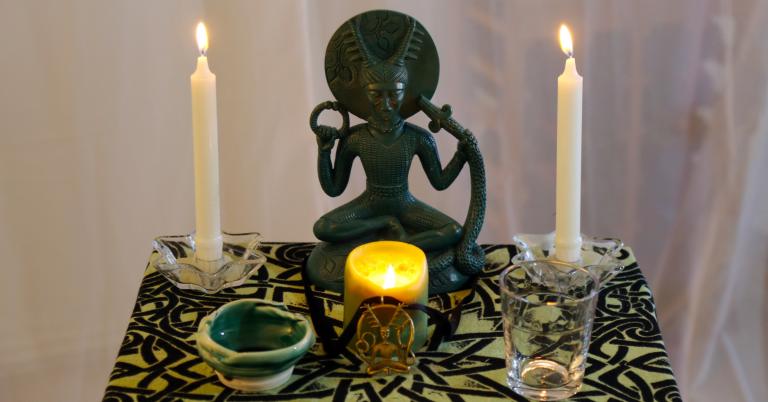 What you need to participate where you are
If you'd like to participate where you are, you'll need a candle and something to light it with, something for offerings and something to pour them into. I'm offering wine – you offer what seems right to you.
When we're done with the main working, we'll share a drink among ourselves. After the ritual, be sure to dispose of your offerings in a respectful manner. Pouring them on the ground is ideal. Never pour offerings down the drain.
Give some thought to Who you want to give to, and what you want to give. You can give an offering of food or drink, a song or poem, a physical item, or anything else you feel called to give. If you're not ready to do it in the ritual, you can do it later. How – or if – you give is up to you. But gift giving has been a part of Winter Solstice traditions since long before Christmas, and this year it seems especially good to give to our divine allies.
The ritual runs a little over 20 minutes.
Why Friday?
The actual moment of the solstice is Monday, December 21 at 4:02 AM CST. I'll still be sleeping then, and in any case, this ritual is more appropriate for Solstice Night than Solstice Morning. We could do the ritual on Sunday night, or Saturday night. But Friday worked very well for Samhain, and it works well for me this time. So Friday night it is.
As always, because this is a video ritual it will remain available after it's done – if you can't make it Friday evening, it will still be there on Sunday or Monday, or whenever you're ready.
The future of online rituals
I don't know when we'll be able to gather together in person again. I'm taking this sabbat by sabbat. But there will be an on-line Imbolc ritual next year.
I know some people are doing cleansing rituals for the Winter Solstice. Others will do them at the secular New Year. I think that's fine, and I'm likely to do some sort of banishing ritual on December 31. But in the tradition I follow, Imbolc has always been the time for major cleansings.
And Imbolc 2021 comes 12 days after the U.S. Presidential Inauguration. We have much to cleanse.
I'll have more to say on this early next year. For now, let's enjoy the Winter Solstice.
---
Want to get my personal weekly newsletter every Friday? It covers things that don't fit into the blog format, mostly in my usual range: Paganism, polytheism, and magic. Current events and politics. What I'm working on that you'll see in the near to medium future – be the first to find out about things like this.
Sign up on my teaching site https://undertheancientoaks.com/
Enter your e-mail in the big green block and do the not-a-robot thing. You'll get a confirmation e-mail – respond to it and you're set. You have to respond to the confirmation e-mail – my mailing service wants to make sure you really want the newsletters and someone isn't signing you up for something you don't want.