Let me start by saying this post feels a little strange to me. It feels like I'm soliciting appearances, and I suppose I am. But organizers are starting to plan for in-person events next year, and I'm really missing them. I got a little burned out with all the travel after The Path of Paganism came out in 2017, but by the time the conferences and conventions start up again next year, it will have been two and a half years since I've been to one.
There are some in-person events happening this fall. I've been invited to a couple of them – I turned them down. I'm fully vaccinated – and I trust the vaccines – but I'm just not ready yet. I want to see the daily infection rates stay low before I put myself into a situation already known for "con crud."
By next year I expect things to be at the point where I'll be confident I can fully participate in an in-person convention or conference without significant risk of either contracting Covid or spreading it to unvaccinated individuals.
Plus my calendar fills up in a hurry. I'm looking forward to getting back to more normal vacations, my local groups stay busy, and I need a few weekends to do nothing but rest. Right now my calendar for 2022 is mostly open, but that won't last long.
So, want me to speak at your event next year? Here's what's involved.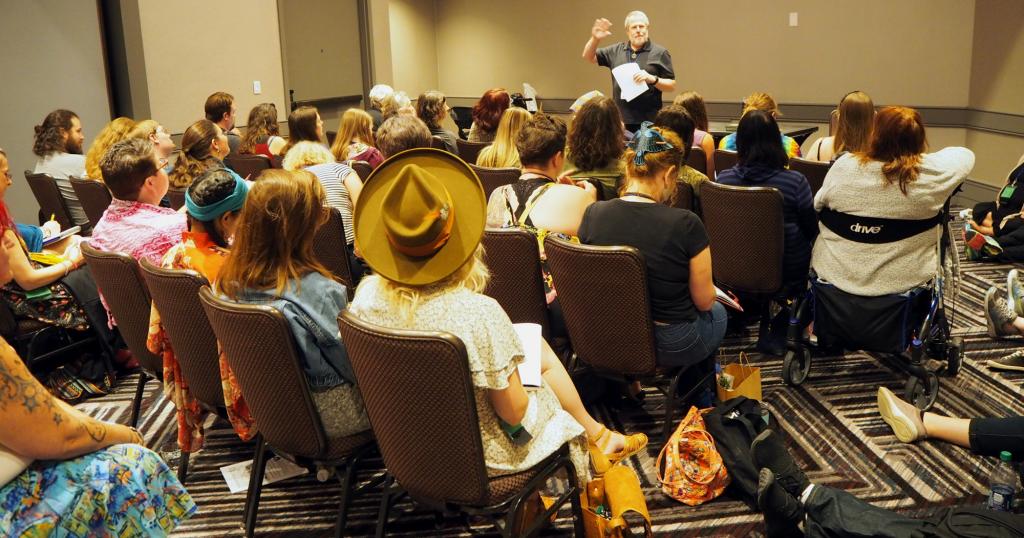 Where I go
I'll go pretty much anywhere in the U.S. I can't imagine anybody wants to hear me speak badly enough to pay for travel to other countries, but if you do, let's talk about it.
Most Pagan gatherings are weekend or long weekend events, and those are fairly easy for me – so long as I can get home on Sunday night. Mondays are my busy day at work and while I can take off on Monday, I can't do it often.
There aren't many week-long Pagan gatherings, which is good because it's hard for me to commit to a whole week. I have a lot of vacation by American standards, but it's still limited.
June is the busy season at my paying job. I can get a day off here or there in June, but I can't be gone for an extended period of time.
What I do
Mostly what I do at conventions is what everybody does – stand up in front of a group and talk about Paganism, polytheism, magic, or whatever topic we decide on. I have a few standard presentations I can easily do, and I usually develop one or two new ones every year – whatever comes to me, or whatever the Gods and spirits tell me to talk about.
If there's a special topic you'd like me to cover, let's discuss it. If I have any expertise at all, I can probably do it.
I lead rituals. I loved leading the Morrigan Devotional Ritual at Mystic South 2018, and again at Sacred Space 2019. I can't lead rituals by myself – either I have to bring people with me, or I'll need a handful of volunteers to assist. And if it's a flyaway trip for me, I'll need someone local to provide most of the gear, plus the consumables (wine and such).
I enjoy participating in panel discussions (I enjoy listening to them too). I just need to know what the topic(s) will be and who else will be on the panel. There aren't many people I won't share a podium with, but there are a few, and I need to know who's involved up front.
Some events want their speakers to do one presentation, others want more. I'm good for one event per day. And maybe more, especially if one of them is a panel discussion where all I have to do is show up and answer questions. I've never had anybody ask me to do more than I could handle.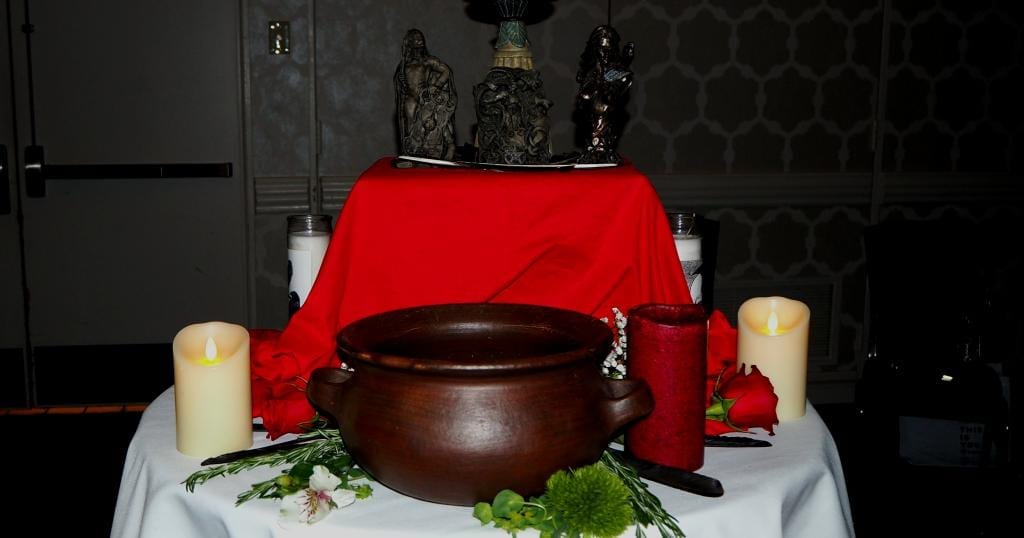 My requirements
The question of compensation for presenters is a difficult one. On one hand, people who provide content for events should be paid for their work. On the other hand, most conventions and conferences run on a very tight budget. I have some rather complicated opinions on this, but when it comes to my requirements, it's pretty simple.
Cover my expenses and I'll be there.
That means airport parking, flights out of DFW or DAL (or mileage if it's close enough to drive), ground transportation where you are, and accommodations. Home hospitality is fine, but I'm getting old and I have a chronic back injury – I need a good bed. My days of sleeping on cots and couches are over.
I don't insist that you pay for my meals, but I do insist that the schedule allow for regular meals. If you want to feed me, I'm an omnivore with no food allergies and one religious prohibition that almost never comes into play. I don't drink coffee, but I do drink tea and more Coke than I should. If you're so inclined, I'm rather fond of stouts and Highland Scotches. But that certainly isn't required.
If you pay other speakers I expect you to pay me. If I have to choose between a paying event and a non-paying event, I'll take the paying one. But if you cover my expenses and let me sell my books, I'll be there.
I don't do this to make money. I just don't want to lose money doing it.
Online events
One of the good things that's come out of this year of quarantine has been the development of online Pagan events. I'm not overly fond of big online conferences – they're too much like my regular job. But the one-shot presentations have gone very well. In the past year I've presented to groups in Tennessee, California, Ohio, Virginia, and Texas, all without leaving my home office. Nobody had to travel and everybody got a good seat.
If you're charging for the event, I expect to be paid. If it's free, I don't. I can't speak to every group out there, but I can speak to some, especially if you're interested in a topic that's in my area of expertise.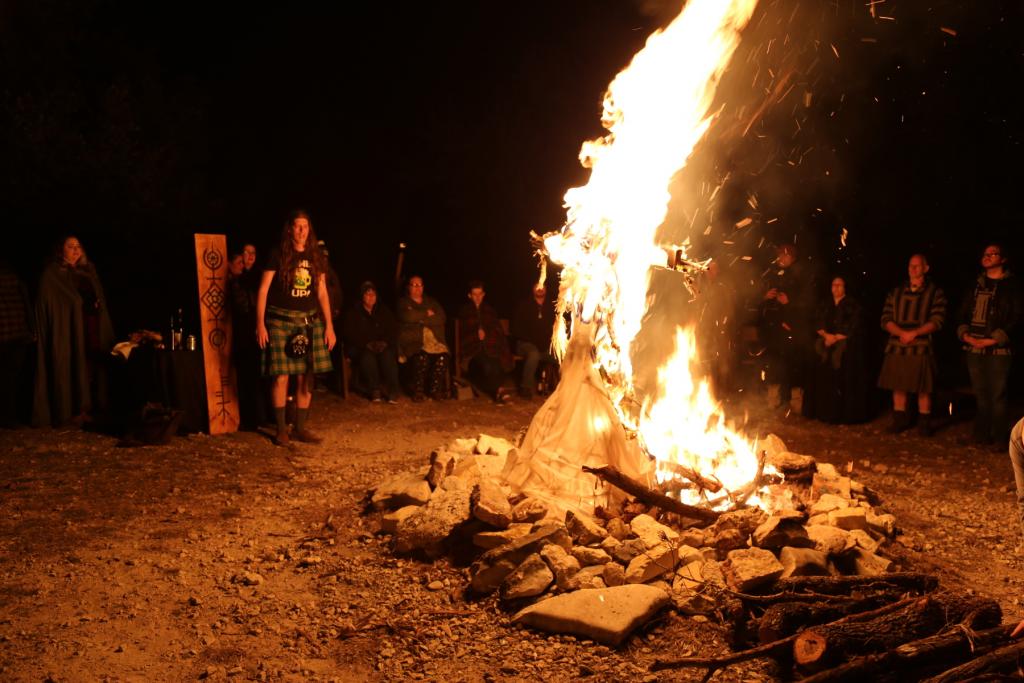 Podcasts
Authors with new books are popular with podcasts. I won't have a new book for several more years, but I'm happy to come on your show and talk about pretty much anything of general interest. I don't charge for podcast appearances (does anybody get paid for podcast appearances? I don't think so) but I enjoy talking about Paganism, polytheism, magic and such, so if you want me on your show, get in touch.
How to contact me
I'm not hard to find. You can get me on Facebook or Twitter, leave a comment here, or use the contact form on the Under the Ancient Oaks website. If you've got one of my e-mail addresses, use it.
I'm really looking forward to the resumption of in-person Pagan events. There's one or two I'll probably attend at my own expense, because I enjoy them and I want to support them.
If you want me to speak at your conference, convention, festival, Pagan Pride Day, or other event, get in touch and let's see what we can work out.