According to various internet sources, there have been over 200 portrayals of Dracula in movies and TV. Some of them were adaptations of Bram Stoker's 1897 novel, while others were sequels, prequels, or stories that could best be described as fan fiction with a Hollywood budget.
I don't know how many of them I've seen, but it's a lot. I've seen good Draculas, bad Draculas, and everything in between.
Four of them stand out above all the rest.
As we move deeper into spooky season, let's take a look at the four great Draculas: the four movies, actors, and characters that are the best of the 200.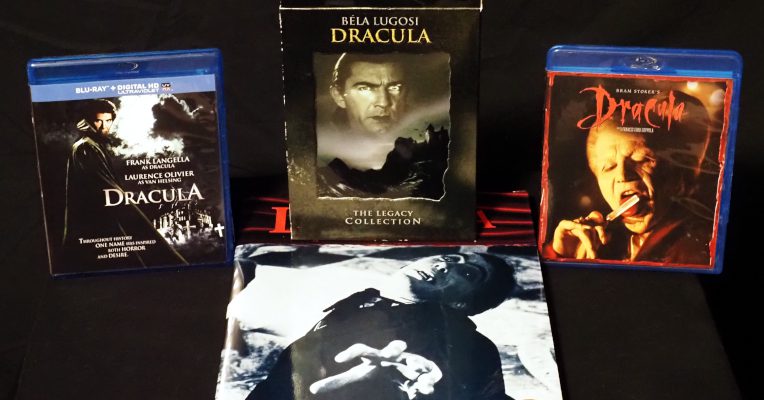 Bela Lugosi – Dracula – 1931
Hungarian born Bela Lugosi could barely speak English when he arrived in the United States in 1920. But he was an accomplished actor and his stage presence was enough to get him the title role in the Broadway production of Dracula. That performance got him the role in Universal's 1931 movie.
91 years later, Bela Lugosi's tuxedoed Count is still what most people think of when they hear the name "Dracula."  He was elegant and sophisticated, but could turn menacing with a glance.
The film has an unforgettable opening, with Renfield (not Harker) on the carriage ride to the Borgo Pass, the castle covered in spiderwebs, and Lugosi's fantastic introduction: "I am… Dracula." The three brides, the voyage to England, and the theatre conversation with Mina, Lucy, Seward, and Harker. The powerful exchange between Dracula and Van Helsing, once Van Helsing figures out what he is. And the final scene with Van Helsing driving the stake through Dracula's heart (unseen to us, of course – this was 1931) and proclaiming "Dracula is dead forever" (perhaps Van Helsing wasn't so wise after all).
But it leaves much to be desired. It only runs 1 hour 15 minutes. Much of Stoker's story is condensed or eliminated, sometimes ineffectively, as with Lucy's change into a vampire. Tod Browning's direction is weak. In many scenes he's documenting a stage play rather than making a movie. The Spanish version – made on the same sets by a Spanish speaking cast in the days before dubbing technology was invented – is a superior film… even though Carlos Villarías isn't as good a Dracula as Bela Lugosi.
This wasn't the first Dracula film adaptation. That would be F.W. Murnau's 1922 Nosferatu. But it was my introduction to the world of Dracula, and it is the first of the great Draculas.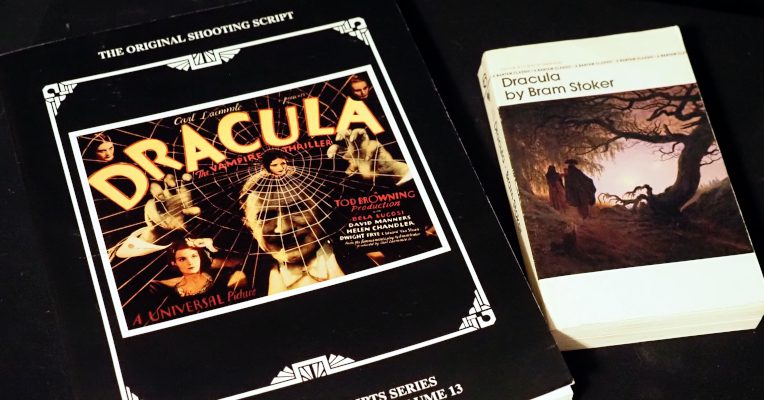 Christopher Lee – Horror of Dracula – 1958
The Hammer Films production of Dracula would be best described as "inspired by" Stoker's novel rather than based on it. It keeps some of the characters and some of the major plot points, but it's mostly a new story. It's another short movie at 1 hour 22 minutes. Hammer Films was near bankruptcy when this movie was made – they had to cut production complexity and costs where ever they could.
It worked. According to IMDb, Horror of Dracula cost $224,000 to make and grossed $25 million worldwide. One source called it "the film that saved Hammer."
This film was simply called Dracula in the U.K. It was changed to Horror of Dracula in the U.S. to avoid confusion with Universal's 1931 film.
Horror of Dracula was the first Dracula movie in color – which means audiences finally got to see red blood. It was also the first major vampire movie where Dracula had fangs.
This was Christopher Lee's first time playing Dracula – he would play the Count eight more times. Some of those movies were good, some were really bad. But Lee was always good, even though he had only 16 lines in this movie and none in many of the sequels. Lee said his lines in Dracula Prince of Darkness (1966) were so bad he refused to say them. The effect was to make his Dracula less human and more monstrous.
The sequels tied Hammer Films, Christopher Lee, and Dracula together forever. But Horror of Dracula stands on its own merits as one of the four great Draculas.
Frank Langella – Dracula – 1979
Like Bela Lugosi, Frank Langella first played Dracula on the stage. The success of the 1977 Broadway revival led to the 1979 film directed by John Badham that included Sir Lawrence Olivier as Van Helsing.
There's lots to complain about with this version. It skips Harker's journey and everything that takes place in Transylvania and begins with Dracula's arrival in England. It swaps Lucy and Mina and makes them the daughters of Seward and Van Helsing, respectively. Badham wanted to shoot in black and white – the studio overruled him – and the versions available on video are "desaturated" – almost black and white. Olivier was a great actor, but he was in his 70s and quite sick during production.
And none of that mattered in 1979. I was a 17 year old geeky kid struggling to figure out who he was and what he wanted to be. Frank Langella's Dracula was a vision: the immortality, the power, the wealth, the clothes, the hair – oh, I wanted his hair! Stoker wrote Dracula as a monster, but Langella's Dracula was, in words Anne Rice gave to one of her vampires, "powerful, beautiful, and without regret."
I so wanted to be him!
There's always been a undercurrent of sexuality in vampire stories. This movie brought it to the surface.
It was also the first time the women of the story had agency. Lucy (in the role Stoker wrote for Mina) is studying to be a lawyer, she puts Harker in his place when he expresses petty jealousy, and she goes to Dracula of her own free will.
Langella – now 84 – was fired from Netflix's production of The Fall of the House of Usher earlier this year after a determination of "unacceptable conduct" with a female co-star. I find his explanation completely inadequate, and I am sad that this will likely be my last memory of him.
Because he was awesome as Dracula.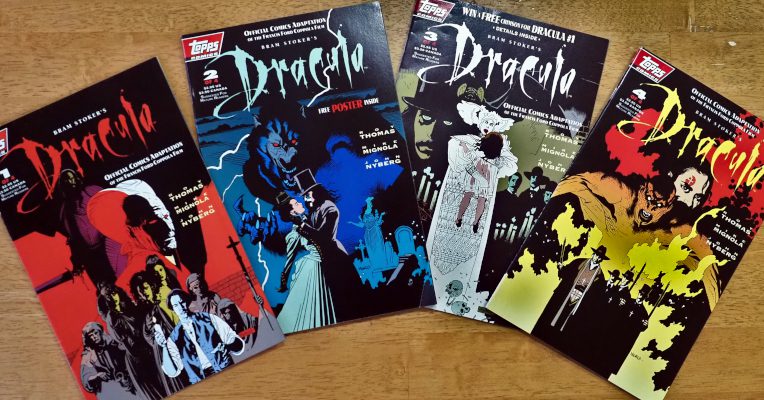 Gary Oldman – Bram Stoker's Dracula – 1992
When I first saw the promotional pictures of Gary Oldman as Dracula, I was somewhere between disappointed and appalled. Lugosi, Lee, and Langella set the standard for Dracula: an elegant man in a tuxedo and cape. What was the Count doing in a red silk robe with blobs of white hair, or in armor that looked like de-skinned muscles?
But it was Dracula, so I was there on opening night. And by the time Dracula threw his sword into the cross and blood started flowing out, I was hooked.
On one hand, this is one of the most faithful adaptations of Stoker's novel. It includes all three of Lucy's suitors, played by age-appropriate actors. It includes Harker's journey to Transylvania and his encounter with the brides, and the return to Transylvania at the end where Dracula is killed and Quincey Morris dies in the battle ("we have all become God's madmen"). The opening scene with Vlad the Impaler is a nice bit of historical background.
But the whole Dracula-Mina/Elisabeta love story ("love never dies") is completely non-canonical. It reflects the evolution of the vampire from the walking corpse of folklore to the parasitical monster of early fiction to the sexy anti-hero of our time.
The cast is excellent, including Gary Oldman as Dracula, Winona Ryder (who convinced Francis Ford Coppola to direct) as Mina, and Anthony Hopkins as Van Helsing. Only Keanu Reeves as Harker is weak – his attempt at a British accent is somewhere between bad and laughable.
Coppola wanted to make the movie without modern special effects, using only the technology available to F.W. Murnau when he made Nosferatu in 1922. Almost everything was done in-camera. The scene where Prince Vlad is first walking the streets of London was shot on a vintage hand-cranked silent movie camera.
Bram Stoker's Dracula is one of the most visually impressive movies in any genre. It won Oscars for costume design, makeup, and sound editing, and was nominated for art direction.
As I write this, Bram Stoker's Dracula is in my DVD player, and if it hasn't overtaken the 1931 version of Dracula as my personal "most watched movie of all time" already, it will soon.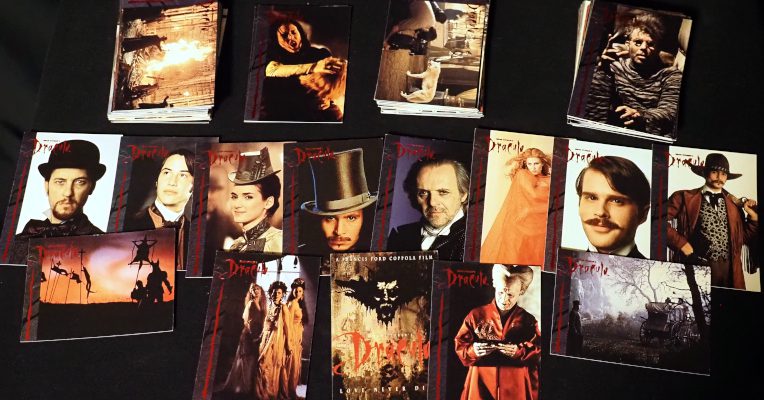 Who's the best?
Who's the best Dracula?
Bela Lugosi was first – he is the (very high) standard against whom all other Draculas are judged. Christopher Lee was the most prolific, and the only thing that made some of the later Hammer Dracula movies watchable. Frank Langella made Dracula sexy. And Gary Oldman is arguably the greatest character actor of our time. All of them have a place in my undead heart – I really can't choose among them.
But when it comes to the movies as a whole, there's no contest. Bram Stoker's Dracula is the most complete, the most visually impressive, and the most fun to watch.
Waiting on the Fifth Great Dracula
Lugosi to Lee was 27 years. Lee to Langella was 21 years. Langella to Oldman was 13 years. It's now been 30 years and I'm still waiting on the fifth great Dracula. Every attempt – most recently the 2020 BBC/Netflix miniseries – has disappointed.
Do we need a fifth great Dracula? Are these four not enough? What could a new version do that hasn't already been done? Those are valid questions. But there are more options beyond yet another remake.
I don't know why no one has made a movie telling the story of the three brides. Hammer's Brides of Dracula (1960) has nothing to do with Dracula or with the three women who share his castle with him. This year's The Invitation hinted at their story, but it was ultimately unsatisfying. I want their full story from 1897 forward. And no, Monica Bellucci – who played one of the brides in Bram Stoker's Dracula – is not too old to play one of them.
I want a movie that tells Mina's story after Stoker's novel ends. There's no way someone lives through what she went through and goes back to Whitby to be a Victorian housewife. Various novelists have taken that up – I've read a couple of them. Alan Moore made Mina the leader of The League of Extraordinary Gentlemen in his comics series – demoting her for Sean Connery's Allan Quatermain was one of the many weaknesses of the 2003 movie.
Mainly, though, I want another really good Dracula.
And if the Hammer movies are correct, all we need is the right artifact and a little blood.