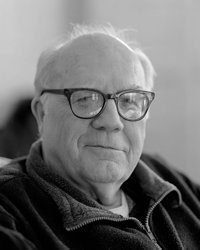 One of the things that I love most about hosting this blog is the chance to invite testimonies from witnesses who have heard and seen what God is up to in The Everyday Awakening that's happening all around us. If you have a story to share, I'd love to hear it. Today, I want to celebrate a witness who's testimony has been a guiding light to me over the past decade. One of the most promising theologians of the 1960's Catholic peace movement, Jim Douglass was successively "released" from teaching posts at universities because of a stubborn insistence on practicing the nonviolence of Jesus that he was teaching and writing about. And so the mind of a gifted scholar found itself at work in abandoned neighborhoods and out-of-the-way places. And Jim learned to see America as it is with a deeply Christian imagination.
The fruit of Jim's peculiar vocation is that he has learned to re-tell the story of 20th century politics in light of the reality that Thomas Merton called "the Unspeakable." I had the chance to talk with John Wilson of Books and Culture this week about why I find it so helpful to name what we're up against through this lens.
Merton wrote his Raids on the Unspeakable in the midst of the turmoil of the '60s. He was corresponding with friends around the world about the civil rights movement, the peace movement, the threat of nuclear disaster. He'd become a spiritual counselor to activists (including Jim Douglass). And yet, at the same time, Merton's superiors forbade him to write on political issues. In a fascinating way, this forced him to explore the spiritual dynamics of activism.

So, the notion of the "Unspeakable" emerges as a way of naming what can't be spoken—those powers that lurk in the silence, defying description and so paralyzing us all the more. Raids on the Unspeakable reads like an apocalypse. It's a prose poem, really. Out of context, it almost seems crazy. But it is a prayer at the heart of the world's dark night. In the midst of it, Merton names a bedrock truth: "Christian hope begins where every other truth stands frozen stiff before the power of the Unspeakable."

Continue reading Jonathan's interview with John Wilson at Books and Culture.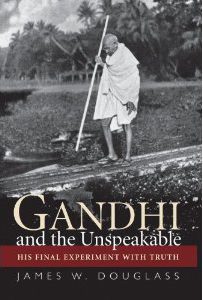 This radical Christian hope is what I have seen in Jim's witness. And it is, more than anything, the force that I see driving the awakening of hope in new monastic communities and other emerging movements of the Spirit in our world today. Jim's newest book, Gandhi and the Unspeakable (Orbis Books) is an incredible testimony to the power of this hope. I'll never forget meeting Jim on the way to Baghdad in 2003 and sharing our faith journeys over a cheese sandwich in a little cafe in Amman, Jordan. When I asked him how he ever got into this strange and fascinating life with Jesus, he paused and said, "Well, I guess it started when Dorothy Day sat across a little table like this one and said to me, 'Jim, you're a miracle.' And she believed it. Of course, she believed it about every single person. But somehow, because she believed it, I was able to believe it too."
Jim told me stories of lobbying against nuclear war at Vatican II, of going to prison for trying to stop electronic warfare in Vietnam, of walking "Snipers Alley" alone in Sarajevo, of working for years with a broad-based coalition to stop the "White Train" that carried nuclear weapons to First Strike submarines in Bangor, Washington. All of this, he said, was an attempt to follow the way of Jesus. But I'll never forget what he said about Gandhi in that conversation. "I've spent my life trying to figure out how the most faithful disciple of Jesus in the 20th century may have been a man who wasn't himself a Christian."
Jim's new biography of Gandhi is, in a sense, a way of living that question. It is deeply Christian history. And yet, it is the story of a man who struggled with Christians all his life. His struggle, as Jim sees well, was a struggle about an issue at the heart of the gospel. As Gandhi said, "Living Christ means a living cross. Without it life is a living death." But many who've said, "Lord, Lord" would not agree. We have too often reduced the cross to an end for our atonement that does not radically redefine the means of our action. Jim Douglass has helped us see how Gandhi points to the cross as an either/or for all of us. I've summarized the decision this way:
WHILE TIME magazine's Person of the Year for 2011 was the nonviolent protester who awakened hope from the Arab Spring to America's Autumn, it is no accident that a close second was Adm. William McRaven, who oversaw the Special Forces operation that assassinated Osama bin Laden. As symbols, the protester and the assassin represent two very different hopes for change. But their roles on the world stage are more than symbolic. In a time when change is so desperately needed, the choice between violence and nonviolence may be the fundamental moral issue of the 21st century.

If that choice is real—if the way of the nonviolent protester is a viable option in the 21st century—it is because of the witness of Gandhi and his satyagraha movement in the 20th century. While Gandhi maintained that his tactics of nonviolent struggle against the British Empire were distilled from the best Hindu scriptures and Jesus' Sermon on the Mount, his employment of those ancient truths in a popular resistance movement vis-a-vis a world power was both original and electrifying. The modern world had never seen such a demonstration of "soul force." Gandhi's witness sparked the imagination of America's civil rights movement, of resistance to apartheid in South Africa, of the nonviolent overthrow of communism in Eastern Europe.

Continue reading Jonathan's review of Jim's book in Soujourners Magazine.
May Gandhi's story–and Jim's wonderful telling of it–inspire us to choose the way of Jesus in our world today. And may we keep on, despite the suffering and the shame, with our eyes on the prize of the glory that is to come.