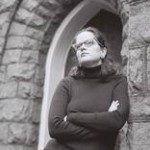 If you follow The Everyday Awakening, you know I'm excited about School for Conversion's Project TURN, which hosts courses in North Carolina prisons where people from outside of prisons study alongside people who are incarcerated. Over the past few years, celebrated author and Duke Divinity School professor Lauren Winner has become one of Project TURN's biggest supporters. In her recent memoir, Still: Notes on a Mid-Faith Crisis, Lauren writes about her first visit to one of our courses. I'm glad to share it this week, as we wrap up a summer fundraising campaign to expand Project TURN's work. As of today, we're just about $500 shy of our $10,000 goal for this campaign. Thanks to Lauren and the good folks at HarperOne, we have a couple copies of Still to give away. Anyone who clicks on the "donate" button below and makes a gift of any size before September 15 will be entered for a chance to win one of these signed copies.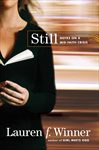 A excerpt from "busyness during lent," in Still, by Lauren F. Winner
An acquaintance, who is teaching a course at a women's prison in Raleigh, has asked me to come speak about spiritual autobiography. Weeks ago when I agreed, it seemed like a good idea. Now the visit is upon me, and I have steamed all day with resentment: I don't have time to do this. I don't have time for the long drive in rush-hour traffic, the two hours of class–I have eleven more pressing things I should be doing tonight, I don't have time for this.
I arrive. I sign in. I am escorted to a trailer that houses a classroom and a worship space. And once in the prison classroom, there is something I don't expect. It is subtle, not the kind of epiphany that would happen in a movie: not that an incarcerated woman I've never met before says something inexplicably wise and penetrating to me, as though she has special insight into my soul. No profound-if-slightly condescending realization that at least I am not incarcerated, that my time is precious, but not in the way I usually think.
Rather, simply: I feel happy here. I am present here, more present to the actual present than I have been in a long time.
From deep in the tradition, from The Cloud of Unknowing, a fourteenth-century text from an unnamed English monk: "You only need a tiny scrap of time to move toward God."
The words slap. Busyness is not so much of an excuse if it only takes a minute or two to move toward God.
But the monk's words console, too. For, of time and person, it seems that scraps are all I have to bring forward. That my ways of coming to God these days are all scraps.
…..
When Jesus fed the 5,000, there were 12 baskets full of scraps left over. One little scrap at a time, SFC's ministries are sustained by hundreds of people sharing from the little that they have. It's a great gift to participate with you in God's economy of enough. We're grateful for your gift, however small.