Guest Series by David Janzen
The Holy Spirit is planting a new generation of Christian intentional communities. For three years I've been visiting these groups and now, with the help of younger communitarians, the book about that movement that we've been working on together, is out. It's titled The Intentional Christian Community Handbook: For Idealists, Hypocrites, and Wannabe Disciples of Jesus. Despite all this travel and research, at the recent Christian Community Development Association Conference (CCDA) in the Twin Cities, I kept meeting members of fledgling communities whom I'd not heard of before. Now I carry a wad of their addresses in my shirt pocket until I can follow up with an e-mail or a visit. To support groups like this, the Nurturing Communities Project (NCP) was launched.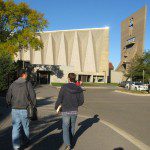 The NCP has just concluded its third annual gathering, bringing more experienced communal groups together with energetic leaders from younger communities to share old wisdom and new experiences for the long haul. This year NCP dipped into the 1,500 year-old Benedictine monastic tradition for two days of profound sharing at St. Johns Abbey in Collegeville, Minnesota.
The story of this Benedictine connection begins five years ago, when the monks at St. John's Abbey invited Jonathan Wilson-Hartgrove to speak to them about the New Monasticism movement. A friendship grew between Jonathan and Abbot Timothy Kelly. Since then, Abbot Kelly has passed away, but his successor, John Klassen, has renewed the relationship and commitment. So it happened that Nurturing Communities Project folks gathered at the St. John's University campus for two days (September 25-26), just in time to enjoy the gold and crimson hues of autumn on the edge of one of Minnesota's 10,000 lakes. Even though the Abbot was away in Rome, he kept us in mind, sending e-mail instructions home to make sure we were well cared for in the guesthouse and in the monastery chapter house, the normal meeting place for the 145 local monks.
We were forty-five participants from about twenty-five communities coming from California, New York State, and points in between. Several veteran communities like Koinonia Partners, the Bruderhof, Jesus People USA, and Reba Place Fellowship were represented as well as younger groups like Radical Living from Brooklyn, Lotus House from St. Louis, and Oak Park from Kansas City.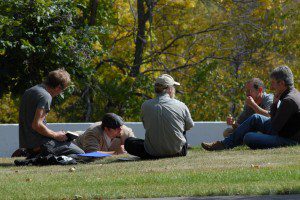 After getting acquainted with each other as communities, we broke into small discussion circles on requested topics such as "Reviewing and renewing the community vision," "Speaking the truth in love," "Becoming a neighborhood church," "Egalitarian ideals and the need for leadership," and "How much common life does a community need?" Our discussions spread out on the Monastery grounds in lively circles, sharing our experiences and counsel.
Four Benedictine Brothers joined us for a morning to share the treasures they find in being an order linked by a common rule of life, a shared spiritual formation and a history of visitations. Together we reflected on the ways our communities are exploring something like the supportive relationships of an emerging order. Brother Raverty, an anthropologist, asked about our structures for membership and leadership, concepts which seem a little slippery in our newer communities. It was useful to discover how different groups are taking hold of these important features of community order — a topic many want to pursue further in next year's Gathering. In ways both visible and intangible, we witnessed God's blessing and encouragement from the Brothers, who lifted up the importance of what is happening to our communities in the wider drama of God's kingdom making its home on earth.
The bells at St. John's Church reminded us of God's gift of time, inviting us to join the monks for common prayer four times a day. As guests (including children) we were welcomed into the center of their worship space, sitting between Choirs One and Two. A gracious prompter helped us locate the proper pages in the nine prayer books that make up their three-year cycle of songs, scriptures and other readings. For two days we adjusted to the rhythms of monastic life, slowing down our busy minds to take in what our mouths were speaking and our ears were hearing as one body.
Ivan and Lois Kauffman played an important role in lining up some of our local arrangements. They awaited our arrival with nametags and welcoming hugs. The Kaufmans have been life-long Mennonites and more recently Menno-Catholics involved in the Bridgefolk movement bringing Anabaptists and Catholics together for dialogue. Ivan has also been a participant and cheerleader of the New Monasticism movement since its beginning, contributing a chapter in 12 Marks of the New Monasticism.
Ivan and Lois welcomed us for Tuesday dinner at the Michael Sattler House, a haven of hospitality for social-justice activists and others seeking a place of retreat and participation in local monastic life. For those familiar with 16th – century Anabaptism, the name "Michael Sattler" invokes a story of terror and persecution that, by God's grace, is turning out to be a drama of redemption and reconciliation in our day.
Ivan read the story of Michael Sattler, a Benedictine prior who, during the time of the Peasant Uprising in Europe, realized that his wealthy monastery and the Roman Catholic hierarchy were siding against both Jesus and the poor. With anguished conscience, he left his position of privilege and power to find a more authentic New Testament life with the poor. Sattler joined the Anabaptists and lent the movement his theological gifts, most notably in calling together the clandestine conference that produced the Schleitheim Confession — a unifying mission statement for the Anabaptist movement. Within a year Michael Sattler, was imprisoned, tortured, and burned at the stake, but not before hot pinchers tore out his tongue to prevent him from giving public witness at the execution.
In our day, this gruesome saga of persecution by church and state has been resurrected to new life. The Benedictine monks at St. John's Abbey have welcomed Michael Sattler back into their graces, claiming him as one of their own saints and blessing the Michael Sattler House as a place of meeting and reconciliation between Catholics and modern-day spiritual descendants of Michael Sattler. We were honored guests, folded by God into the pages of a drama that included Michael Sattler, the Kauffmans, plus a few Benedictine brothers and sisters who embodied this healing of history in the repentance and forgiveness of a common meal.
Our gathering participated in another celebration of sorts as each one attending received a copy of the just-published Intentional Christian Community Handbook: For Idealists, Hypocrites and Wannabe Disciples of Jesus. Many of us in the Gathering had participated in the dreaming, planning, and writing stages of this book. We were delighted to finally hold it in our hands and to consider how it might bless our communities along with the other idealists, hypocrites and disciples of Jesus we might know.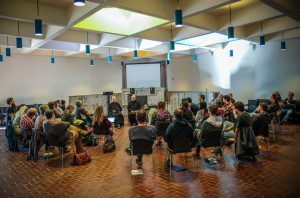 In our wrap-up session we heard a strong desire all around to continue such gatherings, next time giving ourselves at least three days to go deeper in discussions and friendship building. Each year the number of persons getting together has doubled in size. Our meetings have been deeply impacted by the host communities — Reba Place Fellowship (2010), Englewood Christian Church in Indianapolis (2011), and St. John's Abbey (2012). The Bruderhof communities have offered to host next year's gathering, perhaps in New York or Pennsylvania. We will post further plans as we work on them in the Nurturing Communties Project Committee that includes representatives from Plow Creek Fellowship, The Simple Way, Rutba House, and Reba Place Fellowship.
Finally, we want to acknowledge four communities from the Twin Cities who played a special role in hosting us for visits after the Nurturing Communities Gathering. Conversations continued and friendships grew with Thirdway, Ekklesia, Greenhouse and the Mennonite Worker (formerly called Missio Dei) as guests stayed on with them for the Christian Community Development Association Conference September 26-29.