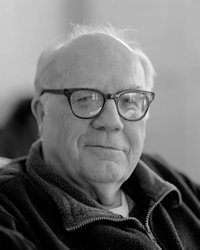 Whenever my friend Jim Douglass calls, I listen. Ten years ago, when we stood together in the morning sun outside a hotel in Baghdad, Jim hugged me and Leah, then stepped back and smiled. "It's going to be a wonderful day," he said. We were scared, and Jim knew it. But he was right. It was a wonderful day. In the midst of the tragedy that was happening all around, we lived the Good Samaritan story at a little place called Rutba and the course of our whole life changed.
So, when Jim called a few weeks ago on International Day of Peace, I stepped away from the parade at JaiMichael's school and took his call. He had an idea, he said, and it had everything to do with the peace that these black and brown and white children were learning about. It was an idea about how we might imagine a future together in this nation.
Since Jim attended the trial for the wrongful death suit brought by Martin Luther King's family in 1999–the only trial ever held for the murder of Dr. King–he has been trying to understand both the unspeakable forces that killed King and the gospel vision that compelled him to march on, despite the cost he knew he would pay (along with others). Jim found that he could not write King's story without telling the story of JFK's assassination. And that led him to tell Gandhi's story in a way no one has told it before.
In short, Jim is a King biographer who has not yet been able to finish his biography of King. Because I know this, I knew Jim was serious when he said, "I've invited the closest living person we have to the spirit of Dr. King to come to Birmingham. Vincent Harding is going to lead us in a retreat titled, "America, You Must Be Born Again." Jim told me he had a vision of young people from all the diverse communities that make up this nation coming together to sit with Vincent, to learn from him, and to dream with him of the America that has not yet been.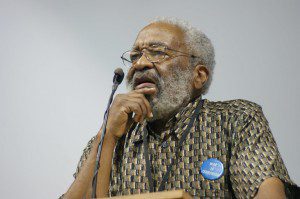 As it happened, Leah and I were already scheduled to be with Dr. Harding the next week at Koinonia Farm's 70th anniversary celebration in Southwest Georgia. Watching Dr. Harding lead a "democratic conversation," drawing out the best from each person and teaching us to sing the songs that are the heartbeat of the Freedom Movement, Leah and I knew what we had to do. We had to come home and organize a 21st Century Freedom Ride from Durham to Birmingham.
Of course, we knew immediately we cannot do this on our own. So I stared calling friends. Steve Pavey from the One Horizon Foundation and Anton Flores from the Alterna community helped me get in touch with some of the leaders of the Georgia Undocumented Youth Alliance. We started inviting young Dream Act-ivists to get on board, and they began planning a Las Posadas event in Atlanta on the way down to teach us all about how they've heard that there's "no room in the inn"from government officials, from the state university, and from employers.
When I got off the phone with these courageous young people who are fighting detentions and standing up for the legality of their own existence, I thought of friends in the prison justice movement–folks who've given their lives to fighting mass incarceration. I was delighted to learn that some of them could come, but then I started thinking about the peace movement, the new agrarian movement that is trying to care for creation, folks who are working to end poverty and homelessness by sharing life with friends who are homeless and poor. I started seeing what I think Jim saw before he called me–that this really is an opportunity for many of us to come together and get baptized in the Freedom Movement that did not die with Dr. King but still waits for us, inviting us to imagine a world that has not yet been.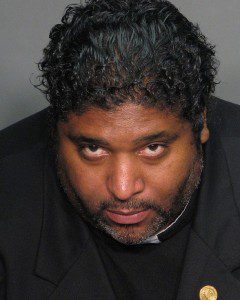 I'm delighted that my friend and mentor Rev. William Barber has agreed to kick-off this Freedom Ride with a Mass Meeting right here in Walltown to address the problem of racial profiling and the ways it is connected to our present struggle against a new Jim Crow–"the same old hatred," as Rev. Barber says, "just dressed up in a suit with a business card that says 'James Crow, Esq.'" For us, this Freedom Ride is growing directly out of the struggle of our neighborhood. (I witnessed police harassment of two young men from Walltown on our streets this week.) It is, we pray, an invitation to grow deeper in the wisdom of those who've gone before us and root our efforts in the rich soil of the Freedom Movement. But it is also an opportunity to recognize the many ways that our efforts for God's new world in this place are tied to the efforts of other neighborhoods and others' concerns.
Because, as Faulker said, history is never behind us. It's not even past.
The same powers that King and so many others learned to name in the late 1960's are still fragmenting communities and dealing death in our world today. And, just as importantly, the same gospel way that King chose to walk–all the way to the cross–is still a way open to us today.
Indeed, it is the only Way.
So, I ask for your prayers for this 21st Century Freedom Ride. I invite you to sign up to get on board.
If you rode in the 60's and would like to see others ride today–or if you want to come yourself but just can't make the timing work, please consider sponsoring a seat for someone else. So many of the folks whom we most want to come struggle to make ends meet month to month. In the spirit of God's redistributive economy, we invite you to give so someone else can come.
I spoke to a group of students at a liberal arts college in Wisconsin tonight. Their convocation series this year is focused on "Energy," and they invited to me talk about spiritual energy. After an hour of telling stories about the hope we've seen in the history of God's movement and the awakening of hope I see happening today, I paused to take questions. In the back row, a young woman raised her hand. "What do you say to people who don't believe change is possible?"
If all we knew were the campaign ads that we see on TV, we all might be tempted to despair. But "there is a river," as Dr. Harding has insisted with is words and with his life. There is a Freedom Movement that swept up Rosa Parks and Dr. King in its wake. It included Clarence Jordan and Charles Sherrod over in Georgia, Fannie Lou Hamer and Ed King in Mississippi, Ella Baker and Septima Clark, Dorothy Day and Thomas Merton. It has not been in the news much lately, but that same movement has continued. It is a river that offers living water to those of us who are thirsty. It is a river that longs to swell its banks and sweep each one of us up into a future we've not yet imagined.