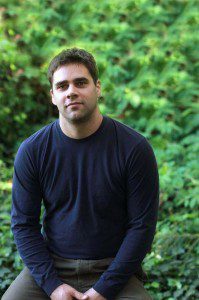 One of the great gifts of my years at Eastern College was the beginning of a friendship with Chris Haw. We met during our first days on campus and immediately recognized one another as fellow travelers–restless spirits who wanted to both grow in our understanding of faith and figure out what we were going to do about it. As undergrads, we made a habit of diving into things before we knew what we were doing. We didn't get everything right on the first try, but we learned a lot, even from our failures. "Action and reflection," we called it. Chris is one of my favorite reflection partners.
When Leah and I left Eastern to start the Rutba House in Durham, Chris headed over to Camden, New Jersey, to embark on a similar experiment in faith, Camden House. We noticed when we visited that his neighborhood was much tougher than ours in many ways. Whole blocks of houses were boarded up and abandoned. But, like the neighborhood here, it had the incredible asset of an active congregation that had been doing good in the neighborhood long before Chris arrived. The local congregation in Waterfront South happened to be a Catholic parish. Chris found his way to Sacred Heart because they gave him the keys to an empty house across the street and invited him to move on in.
A decade later, Chris has added his own gifts to this rich parish and neighborhood. He has planted gardens, fixed up houses, taught kids, and started raising some of his own. In the midst of all this, he has taken the time to reflect on what all of this means for an evangelical who came to faith at one of the country's most famous megachurches but found that faith leading him back to the heart of the Catholic church that baptized him as a baby. His testimony is an important addendum to the story of 21st century American Christianity–not only because it is representative, but because it has engaged the questions that come up along the way so well. I find Phyllis Tickle, that great commentator on faith in our world today, to be spot on in her assessment: "Only rarely, if ever, have I seen a more persuasive or compelling apologia that the one Haw makes."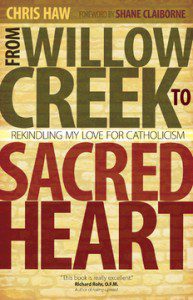 From Willow Creek to Sacred Heart: Rekindling My Love for Catholicism is a  fine example of the point that another great reflector, Anglican Archbishop Rowan Williams, makes in his book Resurrection:
So often prophecy and protest are conceived as essentially a message to be articulated, with little attention paid to the roots of that "message" in the form of a shared life and a style of self-awareness which distinguishes a "believing" community, a community which trusts God and itself enough to live in honesty and acceptance. Prophecy which flows from such a center speaks of a drastic refusal of certain styles of individual and corporate life…. More to the point, perhaps, are those communities deliberately created in response to an overwhelming failure in society around–multi-racial "cells" in a racist society or communities in which the disabled are enabled to have the dignity of giving as well as receiving. Such communities judge very eloquently; they do not merely speak of possible transformations but enact them (Emphasis mine).
Chris' book is prophecy at its best–reflection on an enacted faith that is good news to evangelicals and Catholics alike. But it is more than that: it's an invitation for us to not only see the world anew, but also to begin living a whole new life in the places where we are.
I couldn't be happier to share this book with you–and to invite you to share it with your friends and neighbors.
What's more, thanks to the good folks at Ave Maria Press, I have a few copies of the book to give away this week. If you'd like one, share a question below that you'd like to ask Chris. I'll pick three (so make yours a good one!), post answers from Chris here next week, and send a book to the author of each question.