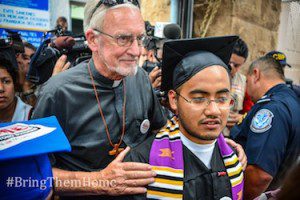 UPDATE: We've just learned that the Dream 9 have been released. Here's news story from the LA Times. A huge thanks to everyone who fasted, prayed, called ICE and petitioned the White House for help.
As Gandhi said, "First they ignore you, then they laugh at you, then they fight you, and then you win." The Dream 9 are today's Freedom Riders and Abolitionists, leading us toward the American we've not yet been. Thank God for them. And glory be for the beloved community that has made their freedom possible.
On July 26th, I joined the hunger strike of nine undocumented youth in a detention center in Arizona. Theirs is not the only hunger strike underway right now (I've been following the detainees at Gitmo and folks in California prisons, to mention two). Nor did these young people ask me to join them. But I am compelled by an inner urging that I cannot deny.
The only way I know to explain it is to tell the story.
On Monday of this week, I watched as my young DREAMer friends paused to pray from the "other side" of the fence in Nogales, Mexico before attempting to cross the border back into the Arizona. Rev. John Fife, founder of the Sanctuary Movement, walked with his hand on the shoulder of Marco Saavedra. As he approached the border, a reporter asked Marco if he had anything to say. "There is no fear where there is perfect love," he said. Then he stepped forward into the unknown.
All nine immigrant youth leaders grew up in the U.S., some of them qualify for Deferred Action for Childhod Arrivals, therefore are DREAMers. They chose to leave the U.S. to accompany their undocumented peers, who also grew up here, but who left or were deported because of a broken immigration system. They and their families are victims of the broken U.S. border policy. So "documented" and "undocumented" youth, standing together for justice, met on the Mexico side of the border an attempted to cross back into the U.S. together. They were immediately arrested by Immigration and Customs Enforcement officials and are now detained at the Correction Corporation of America's private detention center in Eloy, Ariz.
Two months ago, on a beautiful North Carolina evening in late May, Marco and five other members of the National Immigrant Youth Alliance were sitting in our living room here at Rutba House. I'd invited these young people to come because I'm impressed by their leadership in the struggle for immigrant justice. As undocumented people who crossed the border with their families when they were young, they are DREAMers. They cut their teeth on America's political process by trying to help Congress imagine a future for people like them.
But when the DREAM Act failed, these young people of great faith did not give up. They dug in for the long fight. Learning about grassroots organizing, they began helping communities advocate for neighbors in deportation proceedings. By telling the stories of real people, they were able to halt dozens of deportations. Still, they knew there were far more they hadn't stopped. So, to draw attention to the plight of millions, they started doing civil disobedience at ICE offices, proclaiming themselves "undocumented and unafraid." Last year, three of them infiltrated detention centers and began organizing detainees in deportation proceedings. Where it had taken weeks to contact people from outside to tell one story, they found they could collect dozens of stories every day inside detention centers. They came up with a new slogan: "Jails the Best You Have? Because Our Organizing Starts in Jail."
All week, I have called my Congressional representatives in DC, asking them to sign a letter in support of the Dream 9. I've written and called faith leaders around the country, asking them to petition President Obama for the release of the Dream 9. The response from many in the church has been encouraging. One evangelical friend wrote to tell me that he's been reading King's Letter from a Birmingham Jail and asking himself what issues in our nation today might demand civil disobedience. He can't imagine a more fitting case than this one, he said. For the law has made these young people's very existence illegal.
Yesterday, as I continued to work and pray for the Dream 9, I felt an urging of the Spirit to fast. I'm not a great faster. Here at Rutba House, it's something we practice once a week. But it's hard for me. I've written about how important I think fasting is for Christians in America, but I rarely long to fast. Yesterday, I did.
Then this morning a the Micah Conference here in North Carolina, I was asked to speak on a spirituality for sustaining the long work of justice. I took Daniel as a model for a faith that can face lions and tried to highlight the practices that made possible his resistance to the unspeakable powers of his day. In Daniel chapter one, I came upon fasting. Daniel's refusal to eat the King's meat or drink the King's wine was the beginning of his liberation from the King's injustice. Fasting, I said, transforms suffering into redemptive work. I felt like it I'd made an important point.
But it turns out, as is so often the case, I was teaching my own spirit. When I returned home this evening after enjoying dinner with my family, I read the latest update on my friends in the Arizona detention center. After being denied access to phone calls, the Dream 9 declared a hunger strike today. In response, authorities at Eloy Detention Center have sent them to solitary confinement.
My brother Marco is segregated in an isolation cell tonight, but he is not alone. God is with him. Because we are united in Spirit, I can be with him too. So, again, I feel the urge to fast.
Fasting, Clarence Jordan used to say, is the opposite of slowing–it's speeding up toward the kingdom of God. So, I'm fasting to pray, "Lord, hasten justice for the Dream 9. And speed the day when all whose existence has been made illegal by bad policy can thrive in communities on both sides of our southern border. Amen."