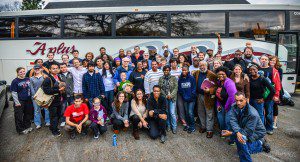 As America prepares to commemorate the 50th anniversary of the March on Washington and Dr. King's "I Have a Dream" speech, I'm excited to announce that School for Conversion is accepting applications for this year's 21st-Century Freedom Ride, Dec 14-18, 2013.
Fifty years ago, when America's Freedom Movement was challenging segregation in the South, black and white young people got on buses and rode South together to join the struggle. Their being together was itself a challenge to the system. Half a century later, School for Conversion brings young activists together to dream about the America that doesn't yet exist and to ask how we can work together to bring it about. As we travel, we will be mentored by veterans of the Southern Freedom Struggle. Drawing on their wisdom, our conversations will focus on contemporary justice struggles, paying particular attention to mass incarceration and detention/deportation – what many call the New Jim Crow/Juan Crow system. We invite you to immerse yourself in historic and contemporary struggles for justice, to expand your view of the Beloved Community and to deepen the inner resources needed for your life's work.
You can learn more about this year's 21st-Century Freedom Ride and apply to be a rider here.
One of our elder/mentors for this year's ride is Bob Zeller, former field secretary for the Student Nonviolent Coordinating Committee. He was recently interviewed by TIME Magazine for their #onedream project.
While there's much to celebrate when we look back over the past fifty years, perhaps the most important lesson of the Movement is that our work is never done until justice rolls down like waters and righteousness like an ever-flowing stream. Bob has a story to tell about how he got swept up into the Movement fifty years ago. But, fact is, he's still showing up to do the long. hard work today. We've been together at Moral Mondays in Raleigh all summer here in NC. We need not only the wisdom of our elders, but also their staying power.
Elder/mentors for this year's ride include:
Dr. Vincent Harding, co-worker with Dr. King through the 1960's and tireless teacher of the Freedom Movement.
Aljosie Knight, servant-leader with National Council of Elders and Kid Cultivators.
Bob Zellner, field secretary for the Student Nonviolent Coordinating Committee and co-founder of GROW (Grassroots Organizing Work).
Suzanne Pfarr, former director of Highlander Center and co-founder of Southerners on New Ground.
Joyce and Nelson Johnson, founders of The Beloved Community Center (Greensboro, NC) and organizers of the Greensboro Truth and Reconciliation Commission.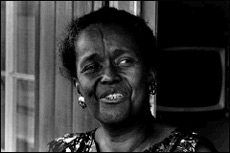 Beginning in North Carolina, we'll focus our attention to history on the legacy of Ella Baker, North Carolina's great organizer, and the student-led movements that she gave herself to in the 1960s. Focusing on our need today to interrupt the school-to-prison pipeline, end mass incarceration, and dismantle America's system of detention/deportation, we will return to Nashville, the site of the nonviolence seminars that energized the original Freedom Riders, for a seminar on nonviolence in the 21st Century.
Stops for this year's ride will include:
Saturday, December 14 – Ella Baker and the Freedom Movement
Seminar: Give Light and People Will Find Their Way
Created Equal Film Screening: Freedom Riders and democratic conversation w/ Dr. Vincent Harding
Durham, NC
Sunday, December 15 – Beloved Community
Seminar: Sit in Movement and the Student Nonviolent Coordinating Committee with Bob Zellner & Joyce and Nelson Johnson

Worship with the Faith Community Church
Beloved Community Center, Greensboro, NC.

Monday, December 16 – The Power of Organizing
Seminar: We Shall Overcome: The Southern Freedom Movement Today
Highlander Center, TN
Tuesday, December 17 – Nonviolence in the 21st Century
Nonviolence Seminar
PBS Tokens Show
Nashville, TN
Wednesday, December 18 – Building Up A New World
International Civil Rights Center and Museum
Greensboro, NC
In addition to riders, we are also recruiting allies to sponsor a seat ($250) and organizations to partner with us in this work. For more information on how you can get involved, write to info@schoolforconversion.org.