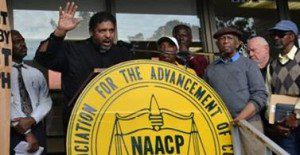 In 1898, when North Carolina's white establishment was threatened by a fusion coalition that challenged their authority through the power of democracy, our state paper ran stories warning of black men who were ready to ravage white women. The next day, Wilmington's black owned business burned at the hands of a white mob in the so-called "Wilmington Race Riot."
When 80,000 people–black, white, and brown–marched on Raleigh earlier this year, white men in power again felt threatened, sensing that there are more of us than their are of them. Knowing that the times have changed, they turned to their adsters for help with some 21st-century race baiting. Here's an example of what they came up with:
What's the faith behind this ad? That enough people will be scared by an angry black man to convince them to trust their future to more reasonable, more conservative voices.
What's the goal? Once again, power.
The promise of those in power is that they will take care of us. But the promise ignores the facts.
The white men who control the NC Senate today denied Medicaid expansion to half a million North Carolinians last year–many of them working class white folks from Mayberry. Doctors spoke out, poor people spoke out, and tens of thousands of people joined the Moral Movement to ask for basic health care. The same men who are asking for "reasonable dialog" refused to hear these concerns, insisting that they knew better.
Meanwhile, developers on one coastal city began to position themselves to take-over prime real estate that has been devoted to the care of people and leverage it for their own profit. The reasonable men of power who ask for our trust did nothing. But Rev. William Barber, though accused of only ranting, heard the concerns of the people, listened to the hospital's owners, and got everyone to the table for a last minute deal that saved the Pungo Hospital last week.
Of course, we're all subject to emotional manipulation. I like some good ole mountain music and a gentle voice I can trust as much as the next North Carolinian.
But we are no fools. Red, yellow, black or white, the leaders we can trust are the ones who do the hard work of making life sustainable in difficult times. This week in North Carolina, Rev. Barber is clearly one such leader. And a good preacher, too. He'll be the guest preacher at NYC's Riverside Church for Palm Sunday this week. To get beyond the adsters soundbites, listen to this preview of his message about a "Moral Movement for the Nation."