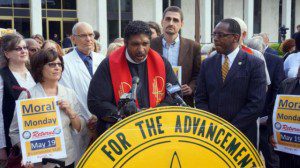 By Rev. Dr. William J. Barber, II
Today I am in Goldsboro, NC, witnessing the graduation of my son and preparing to eulogize a nine-year-old daughter of our community. Dr Maya Angelou's life and poetry often represented this kind of duality that we all exist in—the place between joy and sorrow, peace and pain, tears and smiles.
And so today we, the North Carolina NAACP and the Forward Together Moral Movement, join so many in grieving the loss and celebrating the life of the Mother of Movements and our Sister-Warrior, Dr. Maya Angelou. On the morning of Wednesday, May 28, 2014, the sage of North Carolina transitioned from wise elder to protective ancestor in the great cloud of witnesses. Today, people around the world honor her memory.
We treasure the warm messages of solidarity Dr. Angelou sent to us over the last eight years we have been gathering our diverse Forward Together Moral Movement.
Dr. Angelou believed that "Courage is the most important of all the virtues, because without courage you can't practice any other virtue consistently. You can practice any virtue erratically, but nothing consistently without courage."
A few hours before she died, hundreds of Moral Monday witnesses, including 10 young fast food restaurant workers fighting for a living wage, were singing one of her favorite songs and the title for one of her books – I Shall Not Be Moved – in NC Speaker of the House Thom Tillis's office on Jones Street in Raleigh as they sat in love and moral conscience. I believe she could hear us. They were arrested with four other social revolutionaries, and finally flew from the cage they had been held in for singing, around 8 a.m. Wednesday morning, about the same time Dr. Angelou flew away. I believe this was no coincidence. She would be glad to know these young workers took a major step toward committing their lives to the same struggle for justice and equality that she was a part of her whole life.
If we are ever going to transform our state, Dr. Angelou's home, into a place where all God's children, regardless of race, gender, class, sexual identity, immigration status, disability and other divisions in the Human Family, are able to live without fear, knowing they are sacred beings, we must have courage and conscience woven together with constant action and struggle into a beautiful rhythm and rhyme.
Dr. Angelou had great courage. She spoke truth to power about women's oppression and black people's oppression every chance she had. Because of her ability to transcend her generational confines (1928-2014), and fly back in time to soak in the songs, and cries, and poetry and moans of the great, great mothers, she could gather the source and roots of their hope. She knew what awoke them every morning with the sun. She knew what got them through the horrible nights of rapes and assaults. And still, I rise, she said. Still I rise.
As our new ancestor stands watch over us in a cloud of witnesses the likes of Ella Baker, Fannie Lou Hamer, Harriet Tubman, Coretta Scott King, Rosa Parks, Daisy Bates, Anna Julia Cooper, Sojourner Truth, Ida B. Wells-Barnett, Septima Clark and the countless other unsung black women who have carried us through dark and difficult days, we cannot and must not grow weary as we defend the poor and vulnerable from the extremist, assaults coming out of the NC General Assembly and Governor's office.
There will be millions of words written about her, acclaiming her artistry with words and her warm wisdom with people. But let us not lose her essence. Maya Angelou was a born and bred warrior for justice.
Thank you, Dr. Angelou, for your spirit and your solidarity on earth, as it is in heaven. Amen.