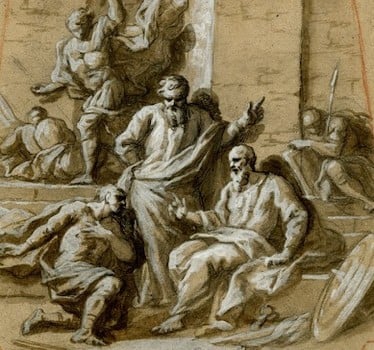 From today's New Testament reading from the daily lection (Treasury of Daily Prayer):
Then [the jailer] called for a light, ran in, and fell down trembling before Paul and Silas. And he brought them out and said, "Sirs, what must I do to be saved?" So they said, "Believe on the Lord Jesus Christ, and you will be saved, you and your household." Then they spoke the word of the Lord to him and to all who were in his house. And he took them the same hour of the night and washed their stripes. And immediately he and all his family were baptized. Now when he had brought them into his house, he set food before them; and he rejoiced, having believed in God with all his household. (Acts of the Apostles vi, 29-34)
According to the text it is after receiving both preaching and baptism that the jailer and his household believe. This happens in the middle of the night. Catechesis follows — a life of it. They are at his point all infants (quasimodo geniti), having been born again, all desiring the pure milk of the Word. This accords with what St. Peter says in ii, 10:
Repent, and let every one of you be baptized in the name of Jesus Christ for the remission of sins; and you shall receive the gift of the Holy Spirit. For the promise is to you and to your children, and to all who are afar off, as many as the Lord our God will call.
Repentance, baptism for the forgiveness of sins, and the Holy Spirit is given. In the whole action, and not sequentially (at least not in a temporal sense), saving faith is bestowed.
This isn't a prescription for all baptisms, nor does it exhaust what can be said about the matter, but it certainly kills Washer-ite preparationism right in its tracks.
+SDG+