I'm beginning a series on important theologians who have influenced my own life and theology. Many of these names are somewhat unknown, and perhaps I will be able to expose a larger audience to some of these important Christian thinkers.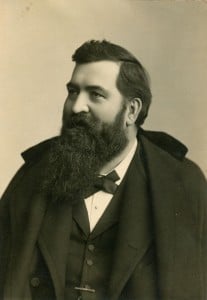 (Look at that beard!)
Revere Franklin Weidner (1851-1915) is a relatively unknown Lutheran theologian with a prolific writing career. His work has been extremely influential on my own, and when I am asked who my favorite theologian is, Weidner is the name I usually mention. Weidner was formative of early American Lutheran Theology from a Confessional perspective. He served for some time as a pastor in Pennsylvania before becoming a professor of theology at both Augustana Theological Seminary in Rock Island, IL and then the Chicago Lutheran Theological Seminary. He was known for his congenial spirit, his brilliant mind, and his sense of humor, though George Henry Gerberding mentions that his teacher and mentor was often quite stubborn in his views (he was German after all!). He was known to be a man of immense piety, who spent much time studying God's Word, and in prayer. He also had quite strict views about tobacco and other things he counted as vices in broader society.
Weidner saw himself primarily as a pastor and teacher, rather than a writer. Yet he was quite prolific in his theological publication. Most of Weidner's books were not written for the academy, but are taken from his lectures to Seminary students. Because of this, all of his books have a very pastoral spirit, with the intention of these works being utilized by future pastors that they might train their congregations in Lutheran theology and piety. Though a dogmatician before anything else, Weidner was also a brilliant exegete and preacher. He was known for his immense skill in both Greek and Hebrew, resulting in his writing a Greek textbook. Weidner's writings are not purely dogmatic, but exegetical, practical, and ethical.
The crowning achievement of Weidner's writing is his eight volume series on Christian dogmatics. The intention was for a complete 12 volume set of books on dogmatic theology, with volumes on: Prolegomena, Theology Proper, Christology, Pneumatology, Anthropology, Soteriology, Ecclesiology, Holy Scripture, Baptism, The Lord's Supper, the Ministry, and Eschatology. The final four volumes were never completed before his death. These books show a man of immense learning. Weidner was not a man of particularly original thoughts. He sought to compile the best of Lutheran theology from the sixteenth through the nineteenth centuries in an accessible format. He quotes often from the old scholastic dogmaticians such as Quenstedt, Hollaz, and Calov, but also showed appreciation to contemporary Lutheran theologians. He utilized the works of Ernst Luthardt and Charles Krauth probably more than anyone else. He was even willing to utilize theologians with whom he greatly disagreed, including Reformed theologians, when he felt them to be helpful. Throughout these works, Weidner shows an irenic spirit, though without compromising confessional Lutheran convictions.
Along with his dogmatics texts, Weidner wrote several works on exegetical theology. He wrote three volumes titled Studies in the Book, which Gerberding called Weidner's most original writings. These volumes were based on exegetical classes that Weidner taught at Moody in Chicago. This demonstrates Weidner's collegiality and friendship with those who he had sharp disagreements with. D.L. Moody had an immense amount of respect for Weidner's scholarship and piety, and the two shared a deep friendship. These volumes cover the entirety of the New Testament, wherein he gives outlines to each Biblical book, along with explicating prominent themes and giving study tips. At certain points he estimates how long it takes to read each Biblical book, and gives practical guidance about reading plans. Weidner also wrote a Biblical Theology of the Old Testament and a Biblical Theology of the New Testament. These books serve as broad theological overviews of Scripture, emphasizing redemptive history. Weidner's work on this subject predates that of Geerhardus Vos who is often credited with bringing that discipline into the conservative evangelical church. Along with these works, Weidner also wrote annotations on several books of the New and Old Testament.
Among Weidner's most popular works was his two volume Theological Encyclopedia, which covered both dogmatic and practical theology. Along with his academic credentials, Weidner was a pastor, and was said to bring some to tears due to his passionate preaching. This comes across in his work on pastoral theology, though unfortunately his sermons have never been published. Weidner was concerned, not only with the mind, but also with the heart and piety of the average Christian. He thus did some important writing on the subject of ethics, publishing a book simply titled Christian Ethics. This work draws on two prominent German Lutheran ethicists: Hans Martensen and Adolf Von Harless. Weidner also includes several of his own insights into the ethical life, especially as he contrasts a Lutheran and Reformed view of Christian life.
If you would like to read some of Weidner's works, look up the Complete Works of Revere Franklin Weidner series put out by Just and Sinner Publications. You can also read Gerberding's written tribute to Weidner here.