It has been four years since we put out volume 1 of Henry Eyster Jacobs' book A Summary of the Christian Faith. The second half is finally here!
Here is the product description: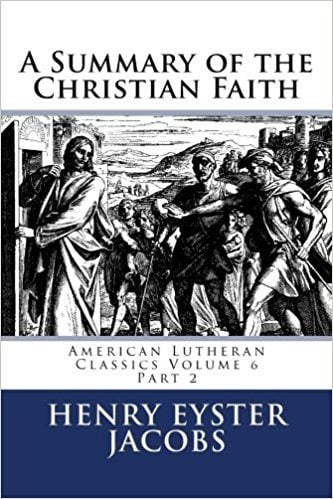 This volume is the magnum opus of Henry Eyster Jacobs' theological career. This work is an extensive systematic theology aimed at providing the first theological textbook written in America for Lutheran students and pastors. In this work, Jacobs gives a broad yet accessible treatment of Christian theology. He does so in the form of questions and answers. Each point is defended with Scripture, and extensive use of the Lutheran fathers. Jacobs does not, however, slavishly follow the 17th century scholastics, but is willing to utilize further theological developments, even from those of other traditions. Jacobs uses highly accessible language, so that this text is usable to the layman, while having enough depth to aid educated pastors and scholars in the theological task.
This book is released in two separate volumes. This second volume covers law and gospel, the means of grace, the church, and eschatology.
Purchase on Amazon here.