I have never been one to write extensively in my Bibles, or to do any significant amount of highlighting. The reason I haven't done so is primarily due to the fact that the pages in a normal Bible are simply too thin to take notes without bleeding through the other page. Recently, I have been hearing quite a bit about journaling Bibles which seem to be getting more popular as of late. The other day I was at Barnes and Noble and noticed quite a few different journal Bibles and picked up an NKJV for myself.
The majority of journal Bibles I run across are ESV, which is a large reason why I had not bought one in the past. The ESV is a fine translation, but I would much rather use an NKJV which is generally my Bible of choice. Having now purchased one, I highly recommend the use of these great tools for Bible study and devotion.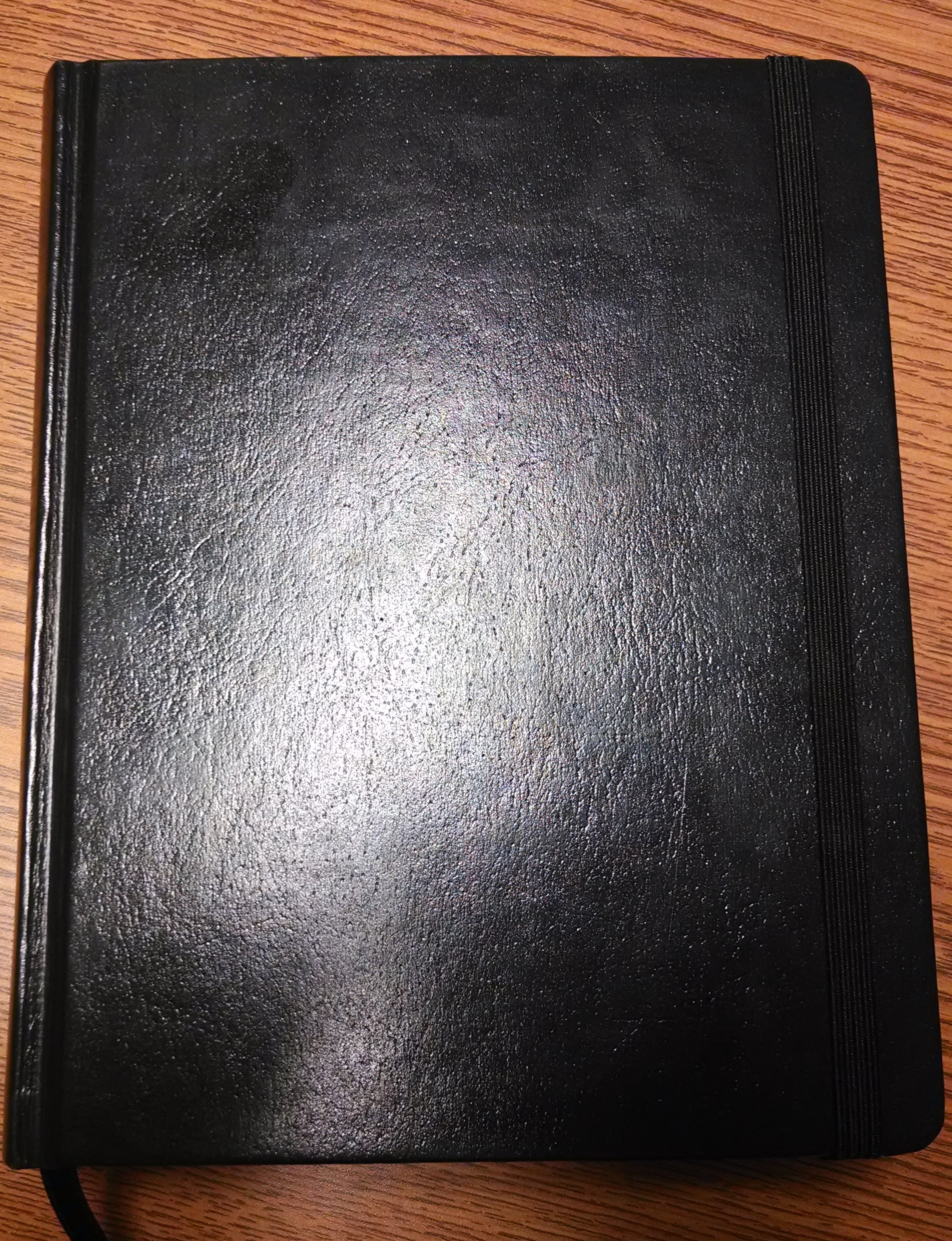 The Bible itself looks just like a large moleskin notepad. It has a plain black cover, and a black ribbon bookmark. All of this adds to the feel that this Bible is for the purpose of journaling. I don't feel the need to have a nice leather cover on a Bible that I am ultimately going to write all over. The cover is nice, the binding is solid, and the pages lay flat when reading. In its interior, the Bible is single, rather than double, column. I generally prefer single column Bibles, because I find them easier to read. This is especially helpful in a Bible with space for notes, because its easier to line your notes up with the exact line of the text that you are commenting on. This is more confusing with two separate columns.
The interior print is small, but still readable, and there are two inch lined margins on each page for note-taking. The pages are cream colored, much like a traditional moleskin notebook, and the pages are thicker than a regular Bible. This ensures that there is not as much bleed-through. There is, however, still quite a bit of bleed through, but I imagine that a lot of that depends on exactly what pens/markers one is using. Here is a picture of the interior: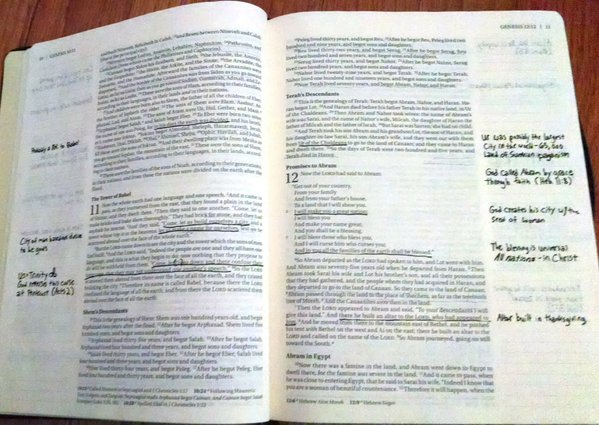 As you can see, there is a small amount of bleeding, but it doesn't in any way hinder the reading. To have pages any thicker would make this Bible gigantic. As it is, its a nice size to carry around.
Regarding the practice of journaling itself, it has been a great aid to my own Scripture reading. As I prepare sermons, I will write down key insights into each text, so that when I go back to these sections of Scripture, these insights remain fresh. I'm not just using this for sermon prep, however, but am using it in my personal daily Scripture reading. I find that looking for things to write down, underline, etc. has helped me to delve a lot deeper into the text than I would with just a cursory reading. I'm currently going through Genesis, and hoping to develop notes surrounding various themes which extend throughout the entirety of Scripture, with a special focus on typology. I'm also trying to keep notes regarding future fulfillment of various texts, as well as their use in the New Testament. In each read through of the text, hopefully new insights will be expressed, and eventually, all of the margin space will likely be filled with notes.
Apparently there is a practice of using these Bibles to make pictures in the margins, or even over the text itself. I did not discover that until I purchased this, and did some subsequent research on how others have used them. It's rather odd that almost anything one finds on the internet regarding these journaling Bibles leads one to believe that they are to be used just to use Scripture as a coloring book. This is certainly not why I bought this, and it is far from the most useful application of the wide margins. It is a far more beneficial practice, I think, to take notes, write prayers, or even to write down sermon ideas (if one is a pastor like myself).
This Bible is highly recommended. The edition I own can be purchased on Amazon here.