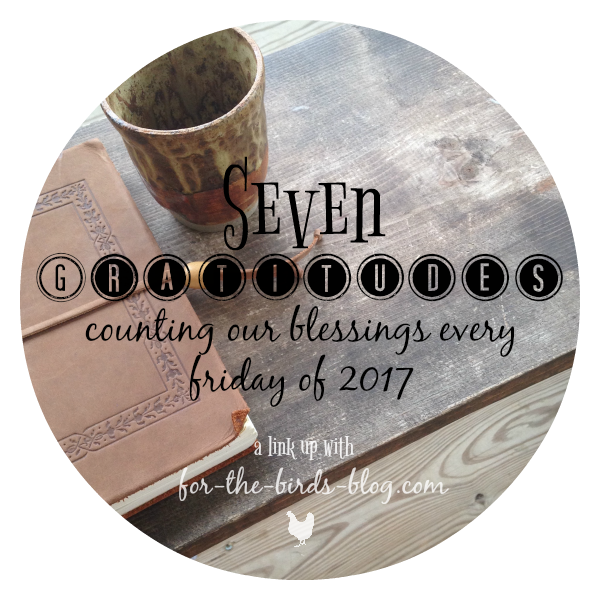 Every Friday, I join a group of friends as we share seven things we are grateful for. Sometimes they are moments. Sometimes they are people and encounters, stories of community. Sometimes they are challenges to find gratitude in the midst of chaos or pain.
The point of it all is the search and the acknowledgement of what is good in our lives, what keeps us tethered to each other and to God.
Today, I'm grateful for seven people who walk my journey with me. I know some of them, and some of them affect my life with their distant presence.
Richard Rohr. I'm currently taking a class on the basics of Franciscan Theology through the Center for Action and Contemplation, and what he speaks is what I need to hear. Because I grew up leaning into legalism, I need someone to remind me again and again as an adult that my journey is about relationship and not any earned salvation. Richard Rohr does this and so much more through his teaching spirit. I'm so grateful for what he's equipping me with in my searching and in my own writing.
My oldest son's new violin teacher and the women that live in a little art community near our city. As a homeschooling family, sometimes it's hard to get connected to your people. We recently found some new friends, and they pointed us to someone who'd be willing to teach Eliot how to play violin, something he's been dreaming of for over a year. We met her Sunday, and watching our son thrive in a creative environment made our eyes well up with tears: grateful.

My oldest sister. She's got a gracious heart, and my favorite thing about our relationship is the way we laugh together; the way we fall into story-telling and remembering, the way our personalities mesh over a ten minute phone call or a weekend visit. She's walked hard places in her life, but she seeks beauty and simple moments, all while drinking the strongest cups of coffee. I so admire her strength.
The people in my band at church. As a worship leader, it can be difficult to trust the people around you to fall into worship the same way you expect them to– and often, it's not the reality. I've been leading worship at this church in my city for a little over six months now, and I'm so grateful that I have a rotation of people every week that make me laugh, that just love music for what it gives us, and that follow me as a leader, even if I'm going somewhere odd and unexpected. That is where the Mystery of God thrives, and by the end of every Sunday, my heart is full with gratitude for the people I get to worship with.
The group of people who put together the Language program for the Potawatomi Citizen Band website. Because of the hard work of Justin Neely and others with him, I am able to learn my tribe's language without living in Oklahoma among other indigenous people. It is an honor to carry the language of my ancestors, and it's a great challenge. It teaches us to look ahead to future generations. It teaches us to honor our way of life and to remember that though we are "dust to dust" we have a beautiful responsibility to honor our own journeys.

The WWII widow who originally owned the rental house we are now living in. It is spring, and I am watching plants bloom in my yard that I had no idea existed. I am pruning hydrangeas and nandina, caring for autumn fire so that it can bloom in the fall. We have some sort of bluebells that are in full bloom, and we bring bouquets in every day, coffee mugs and glasses around the house full of their purple color and sweet scent. The birds and the squirrels in our yard are happy, because they know they have a home. The bumblebees and a few wasps are already active, because they know they will be fed. Our vegetable garden, full of kale and lettuce and sugar snap peas is slowly but surely growing, and every time I spend time in that yard I think of her, all her hard work as a single mother with children, all that time they must have spent in this very yard that I care for today. For that, I am absolutely grateful.
Elders. I'm thinking a lot lately about the circle of life, about birth and death, about how our young and our old are connected. In native culture, the youngest and the oldest are closest to God, because they are on the front and back end of life. So it's important that we listen to them, that we learn from them. I go to a multi-generational church, and I long to take my sons and sit with some of these people and learn from them. I live in a multi-generational neighborhood, and I long to go next door to the new widow who lost her husband last year and remind her that she's not alone, and learn what I can about her life. We fill each other up in this way, so that one day, when we are the old ones, we have more stories to tell, more experiences to learn from, more connectedness to this earth, to each other, to God. I'm grateful for that opportunity, and pray that we remember to use it.